One man's struggle with PTSD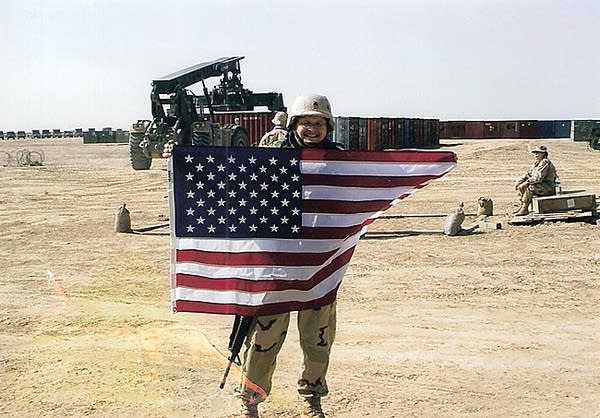 More than 1.6 million U.S. troops have deployed to Iraq and Afghanistan since 2001. The Defense Department estimates that up to 20 percent of them suffer from post-traumatic stress disorder or major depression.
The "thousand-yard stare," shell shock, combat fatigue. PTSD has had many names throughout history. Many returning veterans find ways to cope. Some get help, and many recover. Here is one Minnesota man's story of PTSD.
'I THOUGHT I WAS PRETTY SAFE'
When the Iraq war started in 2003, Randy Lundborg was living with his wife and baby daughter in Duluth, and working as a sergeant for the Department of Corrections in Moose Lake.
Lundborg, who's in his 40s, had nearly 20 years in the military when he decided to re-enlist one last time with the Army reserve to be eligible for retirement benefits. He wasn't sure he'd actually be deployed.
"We were a ground ambulance company in Duluth, Minnesota. Nobody uses ground ambulances anymore so I thought I was pretty safe. But I also knew that if I had to go, I knew I'd go," said Lundborg.
Not long after that, his commander called.
It was Dec. 7, 2003, when Lundborg's unit was activated. A couple weeks later, he was on his way to Iraq. After a stop in Kuwait, Lundborg landed in Baghdad.
At that time, in early 2004, the Iraqi insurgency was intensifying. Iraqi president Saddam Hussein had been captured in Tikrit. Suicide bombings were frequent. Insurgent militias were fighting U.S. and coalition forces, and the death toll was rising.
On Randy's Lundborg's first full day in Baghdad, his orders came in.
"They said, 'You're going to a prison.' I said, 'What's the name of it?'"
The answer: Abu Ghraib.
"When we got there it was relatively mellow, but then the story broke. And then the pictures showed up," Lundborg recalled.
The pictures were of prisoners at Abu Ghraib, who were made to wear hoods, were shackled in painful stress positions, were kept naked, threatened with dogs and sometimes had leashes around their necks.
AT ABU GHRAIB, WATCHING PRISONERS KILLED
There was widespread outrage over the mistreatment of Iraqi prisoners by American forces in the Abu Ghraib prison.
Once reports of the abuse surfaced, the violence directed at Abu Ghraib increased dramatically, and attacks on the prison were frequent. Insurgents seeking retaliation wanted to kill U.S. forces stationed at the prison.
But the U.S. soldiers at Abu Ghraib were protected from the attacks, and could only stand by as their prisoners were blown to bits.
"We had a mortar round that hit a tent that was full of detainees. They're not protected -- if it lands in a group of people it's going to kill a lot of people, and it did," said Lundborg. "It got to be so where our company ended up sending out more people, because you had all these casualties."
A lot of people died while Lundborg was stationed at Abu Ghraib. It's not easy for him to talk about.
"It's a real feeling of helplessness. For me it was because these guys can't fight back. You're getting mortared by your own people," said Lundborg. "It's one thing if you're going to shoot yourself in the head and say, 'I'm going to Allah.' I think it's another thing if you shoot somebody else and say you're going to heaven. Just the frustration behind that, what they must have felt like."
After a few months at Abu Ghraib, Lundborg was transferred to other locations around Iraq on assorted missions.
Eventually, he ended up back in Baghdad at a major base for coalition forces. He worked at a medical aid station there, and was on duty when the 1,000th American casualty came in.
He'll never forget that day.
'NOT SUPPOSED TO ACT LIKE THAT'
"This is when I first sort of realized that, geez, I'm really not the same person I was when I first came over."
That soldier had been shot at the base of his skull. The exit wound was in his forehead.
"You're sitting there and you got this person coming in, and it's like, 'Man, I just started lunch,'" he said. "I had that thought, and for the life of me I'd give anything to be just the second before that, and be able to take that thought completely out of my memory."
"You could hear people screaming on the radio -- for some people this is the worst day of their life. For his parents, it was the worst day of their life. And it was like, wow, I regret that. If I could just take those feelings back."
Lundborg couldn't forgive himself for his momentary lapse. He still can't.
"No medic in a war movie would ever do that. We are supposed to save people's lives and die glorious deaths, and not supposed to act like that."
After that, Lundborg felt he didn't laugh as hard as he used to, or feel joy. To cope, he focused on his daily routine.
"Get up. You do this, you do that, you do this, you go to bed, you get up. And your routine becomes very important."
That routine carried him through to the end of his deployment. Before he knew it it was time to return home to Duluth.
BACK HOME; PTSD SYMPTOMS EMERGE
Things at home were OK at first. He went back to work at the prison in Moose Lake. But things quickly deteriorated. He began to experience symptoms that followed a classic pattern for post-traumatic stress disorder.
Lundborg says he couldn't relax enough to sleep, and when he did fall asleep he had terrifying dreams.
"Like we were in a convoy that got ambushed, and I'm pointing my rifle. And instead of it going off when I pull the trigger, nothing happens," Lundborg recalled. "So the people are still running at you and you're pulling the charging handle back -- click. Pulling the charging handle back -- click. It wasn't firing."
Night after night, violent events from Iraq replayed in his dreams. During the day, he was jumpy and having flashbacks at work.
About five or six months after getting home, he realized his symptoms were not going away. He knew something was wrong, but didn't know what to do.
"I didn't want to embarrass myself, or the branch of service that I was in, or the Armed Forces," said Lundborg. "And I remember the movie 'Coming Home.' I don't want to be some whacked-out vet."
Many of the programs that exist for returning veterans today weren't readily available when Lundborg got home in 2005.
FINALLY SEEKS TREATMENT
His PTSD symptoms were taking a toll on his family. As often happens, it was his wife who finally pushed him to get help. She told him if he didn't, she would leave.
He fiddles with the top of his can of Red Bull when he recalls what he put his wife through.
"And that meant enough to do something about it. Some guys would just say, 'Screw you, I am out of here.' But that is not what I want," Lundborg said. "We have a child, and you have to give your kids a fair shot and you have to give your married life a fair shot."
More than half the guys in Lundborg's unit got divorced after returning from Iraq. Lundborg credits his wife with saving his life and their marriage. Her ultimatum was the push he needed to go to a doctor.
But things didn't turn around overnight. First, he was misdiagnosed. Then he was overmedicated and walked around like a zombie for months.
Meanwhile, his PTSD was making work difficult. For the first time ever, he felt unsafe. He worried his PTSD meant he wasn't in control enough to do his job safely.
Lundborg says that was a turning point. He quit his job at the prison, and in 2007 he started working for the state Department of Employment and Economic Development in Duluth, helping veterans find jobs.
About a year after Lundborg returned from Iraq, the VA diagnosed him with PTSD and he started seeing a therapist. Eventually, they found the right combination of drugs to help control his symptoms.
The counseling helped a lot. Now, Lundborg is back in school and working on his master's degree. He's hopeful about the future.
It's been a long, tough road, but Lunborg says he doesn't regret going to Iraq.
"Part of what we've done by answering our call and going over there, is that the possibility exists that you could have some kind of reaction. It's not because you are a wimp."
Lundborg lost the hearing in one ear from a mortar that went off near his vehicle, and he still gets headaches. He still has symptoms like nightmares and flashbacks. He doesn't think he'll ever see a day when he doesn't.
He's not sure he'll ever be the man he was before he went to Iraq. But Lundborg says he's luckier than a lot of the Vietnam veterans he works with. He got help before it was too late.
"What makes me angry is that I see people who, when they are hurting instead of trying to get help, they beat up their wives or get in trouble with the law. And that is such a small part of the people that come home, realize they have a problem and get help."
Gallery
1 of 1
Your support matters.
You make MPR News possible. Individual donations are behind the clarity in coverage from our reporters across the state, stories that connect us, and conversations that provide perspectives. Help ensure MPR remains a resource that brings Minnesotans together.