Mild March may linger to mid month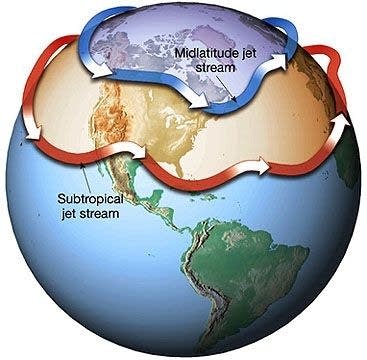 We're off and running.
So far March is like a pent up thoroughbred exploding out of the gate. We're running about 4 degrees above average so far this month, and there's no sign we're looking back.
The Polar Front Jet Stream has lifted unusually far north this month. Usually we can count on a jet stream howling overhead in Minnesota in March, dealing us wind and storm after state tourney snowstorm. Not this year.
Polar Front Jet Stream lifts into central Canada. (Image courtesy University of Wisconsin)
The jet has lifted about 500 miles north of its typical March position. It looks like what should have been our classic El Nino jet stream pattern in the Upper Midwest this winter is finally taking firm hold in March. Maybe we'll get an early spring instead of the statistically likely but undelivered mild winter.
Look for the mild pattern to hold into mid-month. Anything after that gets pretty murky in the crystal weather ball. By then we should be a good 3 to 5 degrees above average and a milder and drier(less snowy) than average March seems like it will be in the bank.
Every other month?
Weather comes in not so predictable, chaotic cycles. I've observed that we're in a weird pattern since last July. Every other month has featured alternating dry and wet patterns in Minnesota. Check out the Twin Cities monthly precipitation totals compared to average since last July.
July -1.87"
August: +2.38"
September -2.23"
October +3.46"
November -1.56"
December +10" (snow)
January -10" (snow)
February + 6" (snow)
It's uncanny to get such clean, alternating monthly flip flops between wet and dry for 8 consecutive months. March looks like it will fit right in so far. I don't see any significant storms that will dump heavy precip on Minnesota for the first two weeks of March.
I really don't have a theory as to why this is happening. I've observed in the past that hot and cold weather patterns sometimes tend to hold for 4 to 6 weeks, but there are so many oceanic circulation patterns in effect in addition to El Nino cycles that it's almost impossible to overlay them to create one solution for monthly weather forecasts.
So far, this one falls under the category of "go figure."
Sun more active:
Sunspot region 1045 sends a coronal mass ejection (CME) into space
There's been a marked increase in the number of sunspots over the past couple of months. It looks like the deepest solar minimum in nearly a century is finally over, as new Solar Cycle 24 kicks in.
NASA image
Most of the research done on the solar component of climate forcing indicates that solar variability is a relatively small component of climate change. One might ask how the last two years were both in the top 10 warmest on record globally during a deep solar minimum. Clearly larger forces are at work, or you would expect that the planet would have cooled significantly if solar variability were the primary driver of climate on earth. Instead we have seen two of the ten warmest years on record.
Enjoy plenty of sun and another run into the 40s today through Friday.
PH
Your support matters.
You make MPR News possible. Individual donations are behind the clarity in coverage from our reporters across the state, stories that connect us, and conversations that provide perspectives. Help ensure MPR remains a resource that brings Minnesotans together.