Oakport turns to levees instead of a million sandbags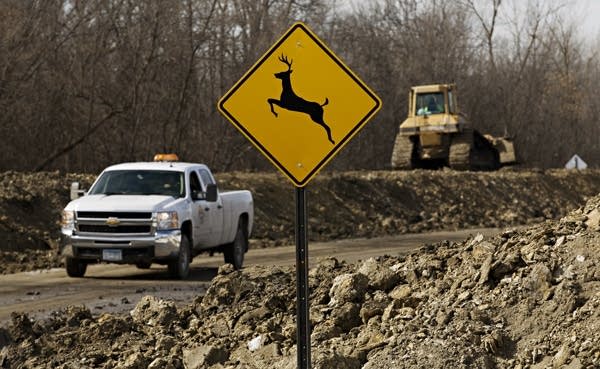 Jessie Swanson lives in a red house that sits atop a knoll surrounded by trees in Oakport Township. She has lived here for 43 years. This is the first year she has prepared for floods because last year, she didn't.
Oakport -- an area just north of Moorhead along the Red River -- was hard hit by floods last year. This year, instead of sandbag walls, the township is building a clay levee in some areas to protect more homes.
"Last year I got flooded out. I'd never gotten flooded out in the 42 years that I'd lived here, and I got flooded," Swanson said. "The basement completely went and I couldn't save it."
Swanson said nearly seven feet of water flooded her basement. Swanson is on the wrong side of a permanent clay levee the township plans to build.
The township offered to buy her house, but she said she couldn't accept the bid because it was less than her home's assessed value.
So, instead of buying her out, the township will build a separate ring dike around her home once the flood waters go down, but that's all in the future. For now, many neighbors and friends helped Swanson sandbag her house.
Gain a Better Understanding of Today
MPR News is not just a listener supported source of information, it's a resource where listeners are supported. We take you beyond the headlines to the world we share in Minnesota. Become a sustainer today to fuel MPR News all year long.
With current crest projections, Jessie Swanson shouldn't have any problems. But, when the river hits about 34 feet, she won't be able to leave her house because it'll be surrounded by water. She said she is preparing in advance to have everything she needs when that happens.
This year, Oakport Township has about a half-mile of its permanent levee in place. It continues to clear the land for more construction later this year. Township chairman Greg Anderson says the Army Corps of Engineers built emergency clay levees where the permanent levees will sit.
"They did a phenomenal job. In about three days, they put up around five miles of diking, which will take, I'm thinking, 300, 350 homes out of harms way," Anderson said. "Instead of fighting a flood fight for about 500 homes, now we've got less than 150 we have to worry about."
Most of those homes -- which are not protected by the dike -- sit on higher land, so they're safe for now, but Anderson said the township will be ready to protect them if river levels go higher than predicted.
Anderson says last year, it was a mad rush to try to protect homes individually.
"That was a conversation heard when you came up with our engineers that it was just wild in here," he said. "No one had time to prepare."
This year, Anderson said not as many people are sandbagging.
"We went through 1.3 million sandbags last year. I don't think we've touched 100,000 this year," he said. "That is a phenomenal reduction. The panic is not here. People are living normal lives, like they should. They're not worried about losing their houses."
He says sandbagging efforts have been most aggressive in lower areas that are more at risk.
Many dikes didn't hold last year, and Oakport Township had sewer problems with about 100 homes affected by river and sewer water. That's not happening this year either.
After last year's record flooding, the township surveyed all residents to find out if they would be willing to pay some of the costs for a permanent clay dike.
Anderson said the town doesn't have enough money to pay for the whole project and only some of the cost would be reimbursed by the Army Corps of Engineers or the Federal Emergency Management Agency.
"They wholeheartedly signed on. We had about 93 percent of the residents in each of the three dikes areas," he said. "So 95 percent of 436 people felt it was a good idea and they did sign up and approved the project."
Anderson says he still doesn't know how much it'll cost each household to pay for the clay dike. He says it'll depend on how high the dike needs to be.
Clay County Sheriff Bill Bergquist said even though Oakport Township is in relatively good shape, it'll still need to have a temporary fire department inside the levee.
The fire department is going to have to man a fire department inside the island to make sure they can get in there, because once the roads are underwater, obviously, you don't drive fire trucks through the water," Bergquist said. "So they will be moving in. The old fire department's got a crew that will be manning that."
Bergquist said residents have expressed relief that temporary clay dikes will protect them. People are in a wait-and-see mode to see how well they work, he said.
Anderson adds that this year the flood season feels surreal because it's calm, with no panic or fear. People are raking leaves, they're going to work, and kids are going to school.
Gallery
1 of 1