Pawlenty's travel extensive during Minn. legislative session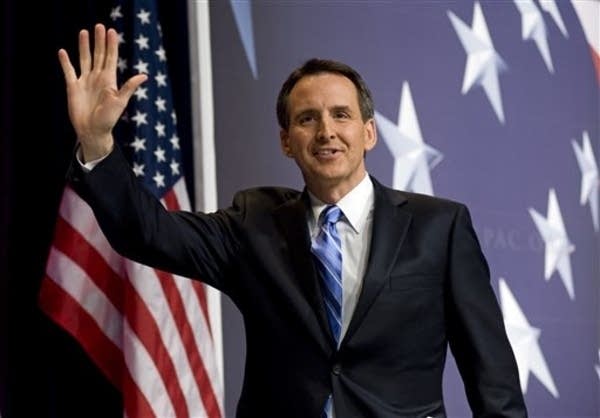 State lawmakers are back home Tuesday to begin their week-long Easter and Passover break.
While they've been working hard in St. Paul since the legislative session began the first week of February, Gov. Tim Pawlenty has been traveling a lot.
The governor has been out of the state an average of more than one out of every three days during the session.
Most of those trips have been political, and DFL legislative leaders complain that Pawlenty's absence is making it harder to finish their work.
An MPR News analysis of Pawlenty's travel found that the governor has made 11 out-of-state trips since Feb. 4, the day session started. Pawlenty has been gone all or part of the day for 22 of the 54 days of the legislative session. His travel has been extensive, including visits to Alabama, Nevada, New Hampshire and North Dakota.
Pawlenty says he hasn't decided whether he'll run for president in 2012, but many of the trips were for political speeches that targeted President Obama and the Democratic majority in Congress.
Before you keep reading ...
MPR News is made by Members. Gifts from individuals fuel the programs that you and your neighbors rely on. Donate today to power news, analysis, and community conversations for all.
Here's part of what he had to say during last week's visit to New Hampshire:
"The good news is this. Help is on the way and in about eight months, conservatives all over this country, Republicans all over this country are going to get elected, take back this Congress and correct the mistakes that this administration and Congress have been making."
MPR News looked at Pawlenty's travel schedule based on news reports, communication from his federal political action committee and his public events schedule. He may have attended other out-of-state meetings or given speeches that weren't disclosed.
Sixteen of the 22 days Pawlenty was known to be outside of Minnesota were weekdays. The rest were weekends. Legislators typically didn't spend weekends in St. Paul either.
In New Hampshire, Pawlenty defended his travel by saying his work is done and the work of DFL legislative leaders isn't.
"There's no work that has been left undone. My budget, all of my proposals, all of the negotiations that have needed to be done have been timely, and we've been getting the work done from our side of the table," he said. "They're the ones who haven't put out a budget. The budget they put on the table is only one third done, so I'd just ask them to look in the mirror."
On March 14, Pawlenty returned from Florida for the sole purpose of vetoing several items from the bonding bill. He then returned to Florida for a political fundraiser and a family vacation.
Before he took action on the bill, Democrats complained that they weren't sure which projects Pawlenty supported. DFL Sen. Keith Langseth of Glyndon said the governor's absence was hindering progress.
"And then we tried to find out what is it that he objects to [in the bonding bill] and they don't say anything? I don't know," he said.
Other Democrats agree Pawlenty's absence has been a problem. On Feb. 18 when he was in Washington, Pawlenty vetoed a bill that extended a state health insurance program for the poor.
The decision shocked both Democrats and Republicans. DFL Rep. Erin Murphy of St. Paul was the top negotiator on the bill to extend General Assistance Medical Care.
Eventually, the governor and lawmakers made a deal on GAMC, but Murphy said she still isn't sure if Pawlenty vetoed the first bill because he didn't like it or because he couldn't physically sign it from Washington, D.C.
Regardless, she worries how budget negotiations will go over the next six weeks if Pawlenty isn't fully engaged.
"If we don't get any direction, it's easy to see that at the end of session the work that still needs to be done could break down in a way that is not going to be fruitful for Minnesotans," she said.
Pawlenty insists that the work is getting done.
Since the session started, the bonding bill, the GAMC bill, a package of tax breaks aimed at creating jobs and a bill that cut $312 million in spending have all passed, but the uncertainty remains.
Over the weekend, House and Senate negotiators worked with Pawlenty's office, but on Monday morning they still were not sure the governor would sign the bill.
His spokesman sent out a statement indicating his support only after the House passed the legislation. Pawlenty has two publicly known out-of-state trips between now and the end of the session. He's scheduled to be in Iowa and Washington state in April.
Gallery
1 of 1