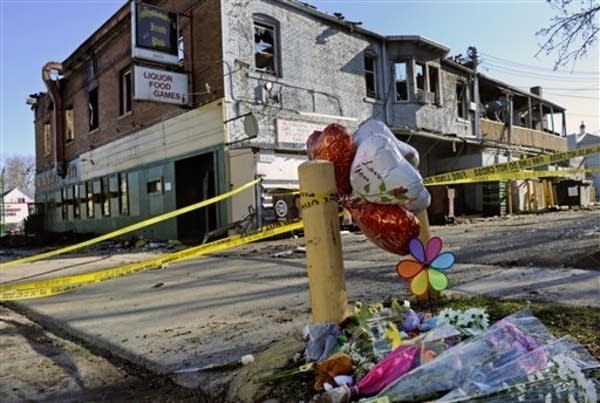 The investigation into what Minneapolis officials say is the deadliest fire in that city since 1986 continues today.
Investigators said that the fire began on the second floor of the building, which contained six apartments above McMahon's Pub at 3001 E. Lake St.
The charred and blackened building is now a crime scene. Across the street, neighbors gathered in small groups to watch as investigators came and went through what used to be the building's doors.
Wearing a hooded sweatshirt and dark glasses, Mark Stenholm couldn't stop talking about his shock over news of the fire.
"That could have been my three kids and me," he said.
Until a few years ago, Stenholm lived with his wife and kids in the same apartment where investigators believe the blaze began. Stenholm pointed to his old place, which is now open to the sky.
"I lived right on the corner right there, the whole corner apartment," he said. "Those first three windows, the third window there -- that was the kitchen and then it's living room, living room, living room and then the third window on the other side was a bedroom."
Police officials this weekend declined to comment on the investigation.
On Saturday, the Hennepin County Medical Examiner confirmed the identity of one of the victims as 43-year-old Ann Gervais. Officials say they are still working to confirm the identities of the other five victims.
Friends and family have identified them as Gervais's son and her three grandchildren. They were visiting 25-year old Ryan Richner, who bartended at McMahon's and lived upstairs. Richner is also presumed to have died in the fire.
Fire ivestigators are still working to determine the exact cause of the blaze, but they believe the fire started on the building's second floor. Assistant Fire Chief Cherie Penn says it's too early to speculate about a possible cause.
"This is about this family right now," she said. "This family has suffered a tremendous loss, in addition to the effect that this is going to have on the community, so the Fire Department is not the focus. It's them trying to heal and that community trying to recover from such a tragedy."
Penn says it could take days or weeks before the investigation into the fire is complete.
Late Saturday, a crew arrived to construct a fence around the fire scene as crowds of neighborhood residents watched. A small shrine of flowers and balloons sat off to the side, undisturbed in the breeze.