Program helps beginning farmers get started
Dan Moe stands in the middle of 160 acres of farmland, where he and his wife are growing a range of fruits and vegetables Moe is happy to rattle off.
"I've got melons, and garlic, and kolrabi, and Chinese cabbage, and spinach and beets and parsnips -- and eight varieties of heirloom potatoes," he said.
Moe is only in his second year of farming full time, so he's considered a beginning farmer. But he made his first foray into farming in the 1970s as a part-time avocado producer, growing trees on a slope in California. 
He wanted to start vegetable farming in California, but buying flat land was too expensive. So Moe returned to central Minnesota to farm his grandfather's land, which is in a family trust.
"For me, it would have been impossible," Moe said. "If I wouldn't have had access to this farm, I would have had to make my dream go away."
 Now that he's home, Moe is tapping into the "Farm Beginnings" program, which has helped nearly 400 beginning or transitioning farmers in the past 12 years. The program is run by the Land Stewardship Project, a Minnesota-based nonprofit that promotes sustainable agriculture.
The first thing the program teaches new farmers is to identify their unfair advantage. For Moe, that's having his grandfather's land.
Other classes offered by Farm Beginnings teach new farmers how to set goals; develop business, marketing, and financial plans; and farm with sustainable methods. The program invites other farmers to share their knowledge and experience. 
"This whole concept of vegetable farming and how to farm here in Minnesota -- I still need to learn," Moe said. "So I'm still going to all the different farm tours, I'm going to classes. ... Basically if I can figure out how to get there and if it's within the scope of what I want to do ... then I'm there."
This year, Moe planted 10,000 strawberry plants.
"Strawberries are my signature crop," he said. "I've got an acre and three quarters of strawberries in the ground. Next year, we'll be planting another acre of strawberries because I plant one or two varieties of perennials every year to expand and grow."
Moe's community-supported agriculture program also has grown. Known as CSAs, they are popular nationwide -- allowing groups of people to buy weekly boxes, or "shares," of seasonal vegetables from local producers. Last year, Moe distributed 19 shares. This year, he's distributing more than 60. 
On a recent day, his strawberries aren't quite ready yet. So he's harvesting asparagus that he'll sell at a nearby farmer's market.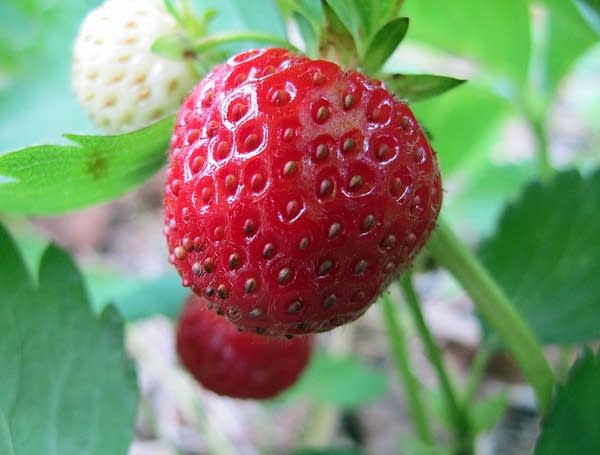 "It's hard to get it a little fresher than this because I just washed them," Moe said.  "Came out of the ground this afternoon."
Moe is one of the few farmers in the Farm Beginnings program who has access to land. Karen Stettler, community engagement and impact initiative coordinator of the Land Stewardship Project, surveyed dozens of current and former students of the program, and nearly 100 of them do not have land.
"We're finding that the training is very important," Stettler said. "And then for many people the accessing of land becomes a secondary issue, once they've had the training and they're ready to go out and farm. Where are they actually going to be farming? It becomes a big question."
Stettler said she's also surveyed established farmers who own land, and want to either sell or rent it to other farmers. They spread the word through friends and families, she said.
But most of the new farmers in the program are not within this network of established farm families. So the Land Stewardship project created a book with contact information of experienced and beginning farmers. 
The organization's website also has a clearinghouse for people to post when they're looking for land, or renting or selling it. She said the demand for land stems from a growing influx of people interested in sustainable agriculture. 
That's exactly why Moe started to farm. He said he loves producing nutritious food for people. Moe knows a woman in her early 80s who goes out of her way to buy strawberries at his farm. The woman said she didn't like strawberries until she tasted his.
"I hovered across my strawberry plants for five days," He said. "That's why I grow things, to be able to give somebody a treat that they didn't have before."
Gallery
4 of 4
1 of 4
2 of 4