Pollution control crews began using a new technique on Wednesday to clean up tainted soil and water at a site near Duluth, hoping they have found a simpler and cheaper way of dealing with cancer-causing chemicals often traced to old dry-cleaning sites.
Instead of cleaning sites by digging up lots of dirt, workers using the new approach inject a chemical into the ground to break down the offending chemicals into harmless components.
The site, in the small town of Esko between Duluth and Cloquet, is one of about 100 places in Minnesota in which dry-cleaners have been linked to ground or groundwater pollution.
Dry-cleaners use tetrachloroethylene -- often referred to as PERC or PCE -- as a solvent, and the chemical is also an industrial metal cleaner. In all, it has been identified in 530 polluted sites in the state.
Workers on Wednesday were at a vacant lot next to the Esko Post Office, dressed in hazardous material suits and preparing to pump a purple chemical, sodium permanganate, into the ground. Once it contacts the PCE, the toxin breaks down into manganese, water and carbon dioxide.
The lot has seen a variety of uses, said Minnesota Pollution Control Agency project leader Heidi Bauman.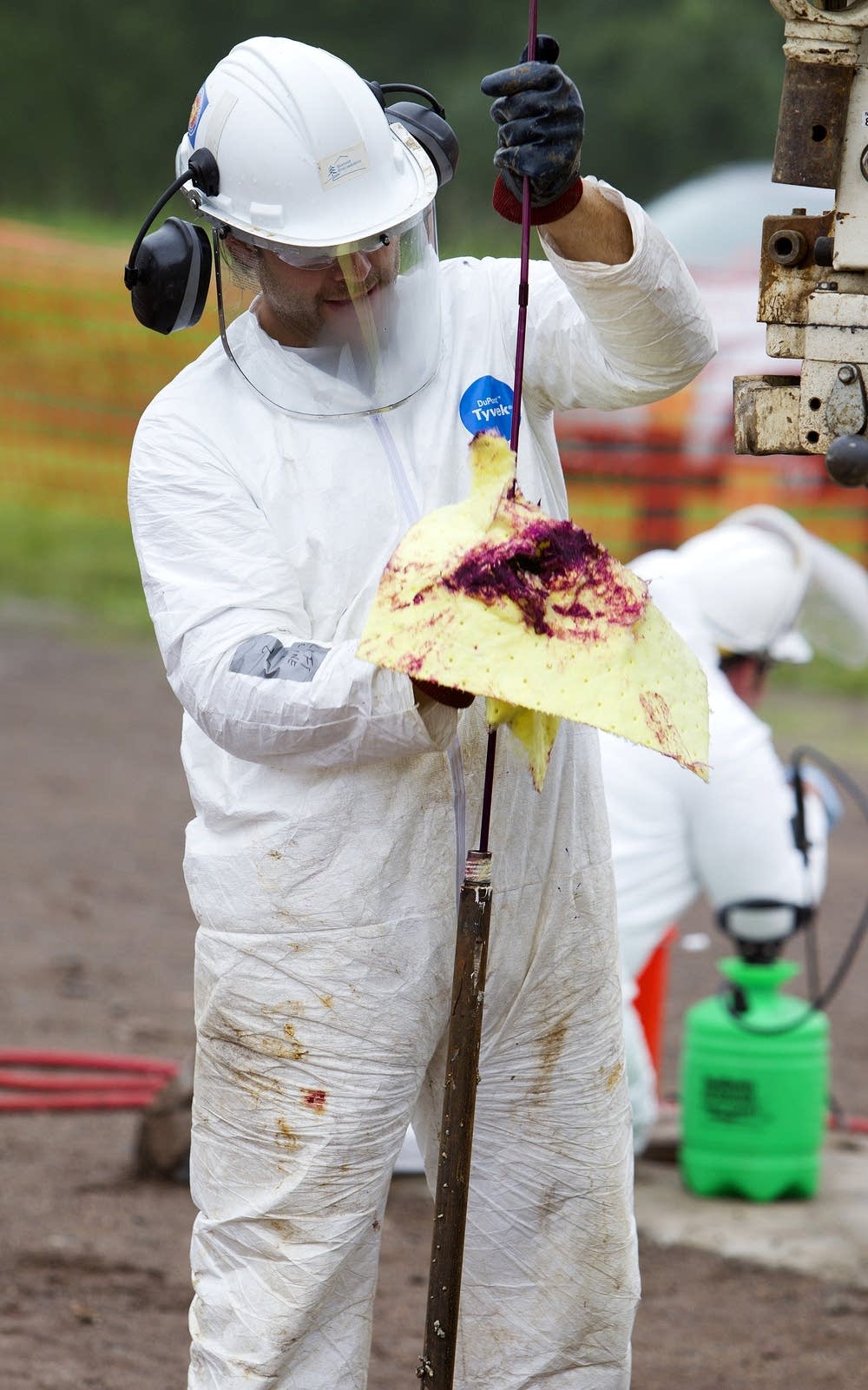 "It's been a creamery. It's been an auto parts repair shop kind of place.  But, the main thing that we think is a source is a coin-operated dry cleaner," Bauman said.
The PCA discovered the tetrachloroethylene here in 1996, while testing the groundwater for a different purpose.  
PCE is believed responsible for several types of cancer, but Bauman said decades ago, few people were aware of the danger, and some people used it for cleaning paintbrushes and degreasing car parts.
"Sometimes dry cleaners would dispose of it out the back door," she said. "You know, there's always spillage when you're receiving product or getting rid of product."
At this site, the underground plume is slowly moving toward the nearby Midway River.
Workers used a drilling machine to push metal drill rods down about 40 feet to inject the sodium permanganate, said Justin Enwall of Terracon Consultants, White Bear Lake.
The technique has also been tried at a site in Winona. Bauman said the PCA will be watching the Esko site over the coming six months to a year to see whether it's working.
"If it works we'll probably expand it to more of the parking lot here and take care of the whole thing."