Minn. nurses approve second strike at 14 hospitals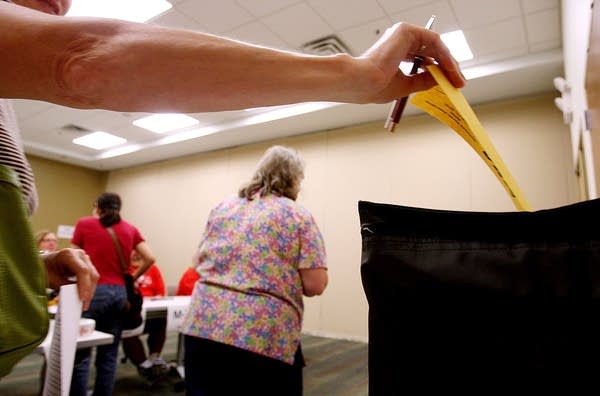 For the second time in a month, an overwhelming majority of Twin Cities nurses have agreed to authorize a strike. The difference this time is that the strike could last indefinitely, rather than just a day.
The nurses are demanding that hospitals limit the number of patients that nurses are required to care for during a shift. They also want raises and they oppose cuts to their pension and health care plans.
Cindy Olson, a member of the nurse bargaining unit at HealthEast Care System said 84 percent of the nurses who voted, approved the new strike request.
"Which is a very strong vote because they're saying they're willing to put their jobs on the line for their patients and their profession," Olson said. "And I think that speaks very loudly."
MPR News is Member Supported
What does that mean? The news, analysis and community conversation found here is funded by donations from individuals. Make a gift of any amount today to support this resource for everyone.
The total number of nurses who voted wasn't immediately available, nor was the vote results from the individual hospitals, but the Minnesota Nurses Association says the strike request got solid support from nurses at all six health systems.
The support wasn't quite as strong as it was last month, when more than 90 percent of nurses approved a one-day work stoppage. That strike took place on June 10, when 12,000 nurses walked off the job. It set a record for the largest nurse strike in U.S. history.
No date has been set for this strike and nurses are hoping they won't have to set one. Cindy Olson said the negotiating teams made a pact with their members that they would try their best to work out differences with the hospitals before resorting to another strike. But Olson said negotiators want to see progress.
"As long as there are meaningful negotiations going on, we will not do a strike," she said. "So if they continue to have no meaningful negotiations with us, then they would leave us no choice."
The hospitals released a statement saying they are disappointed with the vote results. They say a strike seems out of step with today's environment and doesn't reflect a primary interest in patient care. The statement did not say if hospitals will return to the negotiating table - just that they want to focus on meaningful negotiations that can move toward a fair contract resolution.
Spokeswoman for the hospitals Maureen Schriner said the hospitals are disappointed that the union is rushing toward another strike.
"I think from the exchange of letters last week, both sides agree that we need to sit down and negotiate a contract and a strike doesn't benefit anyone," Shriner said.
Shriner also said that the strike doesn't benefit anyone.
"It doesn't benefit the nurses, it doesn't benefit the patients and it doesn't benefit the community," she said. "We need a contract that's going to allow our hospitals to remain among the top in the country. We compensate our nurses among the best in the country and we need our quality of care to move forward and the union proposals really move us backward."
Nurse Jill Wineinger is hoping that the next few days will bring more clarity and cooperation to the situation. She works at hospitals in North Memorial Hospital in Robbinsdale and Childrens Hospital in Minneapolis. Wineinger said she voted to authorize an open-ended strike, but she's really hoping it can be avoided.
"I hope the strike doesn't have to last even 24 hours," Wineinger said.
Wineinger said after the one-day strike earlier this month, her employer locked her out for a few extra days. That's made her even more nervous about how hospitals will respond to a longer strike.
The hospitals say they didn't lock out anyone. They say the strike reduced their patient load significantly and they didn't need every nurse back on the job right away. Questions about whether the action was or wasn't a lockout is before the National Labor Relations Board and may not be resolved for weeks or months.
While that situation plays out, Wineinger is bracing herself for an even scarier scenario. She acknowledges it would be challenging to go without a paycheck for a few weeks or longer, but she supports her union's strategy.
"Being a single mom and having a child to take care of it's a big sacrifice," Wineinger said. "But I'm willing to make it if it means in the end we'll get probably better results."
The effectiveness of that strategy will be put to the test over the next few weeks.
The nurses union has not specified how long it will wait for hospitals to return to the bargaining table, but if the impasse continues and the nurses decide to follow through on their strike threat, they must give the hospitals at least ten days notice before walking off the job again.
(MPR reporter Tim Nelson contributed to this report.)
Gallery
1 of 1