Candidates counting on get-out-the-vote efforts for primary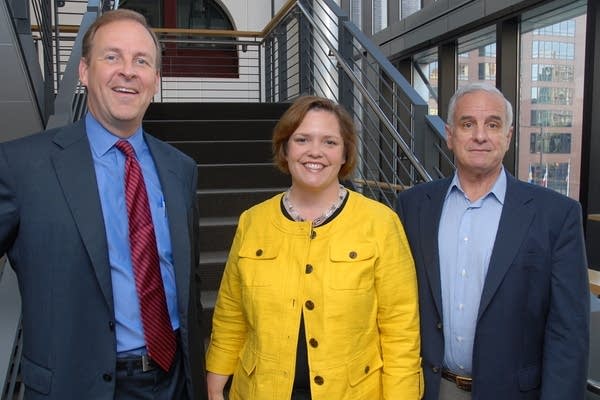 With Minnesota's primary election campaign headed into its last weekend, the campaigns of three DFL candidates for governor are working hard to make sure their supporters show up at the polls Tuesday.
Campaign officials say those get-out-the-vote efforts could make the difference in an earlier-than-normal primary that might have an especially low turnout. 
Supporters of gubernatorial candidate Margaret Anderson Kelliher rallied outside DFL party headquarters in St. Paul Thursday to launch an aggressive get-out-the-vote effort for the remaining days before the primary. 
As the DFL-endorsed candidate, Kelliher gets all the benefits of a statewide political organization that includes local leaders and loyal volunteers. She says her campaign has contacted 1.6 million voters since the DFL convention.
Kelliher's campaign manager Jamie Tincher says those phone calls and door knocks will continue right up until the polls close Tuesday night.
"When you look at studies on why people vote, the No. 1 reason people give for why they voted is because somebody asked them to," said Tincher. "We have the team of people, the volunteers and the supporters ... asking people to go vote, and asking them to vote for Margaret."
   Nobody knows for sure what Minnesota's new early primary date will mean for voter turnout. Most predictions are near 10 percent. The DFL candidates for governor and their volunteers are trying to determine who'll be around to vote on Aug. 10, and who'll be on vacation.  
   Volunteers were working the phones at Matt Entenza's campaign headquarters in St. Paul, trying to identify DFL primary voters. Dave Colling, Entenza's campaign manager, says the goal is to get 150,000 votes. Colling says he thinks that's enough votes to win, even if turnout is as high as 15 percent. 
"I think there's probably enough votes out there for any of the candidates to win," Colling said. "With a low turnout like this ... there are enough votes for anyone. So, it's about making sure you know who your voters are and getting them out to vote."
Colling says volunteers are making thousands of phone calls every night, and knocking on doors in targeted areas throughout the state. He says Entenza is focusing a lot of attention on getting African-American voters and other under-represented groups to support him in the primary.
Mark Dayton, the other DFL candidate, is also working hard to identify primary voters and get them to the polls. Dayton greeted some of his supporters in St. Paul during the first of a series of recent Get Out the Vote picnics. 
Like Entenza, Dayton has tapped his personal fortune to pay for significant TV advertising aimed at primary voters. But Dayton's campaign manager, Dana Anderson, says field staff is a different story. Anderson says Dayton has a comparatively modest budget for campaign operations.       
"We're working as hard as we can day and night, just to make sure that people are getting to the polls," said Anderson. "Mark Dayton has high name recognition, but at the same time we are not taking anything for granted, and we're reaching out to as many people as we possibly can." 
With the prospect of many voters being on vacation Aug. 10, the three DFL campaigns have also been encouraging supporters to cast absentee ballots. 
Even so, Secretary of State Mark Ritchie says he has not yet seen an increase in absentee voting for this year's primary.
Gallery
1 of 1