More bids awarded for Central Corridor light rail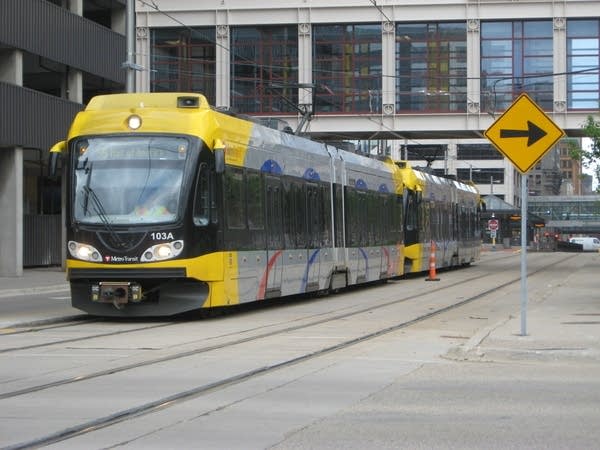 The Metropolitan Council awarded two large bids Wednesday for the Central Corridor light rail project between St. Paul and Minneapolis.
One bid, for $153 million, was awarded to Siemens Industry, to purchase 41 light rail cars. The other, for $114 million, is for construction of the Minneapolis portion of the rail project.
The winning construction bidder is a consortium of two Minnesota companies -- Ames, based in Burnsville, and C.S. McCrossan Construction, based in Maple Grove.
MPR's Dan Olson spoke with All Things Considered host Tom Crann about these contracts, and the status of the Central Corridor project.
Grow the Future of Public Media
MPR's budget year comes to a close on June 30. Help us close the gap by becoming a Sustainer today. When you make a recurring monthly gift, your gift will be matched by the MPR Member Fund for a whole year!
Tom Crann: What are the details of the $153 million contract with Siemens?
Dan Olson: That money goes to purchase 41 light rail cars from Siemens Industry. Thirty-one of the cars will be used for the Central Corridor project, and 10 of them will be used on the existing Hiawatha line. Planners say Siemens came up with the best value, although its bid is about $1 million more than budgeted.
This deal also includes an option to buy 58 more Siemens vehicles in years ahead, as ridership grows and as the Southwest Corridor and other light rail lines may be built.
It's interesting to note the 26 light rail cars currently in use on the Hiawatha line were built by Bombardier. But that company did not win this bid, and company officials wrote a letter expressing their disappointment.
These cars aren't interchangeable -- you can't hitch a Siemens car to a Bombardier car. But the rail planners say that's not a problem, and the cars will runs in sets of compatible vehicles.
Crann: What about the construction bid awarded to Ames and McCrossan?
Olson: The bid from those two companies actually came in several million dollars lower than budgeted. The $114 million will pay for building three miles of double light rail track and four stations along the portion of the Central Corridor line that is in Minneapolis on University Avenue.
It goes through the Prospect Park neighborhood, onto Washington Avenue through the East Bank campus of the University of Minnesota, and over the Washington Avenue bridge and into downtown Minneapolis.
This construction bid actually came in at $109 million, which allowed planners to add back a number of construction components they'd sliced off earlier to keep the project within budget.
Crann: Why are some of these bids coming in so much lower than expected?
Olson: One reason is that the cost of raw materials, especially steel, has gone down. Another reason is the recession. Construction companies are scrambling for business, and are paring their bids down to try win contracts so they can keep skilled workers on board and keep their cash flow intact.
Crann: Have all the bids for this project been awarded?
Olson: Not all of them, but some of the biggest ones have been. In June, the Met Council approved a big one for building the seven miles of the light rail line as it runs on University Avenue in St. Paul. That bid is $205 million and went to the Chicago-based Walsh Construction Company. Again, it came in several million dollars lower than budgeted.
At this point nearly three-fourths of the bids have been awarded. Big ones still to be let include the bid for the electrical work.
Crann: Are folks upset that big award didn't go to a Minnesota company?
Olson: I'm sure some are upset, but everyone knows the rules. This is a "low bid and best-qualified bid" process. Also, the Central Corridor planners want to use federal dollars to pay for about half of the nearly $1 billion project. And federal rules say that favoritism for local companies in public projects is not allowed.
Crann: So if some of these bids are coming in lower than budgeted, how will the money saved be used?
Olson: The bids awarded so far are about $27 million under budget. That's good news. Officials say that "extra" money will go into the project's contingency fund, which currently stands at about $144 million, to be used for unexpected expenses.
Crann: Such as?
Olson: Remember, this is Minnesota's largest public works project ever. When crews are digging up major thoroughfares they have a good idea what they'll find, but there are likely to be some surprises -- for example, pieces of infrastructure such as utilities they thought they could keep in place, but decide upon inspection they need to redo. The contingency fund will pay for work like that.
Crann: What happens next?
Olson: Heavy construction is scheduled to begin in St. Paul east of the Capitol on Robert and 12th streets north of I-94 after Labor Day. There's already preliminary construction in downtown St. Paul, as utility lines are being moved in preparation. Heavy construction on the Minneapolis portion of the line begins later this fall.
Crann: Is all the money in place to pay for this project?
Olson: No, only about half so far. Money from Ramsey and Hennepin counties, from the Counties Transit Improvement Board and from the state of Minnesota is in place, or basically guaranteed. The big piece of cash still missing is the expected $460 million contribution from the federal government.
Crann: What's the holdup?
Olson: The Federal Transit Administration wants the Central Corridor planners to settle their lawsuit with the University of Minnesota before it approves a full funding grant agreement. You'll recall the U is upset with how vibrations and electromagnetic interference from trains running through its East Bank campus will affect sensitive lab equipment that, in some cases, is just steps away from the line.
Met Council officials say they're making progress, and the U also said there's significant and meaningful progress as well. So there could be a settlement soon, and then presumably the U will withdraw its lawsuit.
The other lawsuits -- the one filed by Minnesota Public Radio over noise and vibration concerns, and the civil rights lawsuit filed by some neighborhood groups in St. Paul -- are also a concern. But again, Met Council officials say they're confident they can work out disagreements in both cases. So the federal funding agreement might not come until early next year.
Crann: Could that delay completion of the project beyond the promised 2014?
Olson: It could happen. But the county and Met Council officials say they'll advance the project money if they have to, to keep it "on track."
Gallery
1 of 2
2 of 2