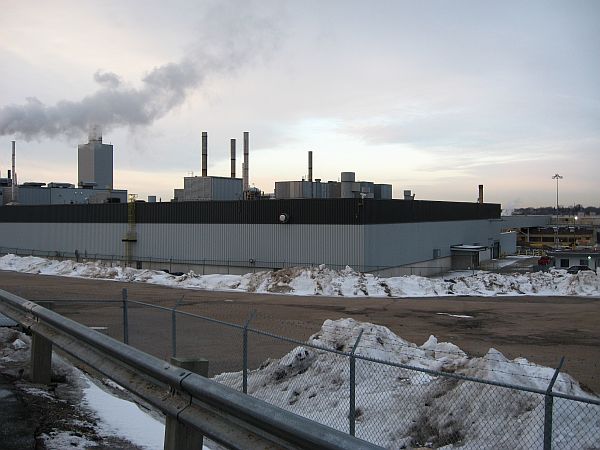 A last-ditch effort by Gov. Tim Pawlenty and St. Paul Mayor Chris Coleman to save the St. Paul Ford plant apparently wasn't enough to persuade company officials. The assembly plant is still scheduled to close in the fall of 2011.
Pawlenty and Coleman traveled to Dearborn, Michigan, Wednesday, to urge Ford executives to keep the facility open beyond next year. But despite wooing the auto company with millions in dollars of tax breaks and other incentives, they said Ford didn't budge.
Mayor Chris Coleman tried to put a positive spin on the apparent lack of progress with Ford officials.
"I just appreciated the fact that they were willing to listen," said Coleman. "Did something change? No. Did we expect that Ford was going to change their decision today? Absolutely not. But I do think that if the constant-changing auto industry allows for a different decision, Ford now knows we are prepared, we have something for them to consider, and are willing to work very, very hard to change that decision."
The incentive package includes a variety of tax breaks amounting to roughly $90 million if Ford decided to retrofit the plant. The facility currently makes Ranger pickup trucks.
Ford reiterated that the St. Paul plant doesn't fit into the company's global manufacturing strategy.
In addition, the St. Paul Port Authority offered to buy the land and lease it back to Ford, allowing the company to use the cash infusion toward renovations.
Other states, including Kentucky, Michigan, and Missouri, have approved much larger tax incentives to Ford in their courting of the automaker.
Dan McElroy, Minnesota's commissioner of employment and economic development, says he was "not overly optimistic" that Ford would reconsider the plant's 2011 closing.
But Gov. Pawlenty says Ford's decision may not come down to money alone. He says Ford officials emphasized their need for operations that can be flexible and produce more than one kind of vehicle, and that these plants should be situated near a supply chain.
"At least for automobile manufacturing, Minnesota lies outside the ... traditional supply chain corridor," Pawlenty said. "That's a geographical question we can't change, and there's no amount of money that would easily replace that."
Even though Pawlenty likened the St. Paul plant to the Biblical story of Lazarus rising from the dead, what with its many lives, he says Ford officials offered no indication they would grant the facility another reprieve. The plant was originally scheduled to close in 2008.
In a statement issued Wednesday, Ford said it will continue to streamline its operations, and at this time, the St. Paul plant doesn't fit into the company's global manufacturing strategy.
The plant, in the Highland Park neighborhood, currently employs about 750 people. St. Paul officials have also eyed the riverfront land it sits on as a key redevelopment site, which could one day be home to condos and businesses.