West Bank era ends as Bedlam Theatre relocates
An era in the West Bank of Minneapolis is coming to a close. The Bedlam Theatre, known for its experimental and renegade work, vacated its current building at its landlord's request to make way for a mosque.
As it looks for a new, permanent home, patrons are mourning the loss of a cultural anchor in the neighborhood.
Bedlam Theatre moved into the old Baja Riverside Cafe in 2007, after an 11-year stint at a small studio space a few blocks away.
There, the iconoclastic theater company re-imagined itself. It became an eatery, and bar, a dancehall and music venue, and a community center and theater. It quickly grew into a neighborhood hot spot, a place where the cultured and the counter-cultural co-existed and drew energy from each other.
A few days ago, 21-year-old Jess Annabelle sat with friends on Bedlam's coveted rooftop patio, sipping a drink while taking in the view of downtown Minneapolis. Annabelle became a twice-weekly regular at Bedlam, mainly because she felt so welcome there.
"The Bedlam's a place everyone feels, like, comfortable, and like, totally themselves," she said. "I love that it's not like a queer venue, but like there's always like queer people here, and there's always queer events going on."
Before you keep reading ...
MPR News is made by Members. Gifts from individuals fuel the programs that you and your neighbors rely on. Donate today to power news, analysis, and community conversations for all.
Annabelle says she'll greatly miss the theater's multi-cultural, Cedar-Riverside locale, but she's looking forward to what lies ahead.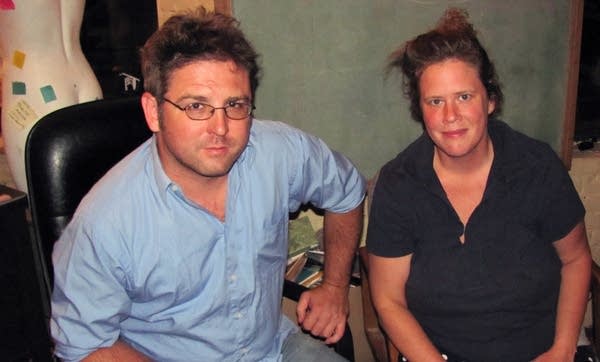 "I'm excited for the Bedlam to move somewhere that feels just as good," she said. "I'm not comfortable fighting a mosque moving in. That seems like a good thing to me, too."
Annabelle is referring to the Darul Quba Mosque. Its original building is being razed as part of a Cedar-Riverside re-development plan.
Some Bedlam patrons feel torn between their support of the mosque and their allegiance to the theater.
Occasional Bedlam performer Vicki Joan Keck says no group has been as successful as the theater at reaching out to Cedar Riverside's African immigrant community.
"It's very important to make room for religion but it's also very important to make room for art," she said.
For Bedlam members, the move out of Cedar-Riverside is bittersweet, given what they've built there. They knew their month-to-month lease wasn't permanent, but they had hoped for more time to make the transition.
Today, the theater announced it's moving its costumes, props, tools and equipment to the Ivey Arts Building in South Minneapolis. Executive Artistic Director John Bueche says it will also have an office there, where the public can have input on Bedlam's future.
"We'd like to open a Bedlam community design center, for interaction on planning the future vision," he said.
The theater will start performing again next spring, at venues and spaces around the Twin Cities.
As for the search for a permanent space, Bueche says officials from Minneapolis and St. Paul have been eagerly pitching locations. He says Bedlam is interested in a site where it can maintain its mixture of food, drink and art, and possibly have more space to develop work or even perform outside. Most important, it must be connected to public transit, especially light rail and bike paths.
"That's really where a lot of the progressive thinking in terms of like sustainability, livability, arts ... is clustering, and we'd like to be a part of that," he said.
Few theaters offer more points of access to the public than Bedlam. With programming such as its Ten Minute Play Festival, Cedar-Riverside Art Zone for Youth, BOMP! dance nights and avant-garde guard theater, it's like the Fringe Festival year round.
McKnight Foundation Vice President of Program Neal Cuthbert says theaters across the country are becoming interested in the Bedlam model.
"Where they've got this performing, eating, social venue space thing happening that is in complete contradiction to the economy, but is really in response to a community need," he said.
John Bueche says Bedlam's secret has been to match its artistic impulse with its context in the community. Its goal now is to find a permanent home, where that approach can truly take root.
Gallery
1 of 1