Voices of the homeless featured in Mpls. photography show
A new photography show in downtown Minneapolis lets visitors learn more than usual about the people in the portraits. The exhibition is called "Homeless is my address, not my name."
The Burnet Gallery in the chic Le Meridien Chambers Hotel in downtown Minneapolis might not seem like an immediate choice for a photo show of homeless people, but it suits Margaret Miles just fine.
"For 15 years I've been conveying the stories of people experiencing homelessness to the general public and I realized I wanted to get myself out of the way," she said.
Miles is development director for St. Stephens Shelter, which sits less than a mile down Hennepin from the hotel.
Grow the Future of Public Media
MPR News is Member supported public media. Show your support today, donate, and ensure access to local news and in-depth conversations for everyone.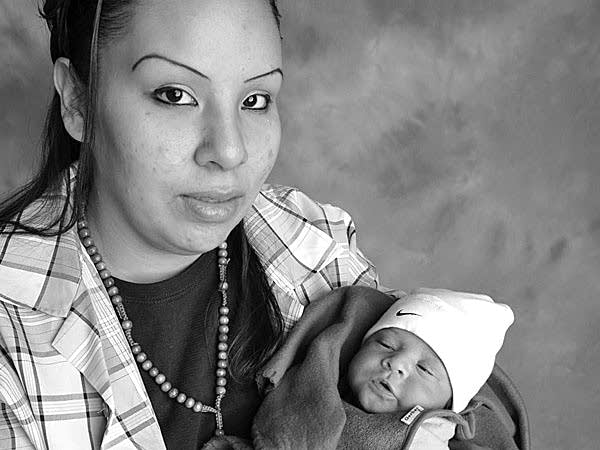 She's standing in the corridor outside the Burnet. Down the walls and into the gallery hang more than 70 striking portraits of people of all shapes and sizes, races and classes.
Underneath about a third of the portraits are phone numbers visitors can call to hear the person in the picture tell their story, beginning with their name and where they stayed last night.
"My name is Jane," one recording begins. "I am 43 years old and last night I stayed at Mission Lodge. For me homelessness was something that I never ever dreamed that would be where I would be one day. I came from a prominent family, I came from money, and growing up in a very comfortable environment."
Jane tells the story of how addiction dragged her down, but now she is working to get herself back on her feet.
Margaret Miles says every story may start the same, but after that each is unique.
"Some people choose to talk about how they were brought up, other people choose to talk about where they stayed last night, or the challenges they face," she said. "Some people thankfully talk about the apartment they have been in for the last year, or even 10 years."
Miles began collecting the stories in 2008 with photographers Larry Lavante and Kris Drake at the annual Project Homeless Connect event at the Minneapolis Convention Center. It's designed to provide a one-stop shop for homeless people to meet with an array of social service providers.
The point is to show the breadth and depth of the homeless population and the myriad of reasons which can lead to someone being on the streets.
Miles points to a picture of Nathan, from Liberia. He worked his way through the immigration system to get to the U.S. legally. The trouble was once he got here, he never learned he needed to get a drivers license. He got a car, a driving job and soon after a whole bunch of tickets.
"Try as he might try and figure out what he needed to do, he was put in prison for driving without a license," Miles says.
Out of prison, he found himself without a home. Nathan smiles broadly in the his picture but Miles says he wanted to make a serious point.
"He's very clear in saying, 'I've never been addicted to anything. It's not the stereotype you that you think,'" Miles says.
There is also Chris, an engineer with a huge salary who lost his house, wife and family after he went to prison for several years. He says it was all a misunderstanding.
"I've never had problems holding a job before. I've always been an honest person. I still have the good skills and quality. I'm not going to give up on life," Chris says. "Even though life has been tough, the Lord has been really good to me."
But now as a felon, Chris can't get a job, nor even rent somewhere to stay.
The "Homeless is my address, not my name" opening reception is tonight, but it only runs at the Le Meridien Chambers through the weekend.
However, the St. Stephen's Shelter's Margaret Miles is lining up other corporate galleries, and a spell at the Hennepin County Government Center. She also plans to take the show to Washington, D.C.
And Miles found another powerful use for the project, to let people have pictures of themselves.
"Many of the folks have tears in their eyes because they either, through being homeless have lost photos, or being extraordinarily poor have never had photos of young children," she said.
Miles recently won a grant from the Minnesota Legacy Amendment to gather photos and stories from rural parts of the state. That work will be used to expand the current show.
Gallery
1 of 1