Students, staff urge U of M to 'chop from the top'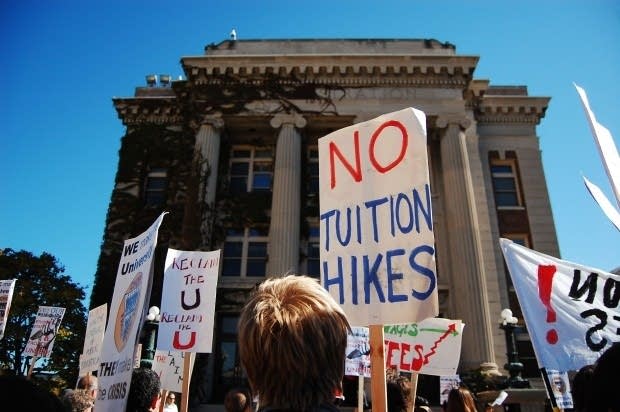 Students and other members of the University of Minnesota community on Thursday urged university officials to "fund education, not administration" during a rally on campus that coincided with similar events across the country.
About 100 people attended the rally on Northrop Mall, including students, faculty, staff and concerned community members who make up the "Chop-from-the-Top" coalition. The coalition includes AFSCME union workers, the Black Student Union and Students for a Democratic Society.
The event, one of many rallies scheduled across the country as part of National Day of Action to Defend Public Education, raised concerns about issues such as increased tuition, job cuts and unbalanced wages.
Mia Overly, president of the university's chapter of Students for a Democratic Society, said education is now becoming a privilege rather than a right.
"It's being threatened by tuition hikes, overpaid administrators and undervalued [faculty and staff]," she said.
State lawmakers have cut funding to the University of Minnesota in recent years to help balance the state's budget, and the university has cut jobs and raised tuition to stabilize its own budget. The state faces a projected $5.8 billion budget deficit in the next two years, and it's possible higher education could be a target for cuts again.
Tuition at the University of Minnesota has more than doubled over the past 10 years. Courtney Bell, vice president of the Black Student Union, said she didn't notice the tuition increases until this year.
"I was shocked when I looked at my student account, and all of the sudden it [was] $6,000 [each semester]," she said.
Bell said she was used to a $4,000 per-semester price tag in previous years.
Clerical workers, particularly, have been hit by the cuts, said Phyllis Walker, president of AFSCME Local 3800 clerical workers union. About 100 "frontline" workers were laid off in the past two years, she said.
Walker said administrators are walking away from their educational duties in an effort to become a one of the top three research universities in the country by 2019.
"If [the university] laid off one administrator, it could save four or five frontline workers," Walker said.
University spokesman Dan Wolter said clerical workers aren't the only university employees facing cuts. Most university employees -- including faculty -- saw a 1.15 percent pay cut this year, while administrators had their salaries cut by 2.3 percent.
"These are challenging economic times," Wolter said in a written statement. "Certainly, we understand the angst being felt by the university community and the country as a whole."
"The University of Minnesota has taken significant reductions in funding from the state of Minnesota, which have caused the need for a balanced approach to balancing our budget and ensuring the highest quality of education for our students," he added.
But many of the students at the rally argued that continuing to raise tuition would make higher education less accessible for many.
Abdi Ali, a senior economics major, said rallies like the one Thursday give students a voice, and he hopes university administrators will pay attention.
"Our demands won't go unnoticed," he said. "And if we continue to fight for public education ... change will happen."
(MPR's Elizabeth Dunbar contributed to this report)
Gallery
1 of 1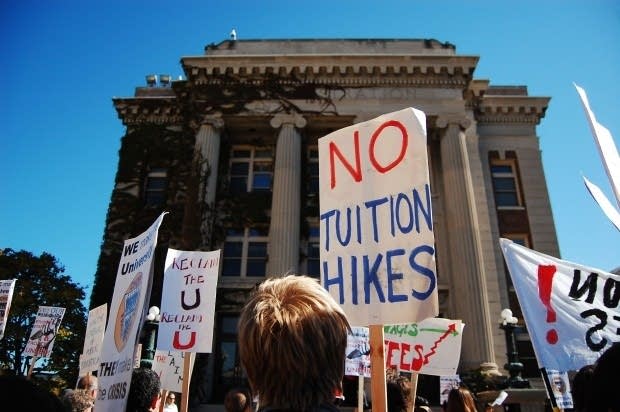 Your support matters.
You make MPR News possible. Individual donations are behind the clarity in coverage from our reporters across the state, stories that connect us, and conversations that provide perspectives. Help ensure MPR remains a resource that brings Minnesotans together.