The musical chaos of STNNNG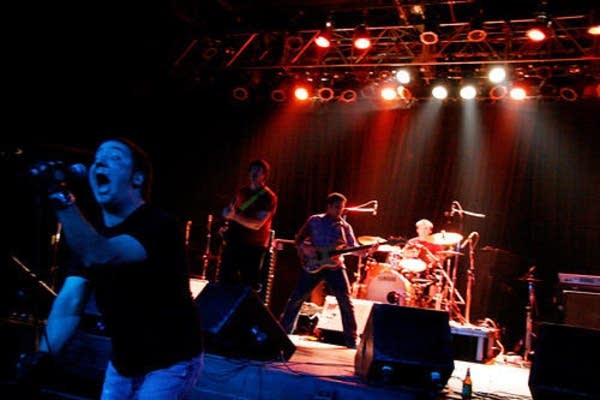 "The Smoke of My Will" sounds like something a poet with an oversized ego might write. It's actually the title of the new album from the blistering Minneapolis indie rock band STNNNG, which the group unveils Saturday night at St. Paul's Turf Club.
It's hard to define STNNNG's sound. Musical chaos? Controlled anarchy? Guitarist Adam Burt likes what he read one day on a local message board.
"I saw some kid say something to the effect of that when he hears us, he wants to go to the zoo and set all the animals free," he said.
Or, says singer and frontman Chris Besinger, remember when you were a kid and fell off your bike and skinned your knee?
Grow the Future of Public Media
MPR News is supported by Members. Gifts from individuals power everything you find here. Make a gift of any amount today to become a Member!
"It hurts really bad, but it kind of feels good at the same time," he said. "It's kind of that burn."
STNNNG has been making listeners feel its visceral burn since 2003. "The Smoke of My Will" is four years in the making and the group's third full-length record. And though a few of the songs are slower with softened edges, it's basically the same overwelmingly loud, melodically and rhythmically complicated guitar attack that STNNNG lives by.
Think punk with prog-rock sensibilities, or noise rock with symphonic tendencies. And Adam Burt says STNNNG's musical complexity is scaled back compared to the groups he and some of the other members used to be in.
"We were all in these bands that had an emphasis on long musical passages and doing challenging musical progressions," Burt said. "We all agreed that we wanted to do something a little bit more conventional, in the sense that people could watch us play and maybe enjoy it more."
Somewhere, contained in STNNNG's dissonant roar is singer Chris Besinger's lyrical rants. They're like poetry from a mad man. City Pages music writer Andrew Flanagan calls STNNNG his favorite local band, largely because of Besinger's highly agitated presence.
"His lyrics are kind of disjointed and dense, but kind of hit that sweet spot," Flanagan said. "He goes off on kind of a thematic tangent and then will tie it all together with just one well-placed howl. Kind of an artful expression of turmoil, I guess."
On STNNNG's records and when he stalks the stage at live shows, Besinger spews out a lot of angst and anguish. Some of it he feels inside, but it also serves the absurdist apocalyptic world view he's trying to communicate.
Besinger remembers loving the 1970s British sitcom "Fawlty Towers" when he was a kid, about a hotel owner who was always on the verge of a meltdown.
"That's a lot of what I'm trying to get across is somebody going nuts, somebody totally losing it, over nothing," he said.
It's tempting to look at STNNNG as commenting on the political anger and economic stress that pervades the country right now. Or the fact that some even worry that society's unraveling. Chris Besinger says, what's new? We've always been like this.
"Sometimes we think like, right now is the worst it's ever been," he said. "Except for all the time before that, which was always, it's always the worst it's ever been."
Think the world is falling apart? According to Besinger that's the human condition. Embrace it, he says. And STNNNG is here to help.
Gallery
1 of 1