Dayton, Emmer stake out positions on recount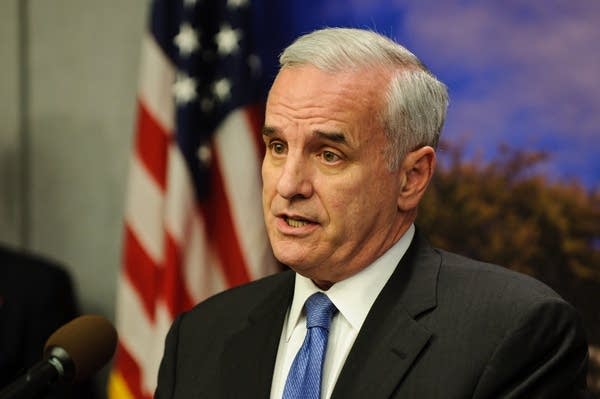 Republican Tom Emmer says he hasn't made a decision about whether he'll file a legal challenge, if he can't find enough votes to overcome Democrat Mark Dayton in the race for governor. Dayton currently leads Emmer by about 8,700 votes, a small enough margin to trigger an automatic recount.
Emmer made one thing perfectly clear in his 20-minute news conference at the State Capitol -- he wants to make sure the recount process takes its course.
"The Minnesota voters have spoken. We just don't know what they've said yet," he said.
But Emmer declined to say how far he'll push the issue. When asked whether he was mentally preparing for a drawn-out legal battle, Emmer declined to answer directly.
MPR News is Member Supported
What does that mean? The news, analysis and community conversation found here is funded by donations from individuals. Make a gift of any amount today to support this resource for everyone.
"When you have this type of a process you want to make sure it's done in a fair, open and honest manner. That means that you should be part of that process," said Emmer. "That's all we're trying to make sure is that the process is conducted the way it's supposed to be conducted by law, and that at the end of the day, Minnesotans can be confident that this is exactly what Minnesota decided."
In all, Emmer used the term "process" 44 times during his news conference -- an average of more than once every 30 seconds.
While Emmer has declined to say whether he's planning a legal challenge after the recount, he and the Republican Party appear to be gearing up for one. They have raised concerns over a reporting error in Hennepin County, over rejected absentee ballots and over military ballots.
Emmer and the Republican Party also announced Tuesday they're hiring former Minnesota Supreme Court Chief Justice Eric Magnuson to be their chief litigator. Magnuson served on the state Canvassing Board during the 2008 recount that resulted in Democrat Al Franken's Senate victory.
Magnuson, an appointee of outgoing Republican Gov. Tim Pawlenty, stepped down from the state Supreme Court last summer, citing personal reasons.
Pawlenty met privately with Mark Dayton on Tuesday afternoon, just as he did with Emmer the day before, to talk about the transition to a new administration once a winner is declared.
After the meeting, Dayton was peppered with questions about the recount. Dayton said he's confident his lead will hold, but is careful about declaring victory.
"I'm not presuming anything or claiming anything. But there's nothing relative to that number of votes that have been retabulated, and the incidents that have brought up so far, that would suggest to me as a lay person there's any basis for questioning this election," Dayton said.
Both Dayton and Emmer have been careful not to declare themselves the winner in a race that could remain undecided for several more months.
Dayton said he's not offering any positions to potential cabinet members out of respect for the election process. In terms of the recount ending up in court, Dayton said it appears that Republicans are gearing up for a possible legal challenge. He discouraged a lengthy legal battle if his lead continues to hold up.
"If the numbers are -- at the end of the canvass and at the end of the recount -- in the magnitude they are today, it seems to me that that's where the process ought to end so we can have a timely transfer from Governor Pawlenty to the next governor of Minnesota," he said.
Emmer said he is "involved" in decisions regarding his candidacy but declined to characterize himself as "in charge." His recount efforts are being coordinated by the state Republican Party.
"There's going to be more people than just one ultimately," Emmer said of the decision-making process.
Dayton has retained lawyers who worked for Franken two years ago and set up a recount team distinct from the state party.
"I'm responsible for my campaign. I'm responsible for the recount. I'm responsible ultimately for the decisions made regarding the recount," Dayton said.
Dayton has also formally opened a fundraising account to finance activities related to the expected recount. An adviser filed a form with the Internal Revenue Service on Monday to establish the Dayton Recount Fund. No similar account exists for Emmer.
The Dayton filing was made by Ken Martin, who is heading the former senator's recount team. State campaign regulators have previously said that normal fundraising rules, including donation limits, don't apply to a recount.
Pawlenty has said he wants to help both men get ready to take the reins. He's made top budget officials and other advisers available to discuss a transition complicated by the recount.
(Associated Press reporter Brian Bakst contributed to this report)
Gallery
1 of 1