Oslund to lead the revitalization of Peavey Plaza
The Minneapolis City Council has selected Oslund and Associates to lead the revitalization of Peavey Plaza. The project will go forward in conjunction with the $45 million expansion of the adjacent Orchestra Hall in downtown Minneapolis.
Oslund and Associates has designed several other projects in Minneapolis, including Gold Medal Park and Target Plaza, and elements of the I-35W bridge.
City Councilmember Lisa Goodman said Tom Oslund showed he had the best vision for the project.
"On the programming and maintenance end of it, as well as a body of work locally that we could touch and feel, visit and see -- that proved to us that a project of this scale was right up his alley," Goodman said.
Goodman added that Oslund is committed to preserving historical aspects of Peavey Plaza, particularly through his decision to include on his design team Paul Friedberg, the original designer of the plaza.
Design concepts for the Peavey project are due in June, with the goal of completing it for the re-opening of Orchestra Hall in June 2013. The city has $2 million dollars in bonding money for the project, with the rest to be raised privately.
Gallery
1 of 1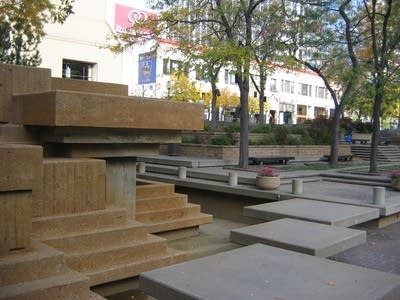 Gain a Better Understanding of Today
MPR News is not just a listener supported source of information, it's a resource where listeners are supported. We take you beyond the headlines to the world we share in Minnesota. Become a sustainer today to fuel MPR News all year long.