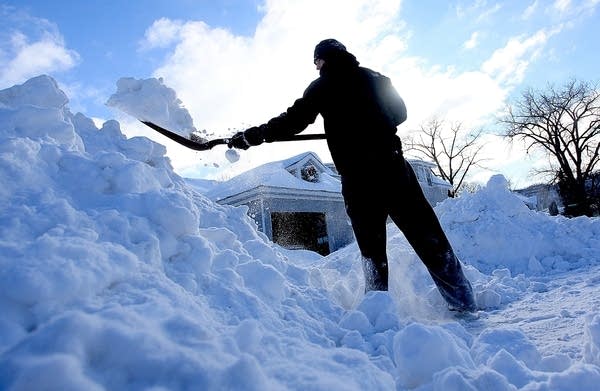 The city of Minneapolis declared a second snow emergency Monday, two days after a major snowstorm dumped more than 17 inches of snow on the Twin Cities area.
City officials say while it's unusual to declare a second emergency, they have to replow many of the streets to make sure they're wide enough for vehicles to get through. It goes into effect Monday at 9 p.m., and runs through Wednesday. The city is currently in day three of its snow emergency.
BEHIND SCHEDULE IN ST. PAUL
Snow-plowing crews in St. Paul are behind schedule in clearing streets, and the costs of snow removal are adding up.
Public works spokeswoman Shannon Tyree said the city has already met its maximum number of budgeted snow emergencies.
"We typically budget for four snow emergency events annually, and we're at four," Tyree said. "If we do need to plow more this year -- and we haven't even made it to winter yet -- then we will make adjustments to our budget. But the city's priority is to maintain safe and passable streets for our residents."
Tyree says each snow emergency costs the city up to $500,000.
St. Paul called a second snow emergency Sunday, and the city is busy plowing east-west residential streets, half of which have yet to be cleared. Officials plan to hold a press conference this afternoon with more information.
MSP ALMOST FULLY OPERATIONAL
Minneapolis-St. Paul International Airport officials say about a thousand people were stranded in the airport Saturday night due to storm cancellations, and about 500 people spent the night there Sunday.
But all flights are now able to take off and land, said Pat Hogan, the airport's spokesman.
"Operationally, we're in pretty good shape; three of our four runways are open," Hogan said. "The fourth runway is only used about 2 percent of the time, so it's not one of our top priorities in terms of what we need to clear right now."
Hogan said the airport is still clearing the taxi-way, and expects to re-open the fourth runway Tuesday.
SCHOOLS CLOSED MONDAY IN MINNEAPOLIS AND ST. PAUL
St. Paul decided last night to cancel classes and started calling parents about 10 p.m. to warn them that they would have to find other arrangements for their kids.
Minneapolis waited until just after 4 a.m. Monday to make the call.
Minneapolis School District Spokesperson Stan Allyne said that the district had hoped that the city and school staff would be able to dig out in time, but decided it wasn't happening.
"People are just struggling getting out on the roads that have been plowed," Allyne said. "We realized it there would be bus delays and people having difficulty getting to work. And with these temps being so low, we just didn't want to risk students being outside in the cold."
Dozens of other school districts have also cancelled classes today, many of them in the southwestern part of the state. But Minnesota's biggest school district, Anoka-Hennepin, held classes Monday.
WORST STORM IN DECADES
People are still digging out from this weekend's storm, which was the state's worst in nearly two decades. The massive storm produced the fifth highest snowfall on record for the Twin Cities, and led to the collapse of the Metrodome.
Minnesotans began creeping out of their homes for the first time Sunday in what felt like many days. The sun was shining, so many who bundled up and headed outside were optimistic about getting around. But then they started shoveling -- and realized how much snow was there.
St. Paul Fire Marshal Steve Zaccard says at least a couple dozen people who tried to dislodge their cars by rocking them back and forth reported their cars caught fire. But he doesn't really know why.
"The engines were catching on fire. I don't know why. I've never seen that before. Especially that widespread," said Zaccard.
When 15 to 20 inches of snow falls, it's a challenge to find a place to put it once it's plowed.
"We usually store the snow, so to speak, in ditches and stuff, but when they fill up, it gets to be more of a problem," said MnDOT spokesman Kevin Gutknecht.
"With these temps being so low, we just didn't want to risk students being outside in the cold."

Stan Allyne, Minneapolis School District
Gutknecht said bridges and overpasses pose a particular problem. If plow drivers dump snow over the side, it can cause trouble for whatever or whoever is underneath.
In St. Paul, public works spokeswoman Shannon Tyree says for most of the day, plow drivers were improvising.
"We have to be very careful on some of our routes -- if we go too fast, the snow goes too far, it hits windows and breaks things, so we have to be very careful how we go around things," said Tyree.
Most roads in the state were open again as of Sunday afternoon, but many are still snow-compacted and icy and numerous highways are down to a single lane, according to MnDOT. Subzero temperatures are restricting the use of chemicals normally used to clear up roads.
The agency says some ice-covered roads may not be safe until the middle of the week, when temperatures are forecast to finally rise a little bit. MnDOT says people who need to travel should use extra caution.
Meantime, the storm affected other Midwestern states on Sunday, closing major highways and canceling more than 1,600 flights in Chicago.
At least four weather-related deaths were reported as the storm marched east after dropping nearly 2 feet of snow in parts of Minnesota.
A blizzard warning was in effect Sunday for parts of eastern Iowa, southeastern Wisconsin, northwestern Illinois and northern Michigan, according to the National Weather Service.
Surrounding areas, including Chicago, were under winter storm warnings. Much of Iowa was under a wind-chill advisory.
(MPR reporters Tim Nelson, Sasha Aslanian and Laura Yuen and the Associated Press contributed to this report.)