A passion for signs leads to a trip of a lifetime
St. Paul-native Roger Johnson has what may be a unique travel obsession. He likes to be called "the world's first self-proclaimed welcome sign photography expert.
For years he's traveled the United States having his picture taken in front of roadside signs welcoming visitors to different states. Now Johnson has taken his passion to new heights.
Johnson has even made up a name for it.
"I have OCTD, is ultimately what it is," he said. "'Obsessive compulsive travel disorder.' I just can't go to one state, I have to visit all 50. I can't just take a picture next to one welcome sign, I have to do all 50.
Grow the Future of Public Media
MPR News is supported by Members. Gifts from individuals power everything you find here. Make a gift of any amount today to become a Member!
To Johnson it's like being obsessed with collecting, but gathering experiences rather than things.
"I have to go to every national park, I'm still working on that," he said. "Just this last summer I visited my 50th state capitol, Juneau, Alaska."
"I have OCTD, is ultimately what it is: obsessive compulsive travel disorder.
Roger has a twin brother called Rodney. He isn't into traveling so much, but likes making films. It didn't take much of a leap of the imagination for them to decide to take things to the next level: make a film of Roger going to 50 states in 50 days, making sure to get a picture of a welcome sign in each state.
As music thunders in the background at the opening of the film, Roger announces he knew he was on to something big.
"It was then I decided to take a trip of a lifetime," he said.
The movie -- called "Welcome to America: 50 States 50 Days" -- had its world premier Tuesday night at the Heights Theater in Columbia Heights.
The Johnson brothers realized though that while they had a project, they needed something else. Roger lays it out in the film.
"Me, on camera by myself, would have been really boring, watching me go take pictures of myself next to signs or whatever," he said. "So I found a travel partner, one Haley Chamberlain."
They found Chamberlain, a Twin Cities actress through an ad on the Minnesota Film and Television Board's website.
The offer might have given some people pause, but not Chamberlain.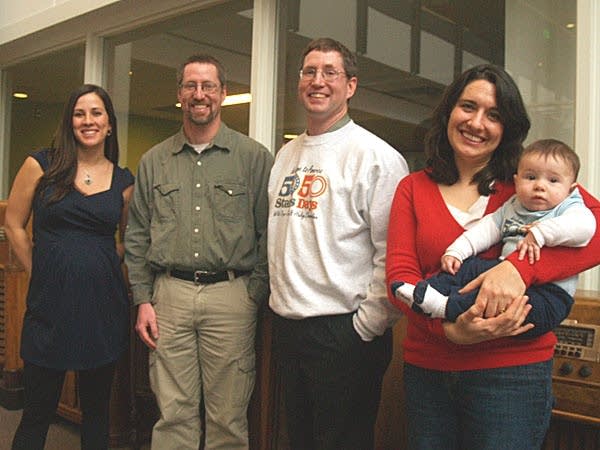 "Really it was exactly up my alley. I love traveling and I like to do long distance, sort of crazy trips," she said. "but the way that Roger had it planned was nothing like I had done in the past. He does plan things with very NASA-like efficiency."
Everything was laid out, from the route to the way the photographs of the signs should be taken. Johnson has seven welcome sign poses he uses.
You may have spotted there's a geeky element to this film.
"No! No!" Roger Johnson said, denying the claim.
"Oh no! He found out! He found us out!" Chamberlain added.
"The secret is revealed," Johnson smiles.
Chamberlain brought her own obsessions for science, and kung fu, which explains why some of the sign pictures feature her leaping through the air, mid-kick.
"I have been told I am a little bit quirky at times," she laughed.
"There's that word again," Roger adds.
Financing themselves, the Johnson twins and Chamberlain set out in June 2007 and drove 15,000 miles in a Dodge van. They added Alaska and Hawaii by plane.
They shot their sign pictures, but they also visited sites of historical interest for Roger, and indulged Haley's love of science. As they went they posted video updates of their trip on the web. They are still there, along with Roger's other welcome sign pictures.
Rodney Johnson who doesn't appear much in "Welcome to America" agrees that this kind of trip isn't for everyone. Yet he hopes the film will encourage people to make their own trips of a lifetime.
"There's a billion options, and a billion choices and you get to pick whichever path and whichever things you get to see. What a great thing," he said.
"And there's a certain amount to say for having a weird dream and a weird aspiration," Chamberlain continued. "Because you just know that it's yours and you love it and you want to do it and you are not ashamed of it. Some people grow up and they want to go to space, and they work their whole lives to go and do that, and that's their dream and they follow it.
"And some people want to go and take their pictures in front of welcome signs."
So what's next? Rodney the filmmaker says Roger the traveler is planning already.
"He has four or five ideas for different adventures, and every one is..." Rodney begins.
"Four or five?" Haley interrupts. "He has pages of already made logos for future trips. One of which, my favorite, is a trip to the moon."
"Well, it's just to outer space in general," Roger points out.
"I want back in when you go to space," Chamberlain demands.
"OK, we'll talk," Nelson agrees.
And in the short term? Taking "Welcome to America" to film festivals around the country, and no doubt taking more welcome sign pictures.
Gallery
1 of 1