Summer food programs put kids at ease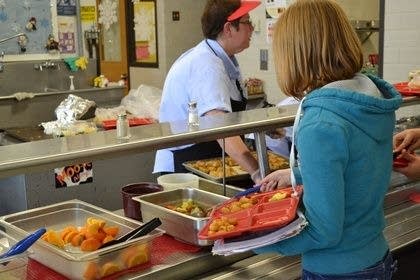 If you ask elementary school students in southwest Watonwan County what it was like to get free meals last summer, many will give the same reply: It was fun.
That's exactly what organizers of the summer food program are hoping to hear. The program is designed to help feed low-income kids over the summer. But organizers want to make sure there's no stigma attached.
I was in Watonwan County this past week, reporting on the federally-funded Summer Food Service Program. The Minnesota Department of Education is calling on non-profit and faith-based organizations to sponsor the program this summer.
The organizers of the Watonwan program, which had three sites in three different school districts, say the key to their success was providing an open site in which all kids, regardless of income, could stop in for a meal.
"It takes away the stigma of 'This is for the poor kids,' " says Judy Kovacs, who oversaw food preparation at all three sites last summer. "Nobody knows if you're there because you need food, because you don't have food at home, or if you're there because you want to hang out with your friends, or if you're there because you want to interact with some adults."
Gain a Better Understanding of Today
MPR News is not just a listener supported source of information, it's a resource where listeners are supported. We take you beyond the headlines to the world we share in Minnesota. Become a sustainer today to fuel MPR News all year long.
She says kids came for all of those reasons. While many of them lived in homes that were struggling economically, others didn't.
"We still have a great need for open sites, where children just show up and get a meal," says Jenny Butcher, who coordinates the program at the Minnesota Department of Education. Butcher says organizations can provide open sites if they are located in areas of need - for example, if 50 percent of children in the area are eligible for free or reduced-price meals at school.
In Watonwan County, the program was also linked with other activities: reading programs, field trips and playground games. Sue Harris, Community Education director at the St. James schools and the organizer of Watonwan's summer food program, says those activities also helped create a sense of community.
"I think when you have a program that's open to kids... with learning things attached to it, all in all, it becomes a positive," Harris says. "Rather than going to the homeless shelter and getting the free handout... it feels better for everyone."
For some parents in Watonwan County, the free meals were a way to stretch their budgets during tough economic times. For educators, they were a way to make sure all kids got enough nutritious food in the summer.
But the kids will tell you, it was about hanging out with their friends, sharing their secrets and going for a swim. There's nothing low-income about it.
Julie Siple reports on hunger and related issues for Minnesota Public Radio News. MPR is a partner in the Hunger-Free Minnesota project, which helps fund her reporting.