Misuse of welfare money is minimal, data show
Republican state lawmakers have proposed new restrictions to prevent poor people from spending welfare money on alcohol, tobacco and lottery tickets.
However, the available data suggests misuse of welfare money is minimal. Instead, people who receive welfare said the legislation would make it impossible to use the money for basic needs, like paying rent and doing laundry.
"It's degrading enough, and now they want to degrade me even more, and that's wrong," said Gigi Wright, a welfare recipient who would be affected by the changes.
Republican lawmakers have authored several bills this session that would impose restrictions on the transaction card that welfare recipients use to access their monthly benefits. At a press conference in late January, lawmakers introduced the bills while standing next to a display of beer, cigarettes, and lottery tickets -- items that aren't supposed to be purchased using welfare money.
Grow the Future of Public Media
MPR News is supported by Members. Gifts from individuals power everything you find here. Make a gift of any amount today to become a Member!
In November, Gov. Tim Pawlenty directed the Department of Human Services to add a line to the welfare application that states, "I understand cash assistance is provided to help eligible families meet their basic needs." The application defines basic needs as "things like food, clothing, transportation, shelter and utilities" and states that the money "is not meant for the purchase of non-essential items such as alcohol and tobacco."
But some Republican lawmakers said that statement is impossible to enforce and has done little to change how the card is used.
"I have personally seen it myself in a convenience store," said Sen. Doug Magnus, R-Slayton. "People are using it to buy beer or whatever."
Magnus introduced a bill that would make it illegal for families to use their welfare card to get cash at an ATM or to purchase alcohol, tobacco, and lottery tickets. The bill would also prohibit families from using the benefits outside of Minnesota and would require recipients to show a photo ID when using the card. The law would not apply to food support money, which recipients get via the same transaction card, but is regulated by the federal government.
Freshman lawmaker Rep. Kurt Daudt, R-Crown, introduced a similar bill in the House. He said the measures are needed to prevent fraud.
"I'm fully aware that these kinds of misuses and abuses are probably less than one percent of the people that are doing this stuff, but we just want to make sure that it's not happening at all," he said. "These are tax dollars. People expect that they're going to be used in a responsible manner and that's really what the intent of this is."
Gigi Wright is one of thousands of Minnesotans who use the card to access monthly welfare benefits. Wright worked as an office administrator until she was diagnosed with diabetes, sleep apnea, and a rare and debilitating digestive disorder. She didn't have insurance through her employer, and needed surgery to remove tumors from her arm. She decided to quit her job and enroll in the state's free health insurance program for poor.
"Do you know what it's like to make that kind of decision?" Wright, who is 46, said. "I work, I get sick. I could never keep up. My savings would be wiped out each time. ... So I really had no choice."
Wright had expected her health would stabilize after four months, but four years later, little has changed. Although others have urged her to apply for permanent disability benefits, she wants to return to work.
Now Wright gets $203 a month from the state's General Assistance program. The state automatically adds the benefit to her Electronic Benefits Transfer (EBT) card, which resembles a debit card. Like many recipients, she's been denied a checking account because of her low income.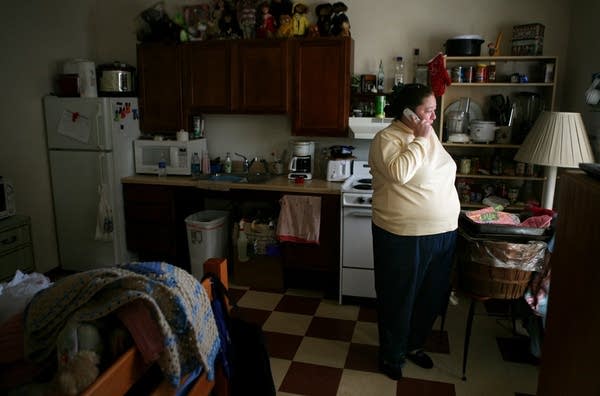 Every month, Wright withdraws her General Assistance money at an ATM. She pays $51 for rent at a subsidized apartment building in Minneapolis, and uses the rest of the money to pay for laundry, bus fare, and her cell phone. If she couldn't withdraw her welfare as cash, she doesn't know how she'd pay for anything.
At the end of the month, if she has any money left, Wright spends between $6 and $14 playing bingo. She understands her bingo spending might be, as she put it, "deemed as not appropriate."
"It's the closest thing that I have to a normal life right now, and to take that away--." She began to cry. "I mean I'm already depressed enough, and it's the one thing that reminds me that there is a life outside of this, and that maybe there's some hope to going back to work."
Rep. Mary Franson, R-Alexandria, who authored one of the bills to restrict EBT card usage, said the state cannot afford to pay for anything other than basic needs.
"I think that Minnesota is facing a shortfall of money here, and everybody is watching where their dollars are going, including taxpayers," Franson said. "And taxpayers are not happy that those that are receiving welfare benefits are able to go and get tattoos and buy liquor and buy smokes when that's not what the program is meant for."
Franson dismissed concerns about how recipients would pay for basic needs. "I'm sure that laundry isn't really that big of an issue," she said.
When asked how recipients would be able to pay rent if they cannot access cash from an EBT card, Daudt said, "I don't believe that this benefit is actually for their rent. I think it's for their living expenses. Now, is it an acceptable use to pay the rent? I think that it is, but there are other programs as well that cover these things."
Daudt acknowledged that he's not familiar with specific programs and has not spoken with any welfare recipients.
KSTP-TV SERIES PROMPTED GOP BILLS
Most low-income housing assistance programs require tenants to pay about 30 percent of their income or welfare payment for rent. If welfare recipients fail to pay rent, they are evicted. Franson and Daudt said they wrote their legislation in response to the "Welfare Waste" stories that appeared on KSTP-TV's 5 Eyewitness News in November.
"It's a benefits bonanza that might leave you shaking your head: cigarettes, alcohol, lottery tickets -- even tattoos -- can be bought with your money," the online introduction to the series begins. KSTP-TV obtained a month's worth of EBT card transaction data from the Department of Human Services. The data included transactions from two different types of welfare programs -- federal food support and state assistance programs.
Federal law allows food support to be used in any state or U.S. territory, and the federal government determines what people can buy using the money.
The KSTP-TV series often did not distinguish between food support and cash assistance programs. For example, it found 101 transactions at liquor stores throughout the country in September 2010. The stories did not explain that in most of the transactions, the recipient was using the card to buy food.
MPR News requested the same data and separated out the food support transactions. The data show that recipients primarily use the state assistance programs to get cash. Out of $17.8 million in total transactions, $14.8 million was withdrawn as cash.
Only $225.90 was spent at stores with a name that includes the words "liquor" or "wine." At those same locations, card users withdrew about $17,000 in cash from their cards, presumably at ATMs located inside the stores. In total, about 0.01 percent of the money was spent or withdrawn at liquor stores.

Transactions conducted during September 2010.
Another $12,000, or 0.07 percent, was spent or withdrawn from ATMs at stores with the word "tobacco" in the name. DHS officials said the agency voluntarily works to block liquor and tobacco stores from the EBT card system, but the process isn't easy.
"We can't wave a wand and have all ATMs throughout the state automatically reject the card," said Erin Sullivan Sutton, the agency's assistant commissioner for Children and Family's Services.
DHS contracts with a private company to manage EBT cards. Sutton said DHS officials run quarterly reports to search transaction data for suspicious purchases.
When they find an ATM at a liquor store or a string of purchases at a tobacco store, for example, they contact the card management company and ask it to block future transactions at those locations. Sutton said the efforts, although voluntarily, help reduce purchases of non-essential items.
Sutton said the agency takes fraud seriously, and that DHS officials are working to determine how much it would cost to implement the proposed legislation.
"Anytime somebody's using public funds inappropriately or in questionable ways, we get concerned certainly, but by far the information that we have is that most people are using the benefits as they're intended," she said.
Republican lawmakers have highlighted the number of card transactions outside of Minnesota as possible signs of fraud. In September 2010, $320,288 was spent or withdrawn outside of Minnesota.
A closer look at the data reveals that nearly half of that money was spent in neighboring states. For example, card users spent or withdrew $52,600 in Wisconsin. Nearly a third of that amount came from Superior, just across the border from Duluth.
Two of Minnesota's neighbors, Iowa and North Dakota, have similar cards. Neither restricts card usage to within state borders.
DFL lawmakers and advocates for the poor said most welfare recipients use the money for basic needs.
At a news conference after the Republican lawmakers introduced their bills, several DFLers said they worried about writing legislation based on anecdotal evidence of fraud.
"Some of these things that are in these bills really don't mesh with any facts," said Rep. Tina Liebling, DFL-Rochester. "It's sort of like a solution without a problem."
Deborah Schlick, the executive director of the advocacy group Affirmative Options, said that even if the legislation doesn't pass, the proposal and the debate around it fuels the wrong kind of conversation about welfare and poverty.
"They're bills that reinforce a mistaken assumption that the families who end up in crisis are families who are drug abusers, who are liars, who are looking to misuse assistance," Schlick said.
Lawmakers have introduced the bills in House and Senate committees. Daudt said he plans to call for hearings as soon as this week.
Gallery
1 of 1