Abuse victims hope St. John's settlement leads to change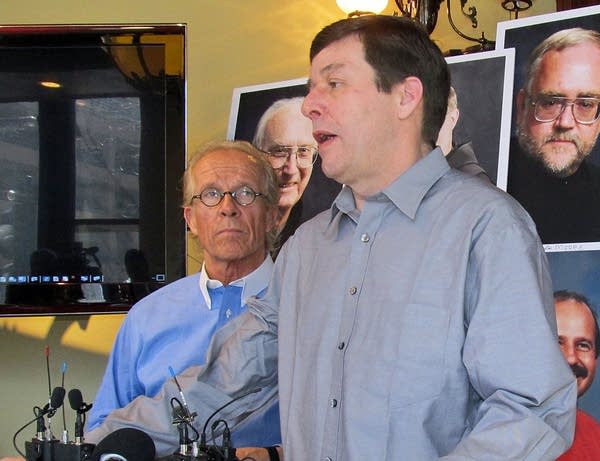 People who attended St. John's Preparatory School in Collegeville may soon receive an unusual letter in the mail. According to a settlement announced Monday, St. John's must send a letter to all alumni of its prep school that lists 17 monks and priests who are "credibly accused of abuse, exploitation or misconduct."
The letter is part of the settlement with nine people who say they were sex abuse victims at St. John's Abbey in Collegeville. The agreement ends several lawsuits that accused clergy at a Catholic prep school of abusing minors for decades.
One of the victims named in this new settlement -- and the only one who's speaking publicly so far -- is Jerry McCarthy. He was 15 years old in 1971 when he was sent to Father Bruce Wollmering for counseling and testing.
"It was probably during the third visit I had with Father Wollmering for this counseling and testing when he actually attacked me in his office," said McCarthy, now 55, at a news conference Monday in St. Paul.
McCarthy said after that incident he quit the school. And even though Catholic clergy sex abuse became prominent in the national news in 2002, McCarthy still didn't pursue a case.
"I just never did. It wasn't an issue in my life at that time," said McCarthy. "Thirty years had passed. What brought it up was Father Wollmering's obituary, which I happened to read in the newspaper."
Gain a Better Understanding of Today
MPR News is not just a listener supported source of information, it's a resource where listeners are supported. We take you beyond the headlines to the world we share in Minnesota. Become a sustainer today to fuel MPR News all year long.
Wollmering died in 2009, and it was then that McCarthy went to St. Paul attorney Jeff Anderson --- who's built a career and fortune on suing the Catholic Church over clergy sex abuse.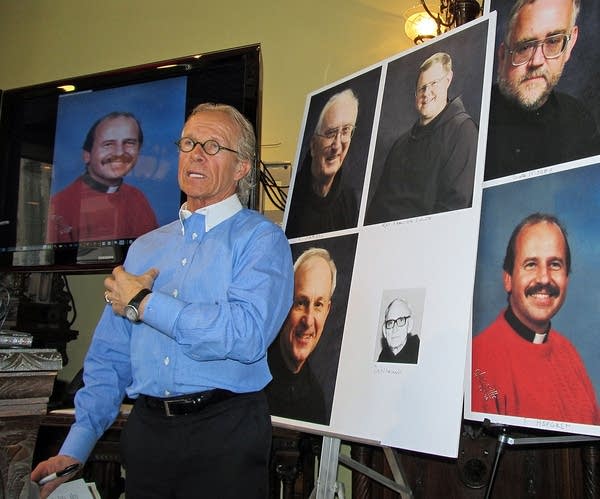 Anderson reached a settlement with St. John's Abbey once before -- at the height of the crisis nine years ago. At that time Abbot John Klassen apologized to victims and pledged to set up an independent panel to investigate abuse claims.
"[The panel] will handle specific allegations. That will perhaps suggest possible avenues for settling cases, and that will also review what we're doing in terms of prevention," Klassen said in 2002.
That year the Abbey also put restrictions on the activities of priests and monks accused of misconduct.
A spokesperson for St. John's Abbey and an attorney both declined comment on the settlement.
While while there are no recent allegations of abuse, attorney Anderson says the fact that victims from the 1960s through the '90s continue to come forward shows that St. John's Abbey still wants to keep secrets.
"Policies are words and talk is cheap. What counts is action, and actions speak louder than words," said Anderson. "The actions of the abbey speak that they have historically to keep secrets, and to protect their reputation and continue to do so."
While he's not prohibited from talking about the financial terms of the settlement, Anderson will not say how much he and the plaintiffs are collecting from St. John's Abbey. He said the litigation is about forcing the Catholic institutions to do the right thing.
Activist Pat Marker agrees. He says he suffered abuse by a priest when he was a student at St. John's.
"What they're doing is reacting. They haven't been active in addressing this problem," said Marker.
"Names that they knew back in 2002 were not part of the public release back then. The external review board that they created as part of that 2002 settlement was a farce. And I was very hopeful in 2002 that we would see change and that St. John's would turn the corner. It didn't happen."
Attorney Jeff Anderson said he still has three pending cases against St. John's Abbey.
Gallery
1 of 1