Thousands of people marched from the St. Paul Cathedral to the State Capitol Monday night to protest what they see as attacks on workers' rights and the middle class.
The rally was organized by the Minnesota AFL-CIO, Sierra Club and other groups.
Demonstrators protested efforts by Govs. John Kasich of Ohio and Scott Walker of Wisconsin to curtail the collective bargaining rights of public employees.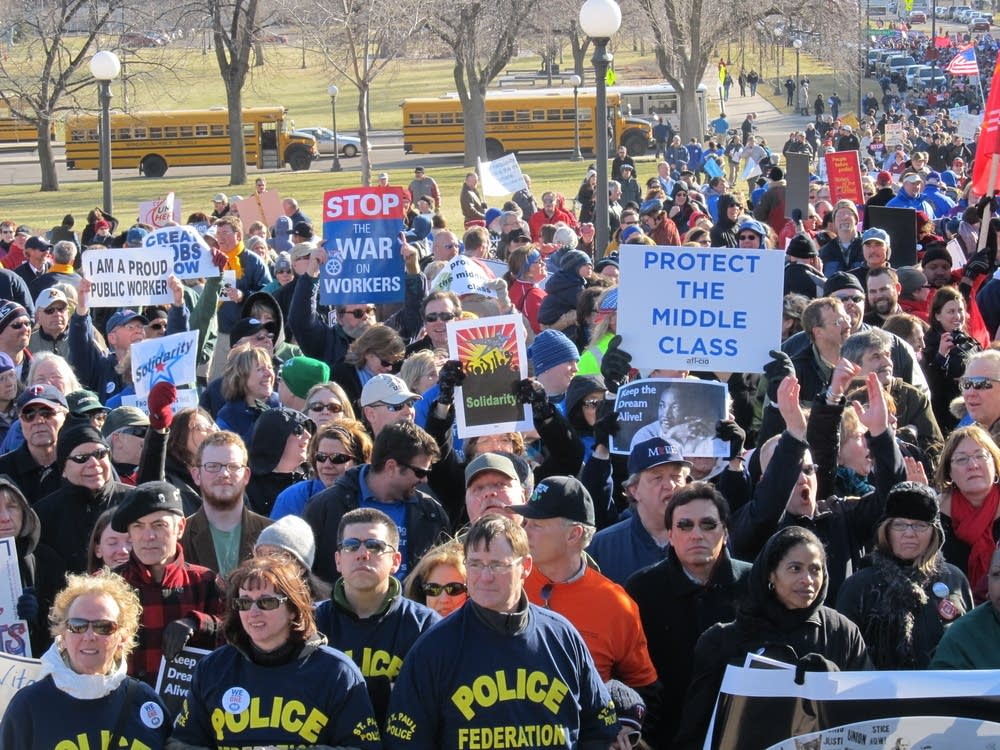 Veteran civil rights leader Matthew Little noted the rally was taking place on the anniversary of the assassination of the Rev. Martin Luther King Jr. Little said besides fighting segregation, King also stood for economic equality. Little says that's under attack.
"It was certainly Martin Luther King's feeling that we as Americans are indeed all one, and he worked toward that all of his life," Little said.
Others at the rally said Minnesota lawmakers should focus more on job creation and minimize the pain of state budget cuts felt by lower- and middle-income people.
Lutheran Rev. Grant Stevensen of St. Paul says the political fights over public employee collective bargaining in Ohio and Wisconsin are a throwback to another era.
"About 11 years ago, I was about ready to get on with the challenges of the 21st century. I didn't know that 11 years later, we'd be fighting the battles of the 19th and 20th centuries," Stevenson said.
The gathering was one of many held recently around the state and nation in support of union rights.