Artist captures Walker history in a tapestry
For centuries Europeans used tapestries to depict the history of families and institutions. Now the Walker Art Center in Minneapolis is getting in on the game.
The exhibit, called "It Broke from Within," is the work of Polish-born artist Goshka Macuga.
Macuga's tapestry looks just like a photograph. It's based on an image of the Lost Forty, a piece of virgin forest in northern Minnesota. T.B. Walker, the founder of the Walker, made his money from timber.
"It looks completely black and white, and monochrome, but it's made of colors," said Macuga. "And we traveled specially to photograph this bit of forest which basically was missed and not lumbered due to a mapping accident."
On entering the gallery it's impossible to miss the tapestry. It's huge — 50 feet long and 10 feet high. It's a tranquil scene which Macuga populated with people and things from the Walker's history. T.B. Walker himself stands at one side.
Walker Curator Bartholomew Ryan points to the Walker Art Center's directors who are included.
"Daniel Deffenburger looks like a character from 'Mad Men' smoking a cigarette in a very dapper suit at the front, and then we have Martin Friedman with Marcel Duchamp, who is obviously a legendary figure, a father of conceptual art," he said.
Cathy Halbreich and current director Olga Viso also appear in the tapestry.
Macuga goes up close to point out how the photographic-like image is not printed but woven from individual threads, like a carpet. It displays an almost luminous depth.
"Even when you come close, you still don't really lose definition completely," she said. "But as you can see it's quite a three-dimensional surface. It really looks woven rather than printed, so when you come close you have no illusion of what this is."
This is Macuga's first project in the United States, but she has done many in Europe. A Belgian company wove the tapestry based on a collage she created after extensive research though the Walker's archive. The other images in the tapestry represent the ups and downs in the Walker's history.
A pair of loggers work a double-handed saw on one tree, a figure of Uncle Sam leans against another. Both are images from the Walker's collection.
Macuga says other images represent recurring themes.
"So, in a way, when you look at certain things, especially in the archives and in the history of any institution, you can really see there is a certain rolling repetitive scenario happening," she said.
The tapestry includes a broken tree that is actually a photo of the Foshay Tower. It was captured for what turned out to be a controversial 1970 exhibit called "9 artists/ 9 spaces" presented around the Twin Cities while the Walker was being built.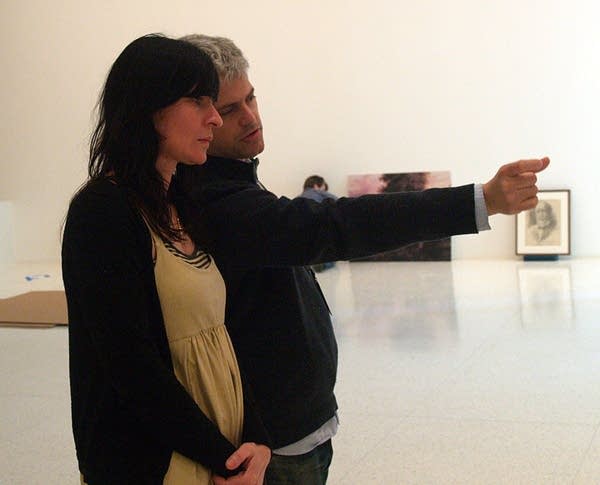 There is a U.S. soldier in Vietnam, representing the wars during the Walker's history. The tapestry also includes architects Edward Larabee Barnes, who designed the Walker that opened in 1970, and Jacques Herzog, who designed the recent Walker expansion.
Macuga says she liked the latter's idea about making the Walker a town square for the community. The tapestry is also meant to capture the larger world where the Walker exists. That is why Macuga's photographs of a Minnesota tea party rally are mixed with images from across the institutions many decades.
But not everything is in the tapestry. There's no image of Ron Athey, an HIV-positive performance artist whose show at the Walker led to Congress cutting funds for the National Endowment for the Arts.
History is often about interpretation. Macuga stresses this is hers.
"That's always the problem with me — when I work with historical material and archive material, like, what do you leave in and what do you leave out?"
If nothing else she hopes that it will spark a reaction, and as a result more discussion with the Walker as the town square.
Gallery
1 of 1
Your support matters.
You make MPR News possible. Individual donations are behind the clarity in coverage from our reporters across the state, stories that connect us, and conversations that provide perspectives. Help ensure MPR remains a resource that brings Minnesotans together.