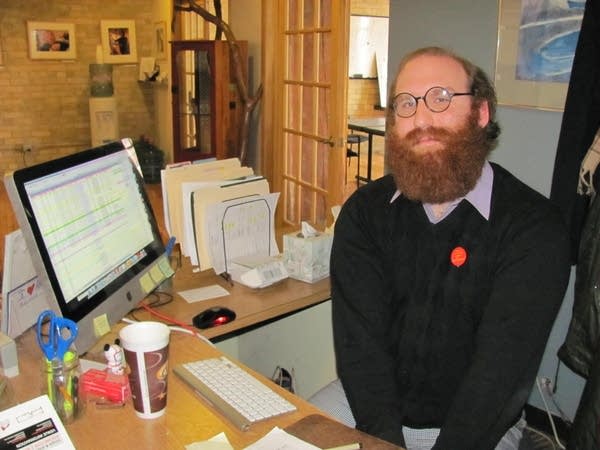 If you're looking for someone who's always on the cutting edge of the Twin Cities art scene, Andy Sturdevant is your man.
Sturdevant's curiosity is never really satisfied.
One night he'll be at an opening at the Minneapolis Institute of Arts -- but not before he's spent the afternoon finishing up some prints for a show at a gallery in a friend's apartment. They're newsprint copies of photographic portraits of Minneapolis artists taken in the late 1950s and early '60s. He's made enough for visitors to take a picture or two, or three, home with them.
"So these kind of great, maybe forgotten Minneapolis artists of yesteryear will continue to watch over them while they make work in the Upper Midwest," Sturdevant said.
Grow the Future of Public Media
MPR News is Member supported public media. Show your support today, donate, and ensure access to local news and in-depth conversations for everyone.
It's a romantic idea from an artist, who -- in a way, looks the part. Picture someone with a stocky build and round spectacles, deep red beard and natty attire, and you have Andy Sturdevant. It's as if Walt Whitman were in an art rock band.
Sturdevant, 31, talks about Minneapolis-St. Paul with the reverence of an outsider who's claimed it as his own. He migrated north from his native Louisville, Kentucky in 2004, after the presidential election which was won by George W. Bush. As Sturdevant remembers, he was an art school grad looking for a new beginning, and maybe a new country.
"I was thinking, 'Well, where can I move that's kind of like Canada, but that's not Canada exactly?'" he said.
Sturdevant settled on Minneapolis, land of Husker Du, First Avenue and the Walker Art Center. That was basically all he knew about it. No friends or relatives here, just a blank slate.
"And there's that perfect idea of snow," he said. "It's kind of a cheap metaphor for blankness."
Over the last seven years Sturdevant has filled in that blank canvas to such an extent he's becomed ingrained in the local art scene.
He's a painter and illustrator, a prolific writer whose essays and reviews appear in everything from art publications to local comedy blogs. He's a critic, a curator and a performer. The one thing -- maybe the only thing -- that Sturdevant is deliberate about, is to not do of any of these things in isolation.
"I feel what it all comes down to is collaborative work," he said.
That collaborative spirit is perhaps best expressed in Sturdevant's day job at Springboard for the Arts, an economic development agency for artists and arts groups in St. Paul. His official title, says executive director Laura Zabel, is artist resource manager.
"But internally we refer to him as the ambassador of niceties," she said.
Sturdevant is the main facilitator at Springboard, Zabel says, connecting clients to services ranging from loans and attorney referrals to health care and emergency relief.
"He's an incredible cheerleader for the arts community here, in a way that doesn't feel like cheerleading," she said.
"Art scenes definitely need people like him," said Andy Ducett, an illustrator and art instructor.
Ducett, who is also a good friend of Sturdevant, thinks the arts community has benefitted greatly from having Sturdevant around.
"He seems to be in the right place at the exact right time in the art world, but also for Minneapolis," he said.
According to Ducett, boundaries are blurring more than ever between disciplines and art forms, and Sturdevant seems uniquely equipped to make sense of it.
Sturdevant's most visible gig as host of the monthly artist variety show, Salon Saloon at the Bryant Lake Bowl, is probably the best example of that.
Salon Saloon attempts to duplicate the kind of conversational free-for-alls Sturdevant has when he meets up with artist friends at a bar. Three or four guests from disparate backgrounds join him on stage to discuss a topic.
A couple months ago it was ghosts. Sturdevant introduced the show with kind of a droning rendition of the theme from the movie "Ghostbusters."
Salon Saloon, says mnartists.org editor Susannah Shouweiler, epitomizes Sturdevant's reputation as not just an impressario, but a one-man art scene.
"He strikes this balance between pleasingly obscure sorts of interests, with a very accessible kind of general interest ethos," Shouweiler said.
Sturdevant doesn't mind being viewed as an art impressario, as long as you don't call him a celebrity. Apparently, he's inherited an innate modesty he feels is part of the Minnesota character, and really useful in the art scene.
"People don't come here to push people around, and make a big deal of themselves and advance their careers," he said. "Those people go somewhere else, because that's not what the stakes are here."
For Sturdevant, the stakes involve finding the most interesting thinkers and artists in Minnesota, and either supporting them or joining forces with them.
Gallery
1 of 1