Bill would encourage citizens to shoot first, even when they could walk away instead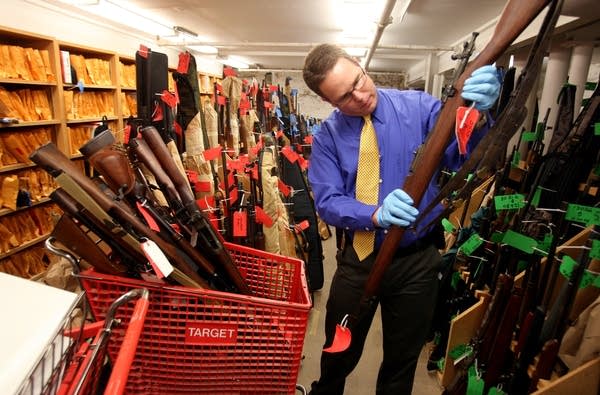 In January, Rep. Tony Cornish, R-Good Thunder, tried to repeal the state's background check system for gun sales. This week, he wants to legalize a kind of murder.
House File 1467, which ought to be called "Shoot First," will be heard in the House Public Safety Committee this Thursday. It would allow the killing of anyone who enters another's yard, even when the person is unarmed and posing no threat; and it would allow the killing of anyone in a public place who seems threatening -- again, even if the person is unarmed, and even if walking or driving away is a safe option.
Also buried in this bill is a loosening of concealed-carry permit laws to recognize all other state's pistol permits in Minnesota, even states with lax background checks that issue permits valid for life. It also makes it harder for local law enforcement to prevent prohibited purchasers from getting permits to buy guns, and limits law enforcement's ability to confiscate weapons in domestic violence situations.
The Shoot First bill includes the words "self-defense," but it uses obscure legalese and a bizarre redefinition of the common word "domicile" to make the bill apply to much more than self-defense. "Domicile" is redefined to include not just a person's home, but also the "curtilage" (fenced yard), "appurtenances" (outbuildings or garages), and even occupied cars (or conveyances). If someone enters "by force or by stealth" -- in legal terms, that means as little "force" as turning a doorknob or opening an unlatched gate -- then the person is "presumed" to intend to badly hurt someone. In court, a presumption cannot be rebutted, so no evidence would be allowed that showed the dead person had entered the yard by error, by invitation of the homeowner, to rescue a drowning child, or for any other reason.
The main rationalization for this bill is the false claim that Minnesotans can't legally defend themselves, and that even if someone invades a Minnesotan's home, the homeowner must run away. In fact, self-defense is legally protected in Minnesota; we already have "Castle Doctrine." Here are three examples from recent years:
Minneapolis: Vang Khang shot two police officers who had invaded his home by mistake. Khang was not prosecuted and collected over half a million dollars from the city.
Before you keep reading ...
MPR News is made by Members. Gifts from individuals fuel the programs that you and your neighbors rely on. Donate today to power news, analysis, and community conversations for all.
Coon Rapids: Gerald Whaley shot and killed an unarmed teenager who entered Whaley's home, apparently believing it to be a vacant house. Whaley was not charged.
Rockford: Eric Cegon shot and killed his partner's ex-boyfriend, who was armed and breaking into the couple's home. Cegon was not charged.
Proponents of Shoot First laws have no examples of Minnesotans who have been sent to prison for defending themselves.
But in states that passed Shoot First laws (over law enforcement's objections), unintended consequences abound. As Paul A. Logli, president of the National District Attorneys Association, pointed out, such laws "basically giv[e] citizens more rights to use deadly force than we give police officers, and with less review." In Minnesota, the associations of police chiefs, peace officers and county attorneys all opposed Shoot First in 2008, when it was rejected by the House Public Safety Committee.
One consequence of Shoot First laws in other states has been the shooting of unarmed people in incidents that go uninvestigated or unprosecuted. For example, Jason Rosenbloom of Clearwater, Fla., was in his neighbor's yard - unarmed and wearing a T-shirt and shorts -- when the two were disputing how much garbage had been put at the curb. Kenneth Allen shot Rosenbloom once in the stomach and once in the chest. There was no investigation.
Another consequence has been to encourage people to take a life, even when they face no danger. Joe Horn of Pasadena, Texas, called 911 from inside his house when he saw two apparent burglars leaving his neighbor's house. The 911 operator told Horn to stay inside. But Horn said, "The laws have been changed in this country since September the first, and you know it," referring to the passage of Shoot First in Texas. "I'm going to kill them." He did, shooting both men in the back, and he was cleared by a grand jury because of the Shoot First law. Afterwards, Horn himself told the Houston Chronicle, "I would never advocate anyone doing what I did. We [human beings] are not geared for that."
Horn said it well. Normal people don't take another person's life unnecessarily. People who are inclined to do so are considered sociopaths. Shoot First laws encourage normal people to act like sociopaths, and provide a way for sociopaths to kill with impunity.
According to an Orlando Sentinel article, in the first five months Shoot First was in effect in Florida, 10 central Florida people were shot in cases where Shoot First came into play. All but one of the people shot were unarmed.
A clear result of the Shoot First law in Florida is wide disparity in the way cases are handled by different police departments. In some shooting cases, there was no investigation at all, while in others, detectives investigated for up to 20 hours. Uninvestigated cases in Florida and Texas included ones in which drunk or disoriented people went to a stranger's door and were shot.
In Shoot First states, disputes between neighbors have turned deadly. People can now shoot others over small provocations. Any legislator who votes for Shoot First places a very low value on human life.
----
Heather Martens is executive director of Protect Minnesota: Working to End Gun Violence. She has been active in gun violence prevention since 2003.
Gallery
1 of 1