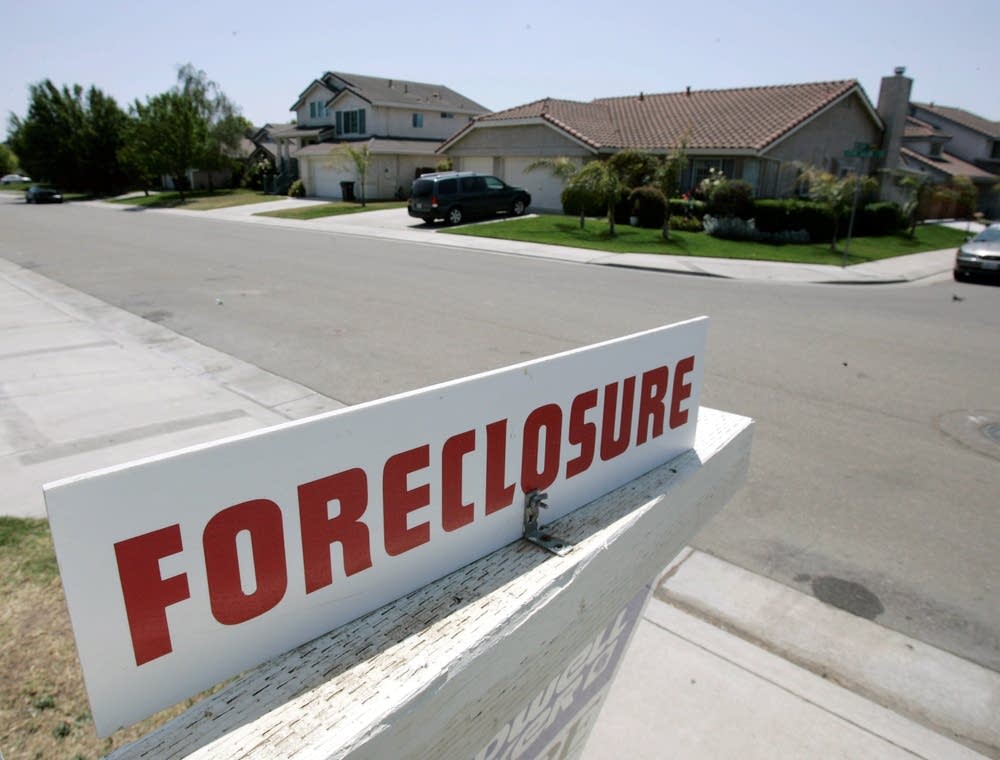 Homeowners working with their lenders to avoid foreclosure face a lot of red tape, but a new service offered by the Minnesota Home Ownership Center may make the process easier for some.
Fannie Mae, a giant government-sponsored business that buys mortgages from lenders, announced Wednesday they'll have two staff people working in the Minnesota Home Ownership Center, a St. Paul-based nonprofit funded with federal and state dollars.
MONTHS OF DELAY AND CONFUSION
Lisa Leuthold of Shoreview lost a job and found another — but at a much lower salary — a few years ago. She risked falling behind on her mortgage.
Leuthold said she asked her lender for a more affordable mortgage, which usually means either a lower interest rate or a longer mortgage term.
But then she learned the bank had failed and her mortgage was held by another lender. Finally, after months of delay and confusion, her monthly mortgage payment was reduced to less than 30 percent of her gross monthly income.
Leuthold said Fannie Mae worked with the lender to make her mortgage more affordable, but the process included a 64-page application. She stayed up late one night getting the paperwork done.
"I felt like I was in college again pulling an all-nighter," Leuthold said.
FANNIE MAE "ADDS MUSCLE"
The two new Fannie Mae employees will help the Minnesota Home Ownership Center's 63 counselors in 20 nonprofit agencies around the state reduce mortgage modification delay and confusion for the people they advise.
It's a free service and Fannie Mae offers it in other cities around the country.
Home Ownership Center Director Julie Gugin said Fannie Mae backs nearly a third of the mortgages held by Minnesota homeowners.
Gugin said their intervention adds muscle in dealings with lenders.
"Consumers get real answers to their questions. The runaround is eliminated," Gugin said. "There's a sense of professionalism and respect that consumers are offered through this program."
Lutheran Social Services mortgage foreclosure prevention counselor Ruth Hutchins recommends that anyone facing foreclosure get advice before dealing with their lender.
"What we always tell clients is talk with a HUD-approved housing counseling agency regardless of whether they have a Fannie Mae loan or not so that they can get some sound advice," Hutchins said. "There's a lot of scams out there."
The number of trustworthy people dispensing advice may decline. The recent Congressional budget agreement cuts federal funding for mortgage foreclosure prevention counseling.
However, Gugin said there may be an agreement soon among state attorneys general and lenders to create a version of the Fannie Mae one-stop process for all borrowers.
"Those standards include a single point of contact, and standards around how documents are managed and handled and how consumers are treated," Gugin said.
Gugin said her center counseled 12,000 people in 2010 and helped 6,000 of them avoid foreclosure.
Gugin said homeowners with mortgages owned by Fannie Mae should contact the Minnesota Home Ownership Center to schedule an appointment with a counselor. Borrowers can find out if their mortgage is owned by Fannie Mae by asking their mortgage servicer, checking online or by calling Fannie Mae at 1-800-7FANNIE.