Would casino help or hurt downtown Minneapolis?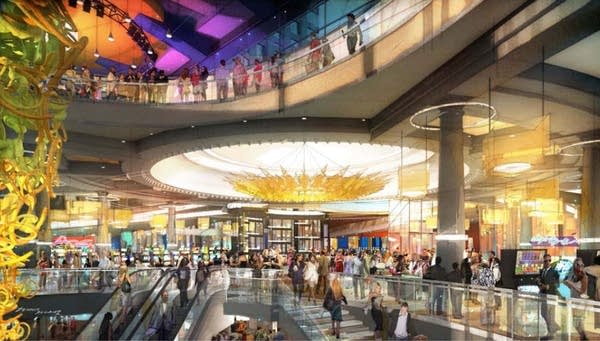 Supporters of a state-run casino in downtown Minneapolis unveiled details of the plan Wednesday at the proposed site -- Block E, the struggling entertainment complex in the heart of downtown.
Advocates say a casino will create thousands of jobs and generate hundreds of millions of dollars in new tax revenues. It will revitalize the mostly vacant Block E complex and stimulate local and state economies.
The casino is at the center of a proposed $200 million, privately funded renovation of Block E, and would take over the space left vacant by Gameworks arcade and bar.
Minneapolis-based developer Alatus LLC bought the building last July. Alatus partner Bob Lux said the fear of crime near Block E hurt business. But crime was lowest when the area was flooded with people, usually before or after Twins games at nearby Target Field.
Grow the Future of Public Media
MPR News is supported by Members. Gifts from individuals power everything you find here. Make a gift of any amount today to become a Member!
Lux said Alatus partners were intrigued by a proposal being floated by then-gubernatorial candidate Mark Dayton of a state-run casino at the Mall of America.
"What we did is we said, 'Well, is this something we should consider for downtown Minneapolis?' " Lux said. "We vetted that with the stakeholders in the neighborhood and were encouraged that maybe there wouldn't be resistance. So we went out and we commissioned a report."
The report from a New Orleans-based company called The Innovation Group, estimates that a casino would attract nearly six million people each year. It also says casino operations will create as many as 2,800 full-time jobs and generate more than $100 million a year in new tax revenues.
Republican state Rep. John Kriesel of Cottage Grove is cosponsoring a bill to authorize the casino. He said it will draw tourist dollars that will help fill city and the state coffers.
"I think this is the missing piece," Kriesel said. "This is. This is going to make Minneapolis a place where people in the five-state region want to come and see and be a part of."
Expanding gambling beyond tribal casinos is controversial. The Minnesota Indian Gaming Association recently held a protest at the Capitol to oppose proposals for racetrack gambling and slots at neighborhood bars. Association spokesman John McCarthy also opposes the Block E proposal.
"What our concern is, with all these proposals, is that we're in a mature market," McCarthy said. "And there's no room. This market is full. And so every new venue that opens is going to take away from the existing facilities. When we lose revenue, we lose employees."
Minneapolis' highest elected official also opposes the plan. According to a spokesman, Minneapolis Mayor R.T. Rybak is against any expansion of gambling in Minnesota. But the president of the Minneapolis City Council, Barb Johnson, thinks the Block E casino is a good idea.
Others oppose the plan for safety reasons. Stephen Carlton, who described himself as a concerned Minneapolis citizen, attended the casino proposal announcement to voice his objections.
"The crime and the social problems this will cause will make you all regret it. I assure you," Carlton said.
The Innovation Group report disputes claims that increased crime accompanies casinos. Minneapolis Assistant Police Chief Janee Harteau responded in writing to questions from MPR News about casino-related crime. Harteau said as long as it is well-run, the casino could very well reduce crime on Block E.
The big question is whether the Legislature and the governor will back the casino bill.
Republican Senate Majority Leader Amy Koch of Buffalo said her caucus does not have a position on this or any other proposal to expand gambling. Koch argues that new gambling revenue is not needed to help erase the state's projected $5 billion budget deficit.
Gov. Dayton said he's open to the proposal, however, he wants to make sure it would give the state a bigger cut of the proceeds than previous attempts to expand gambling in the state.
"The only way I will support this, if I do, will be that the state is going to get a fair and sizable proportion of the proceeds for economic development and for education."
Dayton said 50 percent is a fair cut.
The Block E casino bill hasn't been introduced yet at the Capitol.
Reporters Tim Nelson, Tom Scheck and Tim Pugmire contributed to the story.
Gallery
4 of 4
1 of 4
2 of 4