Director considers the Western through different eyes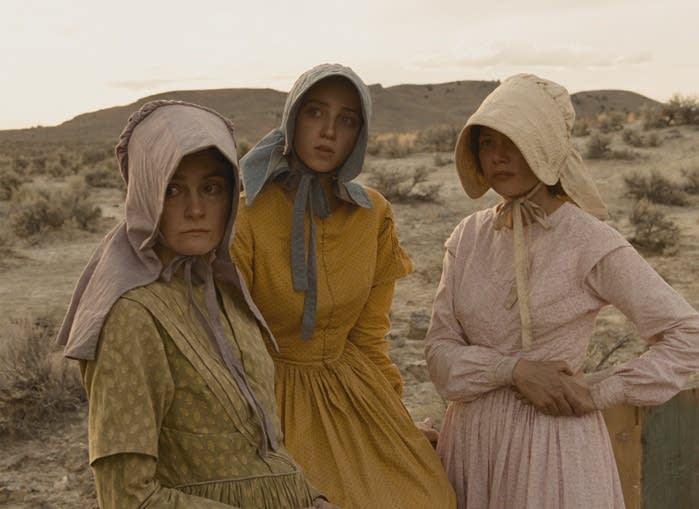 In her new film "Meek's Cutoff," director Kelly Reichardt creates a very different kind of Western. Reichardt is celebrated for making thought-provoking work which raises more questions than it answers. "Meeks Cutoff" follows families on the Oregon Trail who get lost in the desert.
Reichardt is the first to admit not a lot happens in her films. "Old Joy," which came out in 2006, is about two friends who take a road trip to look for a hot spring. In 2008's "Wendy and Lucy," a woman loses her dog in a small town in Oregon as she drives to Alaska. Reichardt said there's a common thread to her recent work.
"People are on a longer journey," she said. "And we are picking them up in the middle of it, and we are just spending a brief amount of time with them in the middle of what's a more expanded period of time. And so working on that just these small time frames, it leaves a lot of time for detail."
"Meek's Cutoff" is filled with detail. It's based on an actual event in 1845 where a guide named Stephen Meek got lost leading a huge pioneer party into the desert in Oregon. In Reichardt's film, the group is just three families, but they lose confidence in what their blowhard guide keeps telling them.
"When you read the journals you really realize that the journey was much more trancelike and that days rolled into each other and there was a monotony of chores to be done."
"That's what you think, that we are lost?" Meek asks one of the women.
"I'd say that seems about the right word for it," she replies.
"We are not lost, we are just finding our way," he says.
"I don't blame him for not knowing," the woman says later. "I blame him for saying he did."
The men in the party keep hoping for the best. "We made our decision," one says. "This is all going to be a bad dream soon. It'll be a story to tell."
Yet, as water and food runs out, the bad dream is clearly reality.
Reichardt's longtime collaborator Jonathon Raymond wrote the screenplay for "Meek's Cutoff," but Reichardt said they also made great use of journals written by people, particularly women, on the Oregon Trail. The result is a very different kind of Western.
"You are sort of seeing this wagon train story through a female perspective, as opposed to the man on horse kind of...," she said, breaking off into a laugh.
Reichardt talks about how most Westerns jump between moments of high drama: gun fights, natural disasters, conflict with Indian tribes.
"And then when you read the journals, you really realize that the journey was much more trancelike, and that days rolled into each other and there was a monotony of chores to be done."
"Meek's Cutoff" is filled with lingering shots of the stark beauty of the landscape and the hard daily grind of pioneer life.
But despite being low-key, the drama is still there as the group heads slowly into the desert and into a life-or-death situation. Things become even more confused when the men capture a Indian man. Meek advocates killing him on the spot, but the rest of the group believe the man may know how to find water and decide to follow him.
Reichardt said the man, who is never named, is important because he is so enigmatic.
"He is a Cayuse Indian, so they don't speak the same language," Reichardt said. "And we, the audience, don't know what the Cayuse man is saying, and so you can project a lot on to him, and you know the hope would be as a viewer you would, like the pioneers themselves are all responding to him differently, that audiences would also."
Indeed the whole of "Meek's Cutoff" lends itself to being seen as a metaphor for something else. The crew began working on the film at the end of the Bush administration, and some observers saw it as a critique of the political situation. Now some critics are casting it as a commentary on Obama. Reichardt said neither is true, but she understands the reaction.
"When I was editing, I felt like almost what was ever in the news was easy to project on it," she said. "You know it's the mythology of the West, and conquering and race and really there is a lot in there for the sort of simple line that the story is."
Reichardt's films aren't for everyone. A New York Times critic recently noted that watching "Meeks Cutoff" was like being forced to eat your vegetables. But Reichardt's fans rave about the striking images, the thought-provoking open-ended stories, and gentle pace. Two recent appearances at the Walker Art Center in Minneapolis sold out quickly.
When asked what she wants people will take away from "Meeks Cutoff," Kelly Reichardt only hopes it gives people something to talk about on the drive home.
Gallery
1 of 1