Goodell: NFL will contribute toward Vikings stadium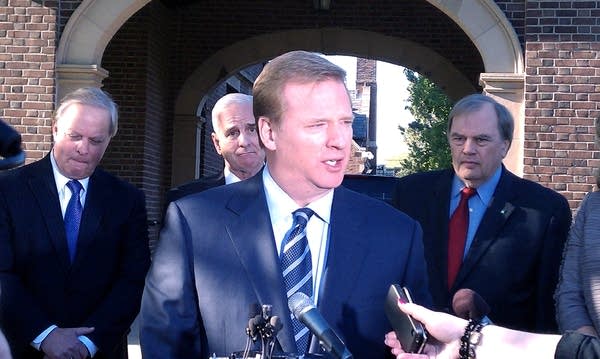 NFL Commissioner Roger Goodell met with Gov. Mark Dayton, members of his administration and lawmakers about a new Vikings stadium this morning.
Goodell said that the NFL is willing to help pay for the cost of a new stadium, but wouldn't put a dollar figure on the contribution. He said that was part of the discussions as the stadium effort heads for the end of the Legislative session. Goodell said that he had visited the proposed location in Arden Hills.
"The Vikings feel very strongly about Ramsey County," Goodell said. "I had the opportunity to go up and visit the site yesterday. It's an extraordinary site, and I think it's very exciting. So we're going to work with the Vikings to hopefully make that come true."
Goodell also said that the league wants a deal done, but isn't threatening to leave the state if it doesn't happen.
"We want the Vikings to be here," he said. "I think everybody wants the Vikings to be here. I know the Wilfs do. I don't think that's an issue that we're focused on right now."
Gov. Dayton reaffirmed his pledge to cap the state's contribution at $300 million. Minnesota's transportation commissioner said he would lead a meeting Tuesday to try to work out expected costs of road improvements above and beyond the stadium.
But Metropolitan Sports Facilities chairman Ted Mondale said that the head of the NFL may also take a more active role in Minnesota's stadium debate.
"It's very hard to sort of look at the economics of this until the collective bargaining agreement is put together," Mondale said.
Mondale said the question would be how much Goodell and the NFL would be willing to put toward a Vikings stadium.
"We presume it's something. How much? [I'm] not particularly sure, but a range would help all of us," he said.
The Vikings have offered to pay more than $400 million of the cost of a new stadium.
Goodell and Dayton are scheduled to meet Tuesday morning at the governor's residence and have scheduled a press conference for 8 a.m.
Minnesota Vikings officials said Goodell toured a potential stadium site in Arden Hills on Monday.
The Vikings announced last week that they wanted to partner with Ramsey County for a billion dollar stadium in Arden Hills. But the project has been dogged by questions about whether or not nearby roads could handle the traffic and what it would take to fix them.
The team rebuffed an offer from Minneapolis last week to play in a remodeled Metrodome. But Minneapolis developer Bruce Lambrecht said he thinks its likely that his proposal for a stadium on the site of the Minneapolis Farmer's Market will be back.
"I don't want to say anything about Minneapolis or Ramsey. I just think we have a great plan," Lambrecht said. "We've got a great idea using all the infrastructure that's in place, complementing and supplementing all the bars and restaurants that are already there."
Lambrecht originally proposed the site for the Twins' Target Field. He also fought a lengthy court battle over the cost of the site, of which he was part owner.
Opponents are also stepping up their efforts to stop the Vikings. They picketed an appearance by Metropolitan Sports Facilities Commission chairman Ted Mondale in Minneapolis on Monday night. "I love the crew in purple. I love the Twins as well. I think they need to pay their own way on this. I, as a taxpayer, can't afford it," said Gayle Bonneville, of Minneapolis, who was among the protesters. "I think we have way too many priorities right now."
Bonneville said the state needs to be more concerned with health care, roads and education funding.
(The Associated Press contributed to this report.)
Gallery
4 of 4
1 of 4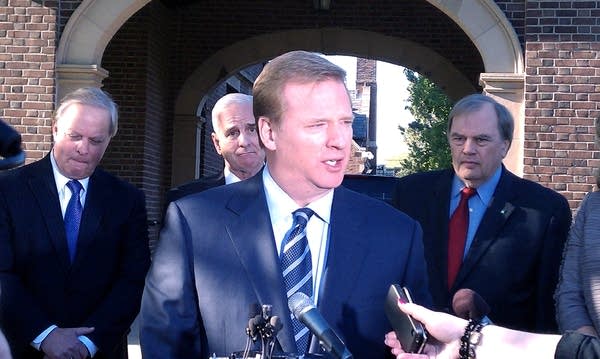 2 of 4
Your support matters.
You make MPR News possible. Individual donations are behind the clarity in coverage from our reporters across the state, stories that connect us, and conversations that provide perspectives. Help ensure MPR remains a resource that brings Minnesotans together.