After the storm comes the daunting task of finding a contractor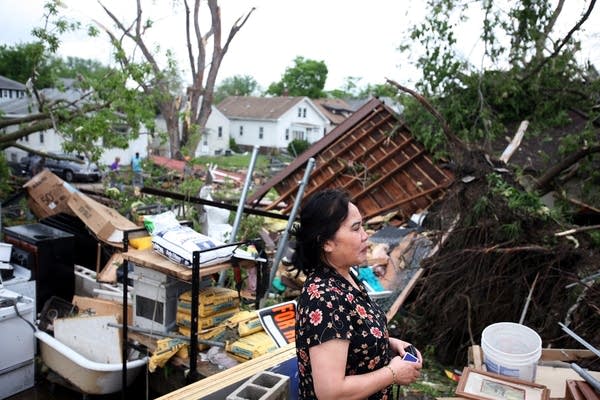 For north Minneapolis residents looking for someone to repair the tornado damage on their homes, the process of finding a contractor can be confusing.
Contractors are flooding the area, and it can be difficult to determine who's credible. Sometimes a simple web search for their state license isn't enough. Kory Holmes is the poster child for the right way to choose a contractor. Holmes' two-story duplex took a tree through the roof in last weekend's tornado. It sustained about $20,000 in damage.
"Contractors were easy to find after the tornado, Holmes said. "You could pretty much throw a stone and hit 10 of 'em. Honestly, it came down to Angie's List and other sites like that -- which one had better reviews."
The Minnesota Department of Labor and Industry agrees that the website Angie's List is a good place to go for references. And Holmes took another important step that officials recommend.
Grow the Future of Public Media
MPR News is supported by Members. Gifts from individuals power everything you find here. Make a gift of any amount today to become a Member!
"I even called a few of my friends to see if they knew contractors who were pretty good."
Charlie Durenberger, enforcement services manager at the Minnesota Department of Labor and Industry, said the department's website is searchable by contractor name. He suggested homeowners start by checking whether a business has a state building contractor license or a residential remodeler license.
"The license is no guarantee that you're not going to run into problems," he said. "But what the license does do is it indicates the company has provided us with information regarding their liability insurance, workers comp insurance, the qualifying person for the license has passed an exam and takes continuing education every year. But, most importantly, they've paid into the contractor recovery fund."
The recovery fund is for homeowners who lose money at the hands of contractors who act improperly.
The Minnesota Department of Labor and Industry website also has information on whether a contractor has paid any fines or had their license suspended. But Durenberger said you shouldn't necessarily reject a contractor because the state took action against them in the past. Many contractors may have a mark on their record. Consumers should learn more about what happened.
"And really the only way to do that ... is to send us an email or call that number and have an investigator explain what that enforcement action was," Durenberger said, adding the department tries to answer emails the same business day.
Durenberger said people should weigh how long ago an enforcement action took place -- if it resulted in a small fine 15 years ago, the contractor might be OK. If the license was suspended last year, a consumer may want to think twice.
And there's one last thing someone looking for a contractor may want to check. The Department of Labor and Industry website has a link to a court records search. Durenberger said a consumer should check to see if the contractor has been involved in any lawsuits.
"There are several companies that spend a lot of time suing their customers to get money they feel is owed," Durenberger said. "So that's one way to find that out: Is this a company that likes to sue their customers?"
Contractor Calvin Littlejohn said he's trying to help his north side customers, and he thinks the rebuilding could help the area.
"I think this is a gold lining," he said.
Littlejohn, co-owner of the north Minneapolis-based Tri-Construction, said his business has doubled since the tornado. He has hired three people and is trying to expand.
"I am talking to the banks right now to give us a bigger line of credit so we can continue to bring in more customers, but if that doesn't happen, there will be a ceiling where we cannot afford to take on more customers," Littlejohn said.
Last week, Littlejohn, long with other businesses and community groups, put together a program called We Care -- the Northside Disaster Relief Collaborative. Among many things, it is trying to use the tornado recovery effort to improve north Minneapolis' economy. The collaborative has put together a list of local contractors who hire from the neighborhood and plan to stay in the area.
"We're trying to find a way to keep this money here rather than have outside construction companies come in and take the money and run," he said.
Many homeowners in north Minneapolis have never gone through a disaster like this before. Littlejohn said the collaborative tries to guide them through the process.
The collaborative has set up a hotline for anyone to call with questions: 763-746-5823.
The website for the Minnesota Department of Labor and Industry is www.dli.mn.gov/main.asp. The phone number is 651-284-5005.
Gallery
1 of 1