What is HUD doing in Brooklyn Center?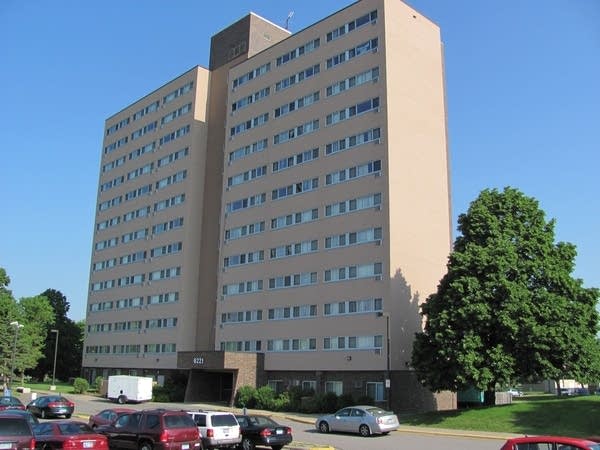 They're trying to sell this building.
[image]
The 122-unit Shingle Creek Towers is in foreclosure.
The owners stopped making payments on the HUD-backed mortgage, so the federal agency headed by Shaun Donovan is unloading the property.
Grow the Future of Public Media
MPR's budget year comes to a close on June 30. Help us close the gap by becoming a Sustainer today. When you make a recurring monthly gift, your gift will be matched by the MPR Member Fund for a whole year!
Is that the same Shaun Donovan who was the crusading New York City housing commissioner before President Obama tapped him for the cabinet job?
Yes, it is.
Well, then, why is the federal agency headed by Donovan off loading HUD-foreclosed properties to problem property owners?
That's the question being asked by Jack Cann, the attorney for the St. Paul-based Housing Preservation Project, who is suing HUD.
Cann is upset that HUD is considering a bid by Emmanuel Ku, described by New York City housing activists as a notorious problem property owner.
The numbers tell the story. Ku has been sued more than 20 times by NYC for life-threatening (heat and water) code violations, and cited for thousands of other minor to major code problems. He currently owes $98,000 for emergency fixes to his buildings performed by the city.
Ku's record inspired then-Gotham housing watchdog Donovan and other officials to successfully ban him in the state of New York from buying any more HUD-foreclosed properties. These are the buildings, like Shingle Creek Towers in Brooklyn Center, that are affordable housing. Rents are subsidized and the tenants are poor people of all ages, but with a preponderance of older folks with health problems living on a fixed income.
HUD officials aren't talking about the deal except to say a decision is pending.
Meantime, Ku confirms he's also bidding on a foreclosed affordable housing property in Granite Falls, the 40-unit HUD-subsidized Riverview apartment building.