Bachmann places safe bet with mainstream GOP fundraising team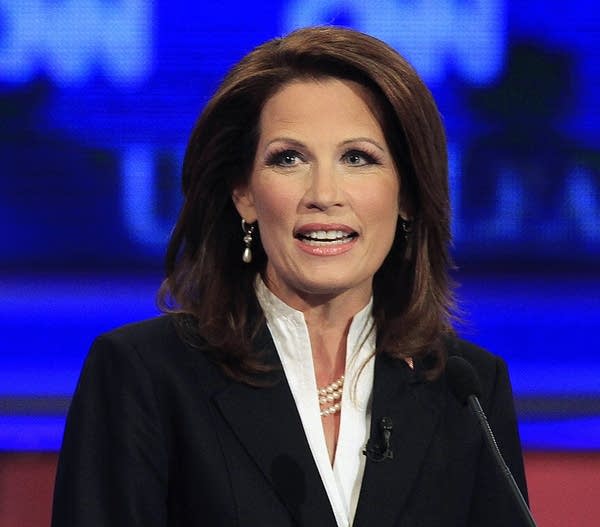 Although U.S. Rep. Michele Bachmann's presidential campaign has been under way officially for only a week, she has been laying the groundwork for months, engaging consultants, raising money and spreading word about her quest for the White House. Bachmann represents Minnesota's 6th Congressional District.
None of the companies and consultants that Bachmann has hired would comment for this story, but information gleaned from Federal Election Commission filings shows they are part of the mainstream of the Republican Party — even though Bachmann has positioned herself as a tea party rebel who's moving the GOP to the right.
For online activities, Bachmann has worked closely with a company called Campaign Solutions and its sister firm Connell Donatelli, based in suburban Virginia.
"They are a company that's pretty entrenched in the Republican side of things in DC," said Kate Kaye, a senior editor with ClickZ who tracks the world of online political advertising. "They worked on McCain's campaign so they've been around for awhile."
In the first four months of this year, Bachmann's shadow campaign organization — a political action committee known as MICHELEPAC — spent about $50,000 with Campaign Solutions and its associated firms.
What do you get for that kind of money?
"You're getting a couple of people who are handling your account, and running your Google search advertising and your Facebook advertising," Kaye said. "They're essentially buying media in the same way a television media firm would buy TV ads."
The firm is also one of many that helps Bachmann raise money. Another is the Richard Norman Company.
The firm's website says it's worked with a who's who in the conservative movement, including Mississippi Gov. Haley Barbour and House Majority Leader Eric Cantor.
Minnesota Republican consultant Scott Cottington isn't surprised that Bachmann has hired mainstream firms.
"You can be an insurgent candidate if you want, but that doesn't mean you can change the laws of political physics," Cottington said. "You still have to build a campaign operation that has people and money and has the ability to communicate. Those things don't change."
The way the campaign communicates with supporters online or in the physical world is by developing mailing lists.
Bachmann already had an enormous list, one that she used to raise $13 million for her congressional election campaign last year — more than any other member of the U.S. House.
But since she started exploring a presidential run, MICHELEPAC has hired a number of firms to help her expand that list.
"Good fundraising firms will have a house list that they use and they will also make suggestions for buying other lists, renting other lists. Any way you can get extra names is what you're shooting for," said Gregg Peppin, a Republican political consultant in Minneapolis.
Between January 1 and the end of April, MICHELEPAC spent at least $140,000 on outside fundraising consultants.
But Peppin said that in politics, as in business, you often have to spend money to make money.
"Essentially what you're doing in that regard is, you are prospecting," Peppin said.
Bachmann's organization also spent more than $100,000 on printing and sending direct mail fundraising letters to supporters.
All of those efforts online and off have struck gold.
Bachmann raised $1.7 million in the first three months of the year for her congressional campaign committee — and all that money can be used for her presidential run.
MICHELEPAC, which operates under looser fundraising regulations, raised an additional $700,000.
Anthony Corrado, a campaign finance expert at Colby College in Maine, said Bachmann's efforts so far resemble another once-obscure state legislator who rocketed onto the national political scene — Barack Obama.
"What Obama showed in 2008 is the first step to success is building the infrastructure and building the resources you need to reach out and contact donors, and it sounds like they're doing a lot of the same kind of work," Corrado said.
The first deadline for Bachmann's presidential campaign financial disclosures is July 15.
Gallery
1 of 1