Minnesota Orchestra gives amateur musicians chance to join in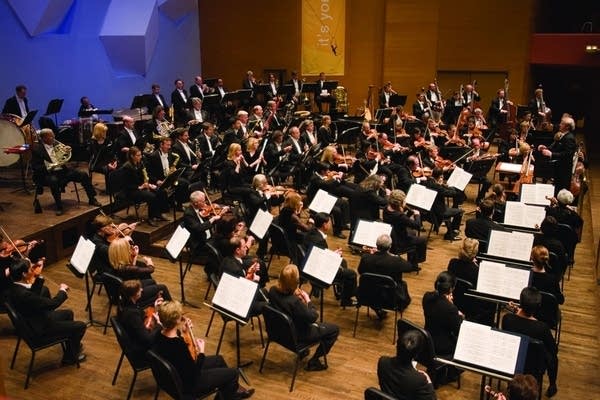 For those who have ever dreamed of playing with the Minnesota Orchestra, there is now a way to do just that.
Thursday, the orchestra announced it will run a fantasy camp for amateur musicians in September, which will culminate playing a concert with the full orchestra.
The program is part of a national orchestral trend to reach out more to audiences.
The Minnesota Orchestra's Director of Education Jim Bartsch uses shorthand to describe what's being offered.
"Backstage, on-stage, fantasy camp!" he said.
On September 15 and 16, up to 50 amateur musicians will join the Minnesota Orchestra. And Bartsch said they will drop right into the deep end with a full rehearsal under the baton of pops conductor Sarah Hicks.
"Their first experience will be onstage with the orchestra," says Bartsch.
The fantasy campers will attend sectional rehearsals, and behind-the-scenes lectures on the classical music business. Finally, it'll be showtime, as the Minnesota Orchestra plays one of its season sampler concerts.
"And the last piece in the concert, the Borodin "Polovtsian Dances" will not just be the Minnesota Orchestra, but all the fantasy camp people kind of embedded side by side with the orchestra. It'll be intense," says Bartsch.
"Part of themselves that they thought was gone is returned, and they are just thrilled by the whole experience."
The fantasy camp is aimed at adults, people who may have studied their instrument intensely while young, but who have been forced by time and circumstances to set music aside.
Campers will pay $500 for the experience, which includes 10 tickets for the concert.
Jesse Rosen, the president of the League of American Orchestras says programs like this fill the orchestra's need to conduct community outreach.
"It's a very important way for orchestras to tap into people who love classical music. They may or may not be ticket-buyers, but that's not the ultimate point," Rosen said during the recent League Convention in Minneapolis. "The ultimate point is to be of increasing service and value to the community that orchestra operates in."
A few years back, the Baltimore Symphony launched its Rusty Musician series. It was a low-key evening program where people could come and rehearse a piece with symphony members for about half-an-hour. For the next half-hour all the musicians, amateurs and pros, would perform side-by-side.
Huge numbers of people turned up. Eventually the orchestra launched the Baltimore Symphony Academy, a week long event.
Forth-three people signed up for the Academy the first year and 87 this year, said Sara Nichols, academy coordinator. The group traveled from 17 states to attend, and ranged from 21 to 77 years old. Most were older than 40. Many told Nichols afterwards they have fallen back in love with their instrument.
"Part of themselves that they thought was gone is returned, and they are just thrilled by the whole experience," Nichols said. "So it has been life-changing for a number of people."
The Minnesota Orchestra Fantasy camp, like Baltimore, won't include an audition. However Jim Bartsch said applicants will have to answer a few questions.
"There is an application process on-line. We are going to ask people to give us a little about their background, where they studied, what they are currently doing in music," he said. "Then there is an essay question on why would you like to participate, and what would this mean to you?"
The selection process will also have to be guided by instrumentation. It's the way of the orchestral world that there are always more spots for violins than tubas.
Bartsch said nearly every time patrons are asked what more they want from performances, the response is for more interaction with musicians.
"For music fans, those folks are the same as Twins players are to Twins fans. They follow them, they see them week after week performing, so to build that connection in a personal way is what we wanted to do."
And as if to prove him right, within an hour of the application form going live on the Minnesota Orchestra website, George Matthew of Mound got his name in.
Matthew answered the essay question about his desire to participate by saying he just wanted to sit next to Minnesota Orchestra trombone player Doug Wright and trumpeter Manny Laureano.
Matthew wrote that when he was younger he always has his trombone in the car, especially when he went to Minnesota Orchestra concerts.
"I always had that dream of having someone in the Minnesota Orchestra, before the concert stand up and say 'Oh, you know what, our trombonist isn't here. Does anyone happen to have their horn in the car and come up and play with us?' And I would stand up and say 'Yes! Yes, I do! Let me run and get it, I'll be back in a few minutes!' Of course, that hasn't happened."
Very soon, Matthew could be on stage with the orchestra of his dreams.
Gallery
1 of 2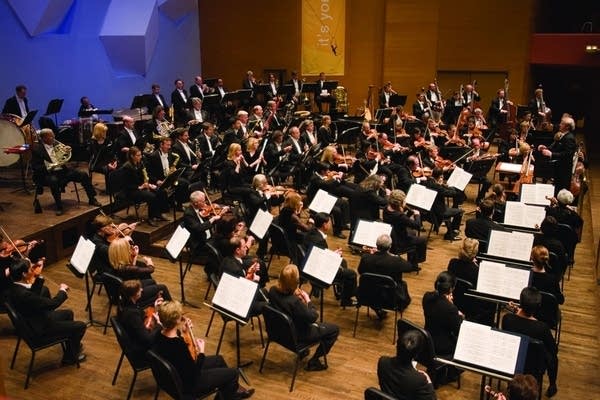 2 of 2
Your support matters.
You make MPR News possible. Individual donations are behind the clarity in coverage from our reporters across the state, stories that connect us, and conversations that provide perspectives. Help ensure MPR remains a resource that brings Minnesotans together.