For-profit colleges fight rule requiring programs use income formula
For many college graduates, gainful employment might mean simply landing a job after finishing school.
But the federal government has a different definition in mind. The new gainful employment rule instituted by the U.S. Department of Education this summer aims to ensure graduates from for-profit colleges make enough money to pay off their tuition bills.
For-profit colleges in Minnesota and across the country are working to overturn the rule, which would require them to prove their students will find good jobs after they graduate and won't be saddled with too much debt.
Tuition bills can be expensive. Jan Tacheny will pay $40,000 in tuition for a two-year program at Globe University in Woodbury, Minn. that will train her to be a medical assistant.
Tachney, 49, of St. Paul, started the program when she returned to Minnesota after five years in Tennessee.
"I couldn't find a job when I came back here so I decided to go back to school," she said. "Expensive? If you want to look at that way, yes. But what you will receive after you're done and you graduate makes it all worth it. (It's a) very good investment."
Determining whether a program is a good investment is at the heart of new federal oversight of for-profit colleges like Globe.
Under the gainful employment rule, on average, graduating students can't pay more than 12 percent of their annual income toward student loan payments.
In the case of medical assistants who graduate from Globe, that means the average student loan payment can't be more than about $270 a month. That's because the typical starting salary of a Globe medical assistant is around $27,000 annually.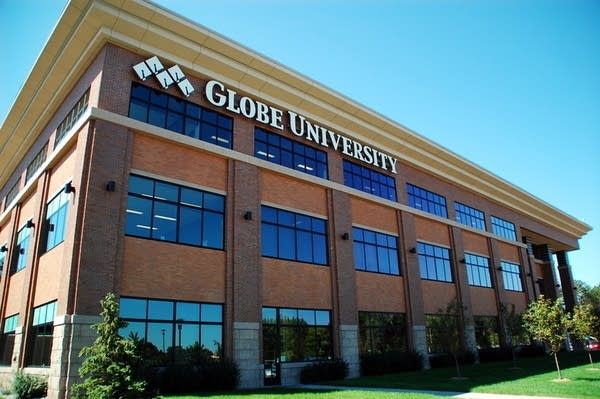 If graduates from a for-profit school can't meet those metrics, future students wouldn't be able to use federal loans to pay for courses from that program. Because schools typically rely on students who using those loans, losing access essentially shuts a program down.
Officials at Globe University don't like the new rule.
Thomas Kosel, Globe's government relations director, said it relies too much on government benchmarks the college wouldn't be able to challenge.
"We don't want to lose programs that are valid that have high employment because of metrics we can't even verify," he said.
Globe University is one of four for-profit colleges based in Minnesota, and almost 2,000 from across the country, some with campuses in the state, involved in a lawsuit seeking to block the federal regulation.
The suit was filed late last month by the American Association of Private Sector Colleges and Universities. It claims the rule is overreaching.
"We seek to overturn it, and hopefully start from ground zero and try to get it right," said Brian Moran, the group's interim director.
Officials at the Department of Education wanted to go even further with the new rules. At first, they proposed a move requiring no more than 8 percent of a graduate's annual income go toward student loan payments. The limit was increased to 12 percent after a full-on lobbying push by for-profit colleges.
One of the industry's key allies is U.S. Rep. John Kline, a Minnesota Republican who chairs the House Education and Workforce Committee. Kline has vowed to fight tighter regulations of the industry saying they limit students' choices.
Education Trust, a higher education policy group, favors the new rule. Its tougher requirements could force colleges to prove the diplomas and certificates they offer help students get good jobs, without weighing them down with debt, said Jose Cruz, the organization's vice president.
"We need some sort of structure whereby we can hold these institutions accountable for what they're promising their students," Cruz said.
U.S. Sen. Tom Harkin of Iowa, a frequent critic of for-profit schools, said he'll push for more regulations for for-profit colleges in Congress. But he acknowledges the effort will face stiff resistance.
Gallery
1 of 1
Your support matters.
You make MPR News possible. Individual donations are behind the clarity in coverage from our reporters across the state, stories that connect us, and conversations that provide perspectives. Help ensure MPR remains a resource that brings Minnesotans together.