China looks to model hip-hop program at St. Paul college
The hip-hop program at McNally Smith College of Music in St. Paul is the only one like it in the U.S. But soon there could be one like it in China.
A delegation of Chinese music academics visited the college Tuesday to finalize arrangements for a group of Chinese college students to attend the hip-hop music program at McNally Smith.
College president Harry Chalmiers said he's honored to host the Chinese students and give them a taste of hip-hop, a homegrown American art form. McNally Smith officials don't know yet how many Chinese students will attend the college, but they could arrive in St. Paul as early as the spring semester.
"Certainly we hope to make this not only a successful music collaboration but we hope truly that this will advance relations between our two countries and understanding between of culture," Chalmiers said.
With the help of a translator, Gao Zhongyue, vice president of teaching affairs at Shenyang Conservatory, said the Chinese school hopes to learn from the college and open its own hip-hop program.
"Because the hip-hop music in China is very difficult to understand right now, the young people, the young generation really likes the form," she said. "But the rhythm and the lyric is a little different from the Chinese point of view.
"They don't understand it deeply like Americans, so they wanted to come here to study more for them to find out really the meaning of the hip-hop music."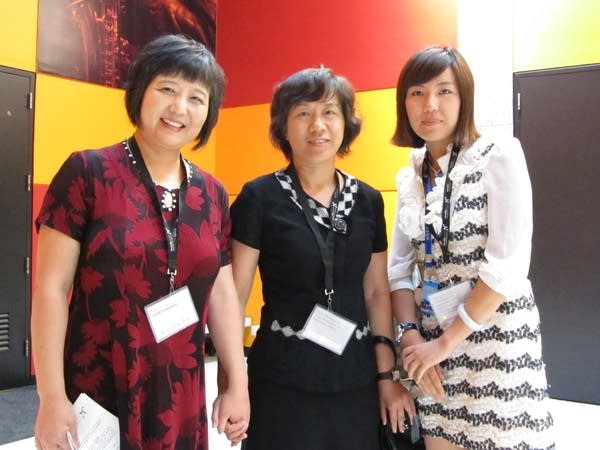 As the officials toured the school, Minneapolis-based Rhymesayers Entertainment hip-hop artist, professor and coordinator of the hip-hop program, Toki Wright, spoke on hip-hop as a global phenomenon. He expects the Chinese students to put their own unique stamp on the music.
"We really try to make sure that everyone, when they are writing, when they are creating music, that they are putting themselves at the front and not someone else's idea of who they are," Wright said. "It's very important for the sake of hip-hop that people bring that honest, true story." 
HOW IT ALL STARTED
A delegation from McNally Smith visited northeast China last winter, Chalmiers said.
"It all started with a contact I received almost a year ago now from a representative of the Shenyang Conservatory, which is the second largest conservatory in China and one of the most progressive in terms of their exploration of contemporary music," Chalmiers said.
"We have the only accredited hip-hop diploma program of any music school in the country. They learned about that and wanted see if we could explore a partnership."
Tuesday's visit wraps up a year's negotiations between McNally Smith and Shenyang Conservatory, signing contracts clearing the way for enrollment of Chinese students at McNally Smith.
Gallery
1 of 1