Emerging artists find an affordable home at Faux Poco
Minneapolis artist Miles Mendenhall flirted with celebrity last year on the reality TV series "Work of Art." But his brush with fame didn't make him take leave of the Twin Cities or uproot his artistic ideals. He and a business partner are developing a St. Paul warehouse into affordable studio spaces for emerging artists.
On the "Work of Art" reality show, Mendenhall toyed with the image of "celebrity artist." He came across as a somewhat neurotic, egotistical hipster who was both above and immersed in the outcome of the competition.
And even though judges eliminated Mendenhall in the final round, the experience gave him a renewed appreciation for the Twin Cities art world.
"After experiencing the New York scene and the West Coast scene, and all that sort of thing, I just came back to Minneapolis and I was just like, 'I just like it here more,' " he said.
In the Twin Cities, Mendenhall said, one is not as burdened by the pressures of an intense commercial art market. There's more freedom to experiment. Mendenhall is a University of Minnesota art school grad and screen printer. His latest project is an effort to encourage new and emerging artists.
Mendenhall and his business partner, apparel designer Luci Kandler, have turned space in a dingy old train docking station on Vandalia in St. Paul into an affordable, almost utopian oasis for young artists. It's called Faux Poco.
Before you keep reading ...
MPR News is made by Members. Gifts from individuals fuel the programs that you and your neighbors rely on. Donate today to power news, analysis, and community conversations for all.
"When we came into this, there was no lights and no electricity and completely open space," he said. "And so what we had to do was build out these studios that anyone can rent."
Faux Poco has nine adjoining bedroom-sized studios laid out in a manner that allows both privacy and interaction. In back, there's a common work room loaded with equipment, including a variety of electric saws, drills, clamps and routers.
"And we also have this print shop, which is dedicated to silk screening, fabric printing, and alternative-process photography," Mendenhall said.
Mendenhall and Kandler use two of the studios, but the rest are available for rent. At a cost of $150 a month, that's about a third of what other studios might charge. For those who need tools but don't need studio space, $50 a month buys shop member access to all the equipment and even training. The demographic Faux Poco focuses on is key, Kandler said.
"This is about finding the high school kids or the college kids who want somewhere to come work," she said. "This is addressing the need of the college kids who graduate with either not the right skills that they need to come here and learn, or not the right equipment."
"But also just saying to the community at large, 'You got an idea?" Mendenhall said. "We would love to hear it. And we would love to make sure that we could do it on your budget."
Mendenhall refers to a micro-fellowship program offered at Faux Poco, in which an artist can propose a single project in return for a mutually agreed-upon financial donation.
There isn't necessarily a studio space crunch in the Twin Cities, nor is Faux Poco an indictment of the current studios available, Kandler said.
"They have a great personality and they're super close to where a lot of people live," she said. "But they don't have a communal work space. They don't have tools that you can come and use. They don't have the safety of having other people around 24/7."
Kandler and Mendenhall have definitely identified a need. They had a waiting list long before Faux Poco was even inhabitable.
"I haven't been able to find anywhere in the Twin Cities that's that cheap," said Anya Bormes, 22, who has become a shop member of Faux Poco. It's enabled her to work a 40-hour-a-week job, while launching an art career in a relatively non-competitive atmosphere.
"It's just really nice to come to Faux Poco and not have to feel like while you're making art you're also competing with someone who's also making art," she said.
"It takes a lot of the pressure off," Mendenhall said. "And I think without that pressure you're allowed to think more freely and think more personally."
For Mendenhall, Faux Poco is at its best when it allows artists not to worry about their bills and equipment, but about their projects.
Gallery
3 of 3
1 of 3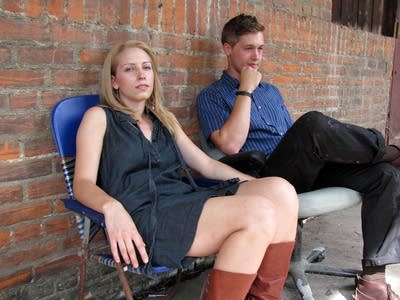 2 of 3