Police work to gather tips on fatal shooting
Police officials hope a reward will encourage someone to come forward with information about the recent shooting death of a 14-year-old.
Quantell Braxton is one of two teenagers recently killed by gun fire in north Minneapolis. Police hope to gather tips as students return to school and talk about the shootings. Minneapolis police say all homicides are tragic. But some veteran officers are particularly anguished over the shooting of Quantell Braxton. As he stood next to a makeshift memorial to the teenager, Police Chief Tim Dolan told a group of reporters he's been a police officer for a long time, but can't remember seeing this type of violence before.
"I go back, way too far, about 34 years. And I cannot recall youth this young being targeted and being killed on our streets."
Braxton was shot around 11 p.m. on August 20, as he was playing tag with some friends, Dolan said.
Homicide Capt. Amelia Huffman said she believes whoever fired at Braxton meant to shoot him.
"Because of the way the shot was fired and the evidence at the scene. It appears to be a case where Quantell and his friends were not caught in a crossfire situation as the chief mentioned," Huffman said. "This wasn't random gunfire into the air. This is a case where the shots were specifically fired at these youth."
Before you keep reading ...
MPR News is made by Members. Gifts from individuals fuel the programs that you and your neighbors rely on. Donate today to power news, analysis, and community conversations for all.
Huffman revealed new details about the shooting investigation. The shot that killed Braxton was fired from across the street in North Commons Park, she said.
Police are still investigating several possible motives for the shooting, but Huffman won't discuss them. Police have not ruled out gang-related motives.
However, police do not believe Braxton had any gang ties, Dolan said. Some of the possible suspects are teenagers, but he said this case doesn't fit the profile of an organized gang-related activity.
Youth this age, 11 to 14-years old, Dolan said, "Don't know what gangs are about, what that gang life is about and what those choices are."
"It's more of an experimentation, it's more of a things that are done for action, things that are done for other reasons."
Police are also looking for leads in the death of another teenager, 13-year-old RayJon Gomez. He was shot less than a mile away and four days after Braxton was killed. A 12-year-old was also wounded at the time. However, police say they don't have a link between the two deaths.
Despite the spike in homicides this month, there are more than a third fewer killings in the city this year than there were at this time in 2010.
Police on the north side are increasing their presence in response to the recent shootings. Gov. Mark Dayton says he is ready to send the State Patrol to help, but the city hasn't requested that.
Fourth Precinct Inspector Mike Martin said officers made several dozen arrests and confiscated six guns this weekend. Officers have also made it a point to stop and speak with the young people they see out on the street. And he says some of the kids appear to have been affected by the violence.
"The kids that we talked to were shell-shocked. They were in remorse, the ones who knew the kids involved here. They're devastated by this," Martin said.
Police officials are sure some of these kids know something about the shootings, but may be too afraid to come forward. Crimestoppers is offering a reward of up to $1,000 for information in the Braxton shooting.
Anonymous tips can be made by calling Crimestoppers at 1-800-222-8477 or through the Crimestoppers website, crimestoppersmn.org.
Gallery
1 of 2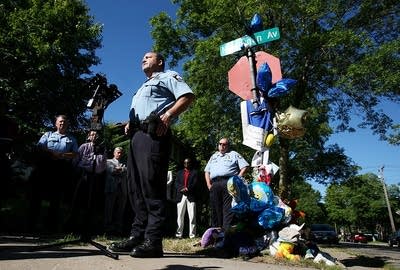 2 of 2