Freshmen overflowing dorms at U of M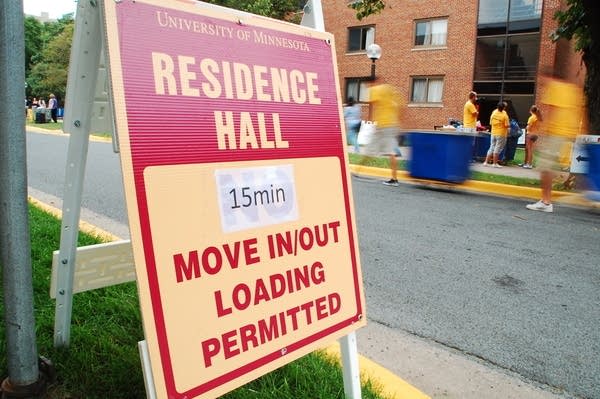 Combine thousands of excited college freshman, all of their stuff, emotional parents and a lack of parking spaces and you get freshman move-in days at the University of Minnesota. It's happening this week.
It can be a chaotic scene, especially when the U of M doesn't have room to house all of the new students.
The U of M's dorms aren't just full this fall, they're overflowing. The university is housing 350 students in converted study lounges or assigned to rooms that are over capacity.
There are several reasons for the shortage of housing. Enrollment at the university has increased in recent years. Freshman enrollment this fall number 5,300 students, about 70 more than last year. Also, University officials are pushing to get more students, especially freshmen to live on campus.
This year 85 percent of freshman live on campus, ten percent more than a decade ago.
No one will be housed in hotels off-campus however, even though that arrangement has been made previously.
STUDENTS PACKING IN
18-year old U of M freshman Cassidy Obis has put her two younger sisters and mom and dad to work helping her move-in Tuesday.
They're struggling to get four carts of Cassidy's stuff through the side door of a residence hall on the campus.
"I have my clothes, some food, some storage stuff, mirror, TV, microwave, brought my, printer, some makeup, stuff like that," Obis said.
Obis doesn't think she and her roommate will have trouble getting all of their stuff in their dorm room. But they're lucky, they have a two-person room for just the two of them.
That's not the case for another student standing outside a nearby residence hall.
"Sarah Helgeson, I'm from Onalaska, Wisconsin".
Helgelson, 18, and three other students are being housed in what used to be a study lounge. The closets in the room are a bit small, Helgelson said, but it looks all right to her.
"I thought maybe it was going to be a bunch of us crammed into in a really small room," she said. "It's better than I thought it was going to be."
FROM PINCH TO GLUT
The overflow housing isn't permanent. Most students will eventually be moved into regular rooms through the fall semester as other students drop out.
Living on campus has advantages for students, said Mannix Clark, assistant director of housing at the U's Twin Cities campus.
"Their retention to the university is higher. Their satisfaction with the university is higher for that first year," Clark said. "Their grade point average is higher than their counterparts that live off campus."
Even so, the university just doesn't have enough campus housing for students.
A recent comparison of the availability of on-campus housing at the U of M versus other Big 10 schools indicates a clear shortage, said Matt Mullins, vice president of Maxfield Research, a Minneapolis-based real estate advising and consulting firm that works with government agencies and private real estate developers.
"They were at the bottom of number of beds for students," Mullins said. "Clearly they currently do not offer the supply that a lot of other campuses do."
The shortage has fueled a housing boom of sorts around the U of M in recent years, Mullins said. A new residence hall is planned for the U of M Twin Cities campus, as well as for campuses in Morris and Crookston, which are also over capacity for student housing. Developers have put up several new apartment buildings. Several more are being planned — enough that Mullins fears a glut of off-campus housing within a few years.
For the first time of years, the U of M campus in Duluth will have enough space for all of its students. A new dorm opens on the UMD campus this week.
Gallery
1 of 1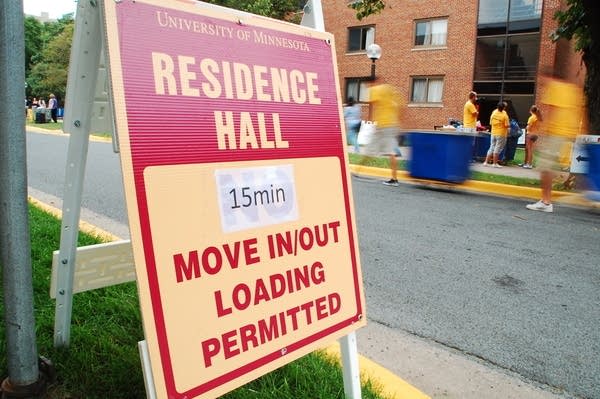 Your support matters.
You make MPR News possible. Individual donations are behind the clarity in coverage from our reporters across the state, stories that connect us, and conversations that provide perspectives. Help ensure MPR remains a resource that brings Minnesotans together.