Ellison's Muslim faith builds bridges in post-9/11 world
When U.S. Rep. Keith Ellison was elected to Congress in 2006, five years after the Sept. 11 terrorist attacks, he was the first Muslim-American lawmaker on Capitol Hill.
For Ellison, a Democrat from Minneapolis, religion has been an important part of his personal and political identity. He's sought to use his platform in Congress to raise the profile of Muslims and to promote dialogue between different faiths.
As a newcomer to Washington, Ellison found that his religion opened doors that weren't open for other freshman legislators.
"The first time I met George Bush in person, I was at the White House and he walked up to me and he shook my hand in a very friendly way and he said in a very Texas accent, 'I'm glad there's a Muslim in the Congress,' " Ellison said.
Both the Bush and Obama administrations have sometimes asked for Ellison's help to give the American point of view to foreign religious leaders and media.
He's also traveled to the Middle East on behalf of the White House.
A 2007 trip included stops in Syria, Lebanon, Israel and Saudi Arabia at a time when relations between some of those countries and the United States were at a low point due to the war in Iraq.
"It's better to reach out and find some common ground, and I'm happy that they invited me to do and I'm glad to do it -- for any administration, regardless of party," he said.
Ellison now has a fellow Muslim-American in Congress in U.S. Rep. Andre Carson of Indiana. But there's no doubt that Ellison has become one of the most prominent Muslims in this country -- especially after controversial House hearings earlier this year that focused on whether Muslim Americans were joining radical Islamic terrorist groups.
Ellison gave emotional testimony citing the patriotism of Muslims, including one who died during the attacks.
"Muhammad Salman Hamdani was a fellow American who gave his life for other Americans," Ellison told the Congressional panel. "His life should not be identified as just a member of an ethnic group or just a member of a religion, but as an American who gave his life for other Americans."
One of Ellison's roles is to educate the American public about the Islamic faith, said Iman Mohammed Magid, president of the Islamic Society of North America. He has worked closely with Ellison.
"His message to the larger community is a message of understanding and acceptance of Muslims, that Muslims in America have contributed greatly to this country, like anyone else," Magid said.
Other religious minorities, such as Sikhs, have seen Ellison's advocacy on behalf of the Muslim community and also asked for his help, seeing in him a champion for religious liberty.
Ellison has also forged close ties to liberal Jewish groups.
Vic Rosenthal, executive director of the Twin Cities group Jewish Community Action, said it's uncommon to find a liberal lawmaker who's willing to speak very freely about religious faith.
"Most people in Congress who use their religion, tend to use if from the right," he said.
Rosenthal said he and Ellison share a belief about the role of different religious traditions in politics.
"Keith uses it as a way to say we need to come together, we need to look for ways of working together," Rosenthal said.
Building political alliances between religious groups is a common strategy for minority communities to seek wider acceptance, said Yvonne Haddad, a professor at Georgetown University who specializes in Muslim-Christian relations in the United States.
Haddad said there are also pragmatic reasons for Ellison to maintain close ties with Jewish groups.
"The current understanding among some of the Muslim leadership is, 'We are in America. The Jewish community has a lot of power in Washington; if you want to be accepted, you have to work with them,' " she said.
While Ellison may be building bridges with other faiths, he and American Muslims have plenty of opponents, some of whom say Islam is a threat to this country.
Catholics and Jews faced similar challenges on their path to assimilation, Haddad said. But she's doubtful that Ellison's force of personality will be enough to change minds.
"I don't think he's going to be able to reach out to these kinds of people," she said.
Still, Ellison said that even though most Muslims had nothing to do with the 9/11 attacks and it's not fair to blame them for terrorism, it's a fact that they have to do more to counter prejudice.
"It's not fair that if you have done nothing but be a good neighbor, a good professional, but if you happen to be a Muslim American that you're now somehow going to extend yourself a little bit more so that your neighbors know you," Ellison said. "I say it's not fair, but you still need to do it."
Gallery
3 of 3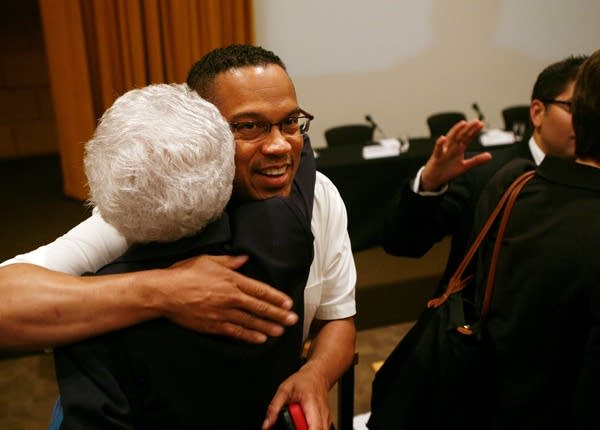 1 of 3
2 of 3
Your support matters.
You make MPR News possible. Individual donations are behind the clarity in coverage from our reporters across the state, stories that connect us, and conversations that provide perspectives. Help ensure MPR remains a resource that brings Minnesotans together.