People taking action to make a difference
Cleaning up Minnesota's waters is a big, complicated task that involves state and national governments, huge industries, big science and big organizations. But it also can come down to individuals trying to make a difference in the community they live in, whether it's on a farm, near a lake or in City Hall. Here are snapshots of a handful of Minnesotans who are taking action.
TONY THOMPSON, FARMER NEAR WINDOM
Tony Thompson is part farmer and part philosopher. Though he raises corn and soybeans on his 3,000-acre farm, he uses conservation planting measures like "ridge till," which requires less fertilizer and holds more water than standard methods. He raises prairie seed, which he sells to nearby counties, and is fond of snorkeling in the small lake on his property.
"It's aesthetic and philosophical on one level," Thompson says. "On another level, I feel that I and many other farmers have a pretty powerful social responsibility. Almost everybody is upstream of somebody else, and I don't want my downstream neighbor to have trouble with pollutants or an abundance of water that might have been avoidable."
Grow the Future of Public Media
MPR News is supported by Members. Gifts from individuals power everything you find here. Make a gift of any amount today to become a Member!
Thompson thinks society has reached a crossroads. "We're at the point at which any further improvement in ecological services or aesthetic benefits will come at a production cost," he says.
If we want to improve water quality, says Thompson, we need to change not just crop production but also our consumption habits. Given what he calls our "incredibly opulent tastes," he says sacrifice isn't something Americans are used to. "We just want more without having to give something else up for it. We've been getting that out of the corn genome. It has been giving and giving and giving. We're at the point where it might have a bit more to give but then it will be over."
Since the mid 1990s, Thompson has hosted a biennial "AgroEcology summit" on his farm, where farmers and others gather to eat, listen to music, and discuss just these sorts of big issues. "The goal used to be just fun," he says. "But then, some professors began attending and it's sort of been getting better and better."
In Thompson's view, everyone, not just farmers, needs to think more about how they affect water quality. "We have a whole economic system that doesn't value clean water. It would be nice if the public and private sector could share the burden of providing ecological protection. But we don't have experience with that."
It comes down to, "what you do with your trash, your Comet container," he says. "I cut it open so I get that last quarter of a teaspoon and then I rinse it and use the rinse water for cleaning. Probably most people, without thinking, throw the container out. You consider it somebody else's problem. Farmers are really in that way no different than anybody else. Nor should they be expected to be."
"There needs to be an advancement in the understanding of how complicated this is," Thompson says. "The notion that somehow we are going to have fishable waters and 300 bushels-per-acre production, we can't have it all." "We all have this big bundle of rights," he says, "but that's not as good as picking up the responsibilities."
KRIS SIGFORD, MINNESOTA CENTER FOR ENVIRONMENTAL ADVOCACY
As water quality program director for the Minnesota Center for Environmental Advocacy, Kris Sigford has strong ideas about what should be done to improve local waters. At the top of her list is the need to address impairments related to agriculture. "Mostly sediment and nutrients," she says, noting that the Gulf of Mexico dead zone "is mostly fueled by nitrogen."
"Those are the big water issues," says Sigford, an avid swimmer who lives in Shoreview. "Phosphorus is decreasing, probably because of point source control. Nitrogen is trending up in most watersheds, because of agriculture, I think." Because high corn prices have led some farmers to remove land from conservation reserve programs, she says, "The public rented some clean water for a time and now that investment is going down the tubes."
"We are at the point where society needs to ask, 'What do we expect agriculture to do on its own while being paid with public subsidies?' Do we need to establish minimum agricultural performance standards? I think we're there."
As the name suggests, Sigford's organization advocates for stronger environmental policies, whether through the courts, the Legislature or public agencies, including those that affect water. She'd like to see changes to farm commodities programs. And she's pushing for water quality standards that go beyond what's good for people and consider what's good for marine life. She says the U.S. Environmental Protection Agency has been trying to get states to develop tougher nutrient standards for more than a decade. "We are part of a coalition of groups up and down the Mississippi River that petitioned EPA in 2008 to make it real, to sit on the states to get their numeric standards down or impose your own." Sigford says, "We have word they are working on it in the highest levels."
When water quality problems are so big, it's difficult to believe that small efforts make a difference. But Sigford says they do. "It's hard to move the needle in Lake Pepin and even harder for the Gulf of Mexico," she says. "First you have to move the needles for local lakes and headwaters."
The key, she says, is to focus efforts where they will do the most good, which is where the state's Clean Water, Land and Legacy Amendment comes in. "It's great to have $80 million a year in constitutionally-dedicated money for water quality. The challenge is to target money. That's a key issue that everybody is working hard on."
BRUCE TIFFANY, FARMER NEAR REDWOOD FALLS
Bruce Tiffany thinks it's important to preserve the natural settings on the 1,700 acres he farms near Redwood Falls, while also earning a living growing corn, soybeans and sweet corn. He maintains an expansive buffer field of grass and wildflowers between his crops and the Redwood River, which runs along the edge of his property. "It's the right thing to do," says Tiffany, who farms with his wife, Ann, an educator who grew up on a dairy farm near Litchfield.
Next to the wildflowers, Tiffany has planted a low-maintenance, 2 plus-acre cornfield for the wild turkeys, deer and pheasants to eat. "This is one of my favorite parts of the farm," he says. "It's just for wildlife. We don't harvest it. We haven't plowed this for a while." In the fall, he says, the beavers and the muskrats drag the corn stalks to the river.
Tiffany is fond of asking, "What is the best use for this land?" The question governs the way he manages his farm. He uses a yield monitor — a flow sensor that measures the grain entering his combine — and GPS to determine whether a plot should be removed from production. Maybe it would be better as a patch of grass or woods. There are so many factors at play, he says. "Farming is not a factory setting. You're dealing with a living, breathing organism."
After first renting a 20-acre piece of his farm when he was 11 years old, in the late 1960s, he finally purchased the whole property in 1979. He built the current family home on a hill overlooking a grove of trees, next to a giant oak he took great pains to preserve. Before making the driveway, he watched how the snow fell in order to determine the best path. Says Ann, "This farm has been in his blood a long time."
He's equally meticulous when it comes to managing how the water moves across his farm and winds up in the river, employing methods like "blind intakes," which use rocks to filter water entering his tile lines. His general standard is, "If you built a dam and captured the water that runs off your property, would you like to swim in it? If you wouldn't be happy to swim in it, why would you be happy to send it to someone else?" If you wouldn't float in a pool of your runoff, Tiffany reasons, "You can do better."
PATRICK MOORE, CLEAN UP THE RIVER ENVIRONMENT
Patrick Moore is an optimist when it comes to human nature and the power of shared goals. The objective of CURE, where he is executive director, is to build bridges between environmentalists and farmers in order to bring about better water management practices. "We're focusing on cultural change rather than policy change," says Moore, who lives in Montevideo. "We try to organize around passion."
CURE, founded in 1992, has a strong track record in the mode of a traditional environmental organization. The group fought Big Stone II, the coal-burning power plant that once was planned for near Ortonville. Yet, at a board meeting two years ago, says Moore, "We thought, we shouldn't just define ourselves by what we are against, but rather what we are for. There has always been a side to CURE that is about conversations. We are conveners and catalysts. We want to be a trusted mediator."
According to Moore, the key is finding the "sweet spot" where self interest meets the greater good. He says his group is in a good position to do that. "We have always had farmers on our board. We understand rural culture in a way few other environmental nonprofits do."
Whether Moore's approach will pay off has yet to be seen. "Sometimes when you are involved in these things, you don't know the answer," he says. "So you build the road by walking. You base it on, if you stay in the relationship and dialogue and find things to do together, like canoeing, something will emerge. It will be a stage for cooperation and interaction. We live in that hope that there is a place for us to collaborate. And we haven't found it yet. But we are still walking down that path."
RICHARD AXLER, UNIVERSITY OF MINNESOTA DULUTH RESEARCHER
University of Minnesota Duluth freshwater scientist Rich Axler is a meticulous examiner of how water moves and also how pollutants in water impact the larger environment. He's studied rivers, streams, superfund sites, mine pits and even septic systems.
Several years ago, he conducted septic research at a correctional facility near Duluth, where he funneled waste through a handful of experimental systems, including "constructed wetlands" and various configurations of peat, sand and textile filters. He found that, depending on the circumstance and desired outcome, some alternative systems can work better than the standard tank and leach field. "I would like to see people have options," says Axler. "But perhaps more important, I would like to see comprehensive watershed planning and zoning that takes into consideration the status and sensitivity of the groundwater and surface waters that receive the wastewater."
Axler, who came to Duluth in 1988 from a research center at the University of Nevada, also spearheaded a project to fix a washed out portion of Amity Creek, which runs through Duluth's east side before joining the Lester River and Lake Superior. He and the city of Duluth and others stabilized a bank with rocks enclosed in wire and installed two new culverts and a stone-lined channel. "We think the road and little valley washed out during a hundred-year storm in 1946 and had been bleeding mud for 60 years," says Axler, who is part of the university's Natural Resources Research Institute and the Weber Stream Restoration Initiative.
Recently, the initiative was awarded close to $850,000 from the national Great Lakes Restoration Initiative. With the money, the group will continue intensive monitoring of Amity Creek and build online resources for residential stormwater planning and ditch design.
Axler is trying to fix the problems he sees with water quality in the Duluth area, but he also places a premium on educating the public. He's trying to convince local weathercasters to include in their reports the effects of weather events on water quality. And much of the stream data he collects can be viewed on the Lake Superior Streams website, which includes resources for schools.
"To me, it's all about education and you have to start with kids while also recognizing that their teachers need to be provided with ways to learn more about how science is done," says Axler. "That's what I enjoy about some of what we started with Water on the Web. There is a whole new field of education that is place-based, about connecting people to where they live."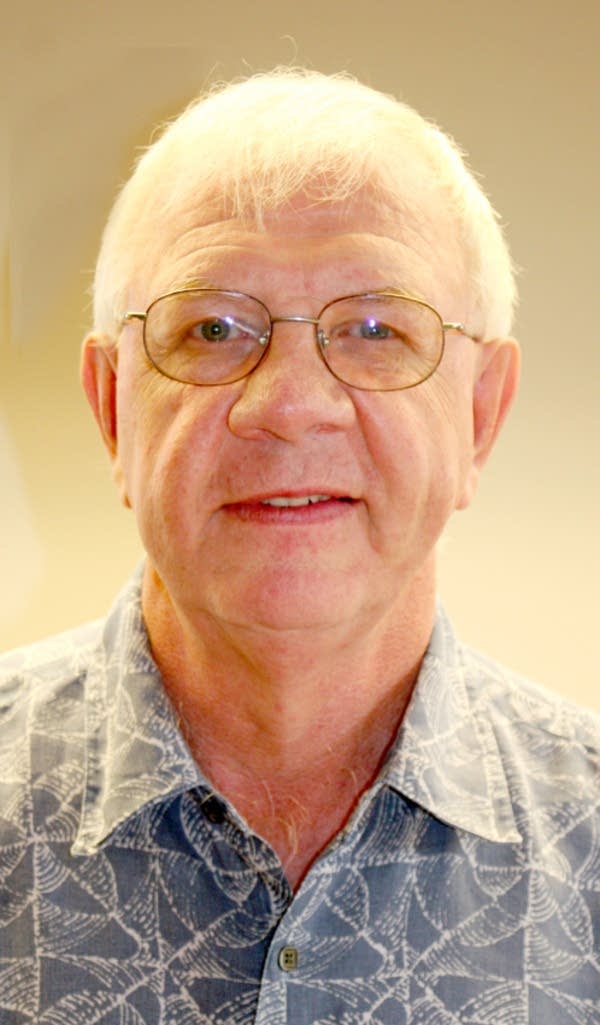 DAN KITTILSON AND BONNIE HUETTL, MINNESOTA COLA COLLABORATIVE
Aiming to have a greater impact on policies that affect lakes and water quality, the heads of several coalitions of lake associations (COLAs) are working together to start a statewide group, the Minnesota COLA Collaborative. "We figured out that we could have the most strength in numbers," says Dan Kittilson, president of the Hubbard County coalition and one of the brains behind the effort.
At first, Kittilson, who lives on Little Sand Lake near Park Rapids, thought he'd form a regional coalition, but the effort quickly blossomed to include groups from around the state, including the Douglas County Lakes Association, led by Bonnie Huettl.
"One lake association doesn't have enough of a voice," says Bonnie Huettl, who lives on Lobster Lake near Alexandria. "They get lost. The Legislature seems to pay more attention to us when have a volume of voices. We have 390 people on our lake. That's not the same as 3,000 people or 30,000 people."
Kittilson estimates that the new collaborative could represent 40,000 to 50,000 people and most, if not all, of the approximately 15 lake association coalitions in the state. Members of the new group plan to meet this fall to formalize bylaws and elect a board and officers. A website is in the works.
Already, though, the group is trying to flex its muscle. "We worked this year on the variance standard," says Kittilson, referring to an attempt to alter a bill that added flexibility the standard by which cities grant zoning variances. Another priority is supporting new shoreline development standards, which govern how and where cabins and other structures can be built. The DNR recently came up with a revised set of rules, but it was rejected by former Gov. Tim Pawlenty on his way out of office. "We're trying to get those through," Kittilson says. While the collaborative hopes to affect larger change, there has been some disagreement among members over whether to call these efforts "lobbying."
Says Huettl, "We will always be watching what's going on in the Legislature as far as lake issues go. That is part of our mission statement, looking to enhance the waters, repair the waters. Water is our big deal. We do want to influence local senators and representatives. And if you can give them the information they need... Some call that lobbying. I call it getting the word out."
CHRIS PENCE, CROW WING COUNTY LAND SERVICES SUPERVISOR
"Land is God's creation and it's our responsibility to take care of it," says Crow Wing County land services supervisor Chris Pence, who attended Bethel Seminary and earned a Masters in theology. "I was either going to be a pastor or work for the government," he says. In case that sounds like an odd dichotomy, Pence explains, "I really feel it's a calling, being able to provide services to the community you're in. It can matter if it's done right."
He's working to implement a new zoning code in Crow Wing County, which has been criticized in the past for lax enforcement when it comes to shoreline development. Among other provisions, the new code, which has been hailed as one of the most progressive in the state, requires some property owners to install shoreline buffers and other water control measures.
While the county continues to approve most "variances" — basically, zoning exceptions — now, owners must give something in return, says Pence, who started his job last September after leaving Cass County. Maybe it's a rain garden. Maybe it's a vegetative barrier. Maybe it's a couple of rain barrels.
"I believe people want to do the right thing," he says.
On Pelican Lake's Cree Bay, there is a cabin, built in 2006, that sits too close to the water. "When [the previous owner] got the permit, there was no site visit from our staff," he says. The owner proceeded to tear out waterfront grasses and cattails in an effort to establish a big lawn and beach. When the property was resold after a foreclosure, Pence saw an opportunity.
In return for an after-the-fact variance, the owners agreed to install rain gardens and re-established the lush wetlands at the edge of the lake. "This is what the ordinance is designed to produce," says Pence. "Variances are never big. They are never for thousands of square feet. You've just improved that lot for water quality by allowing the variance for that deck or small addition."