Biologists: BWCA fire will help moose habitat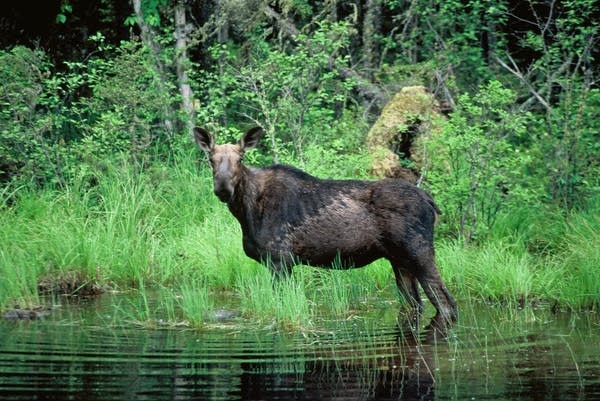 Count Minnesota's moose experts among those quietly celebrating the fire that has burned more than 150 square miles in the Boundary Waters Canoe Area Wilderness.
Wildlife biologist Mike Schrage has taken many flights over the area of the Boundary Waters where the fire is burning while researching Minnesota's moose population. And he's noticed fewer moose there compared to other areas of northeastern Minnesota.
The fire — and the new forest growth that follows in the next few years — could change that, he said.
"As soon as I heard there was a fire up there, I thought — woo-hoo! I can't say that very loudly because there's people in Isabella who are quite inconvenienced by it, but I think moose will benefit from this fire," said Schrage, who works for the Fond du Lac Band's Resource Management Division.
In the coming years, it could also benefit the thousands of people visiting the Boundary Waters who hope to catch a glimpse of one.
Estimates by the Minnesota Department of Natural Resources of northeastern Minnesota's moose population show a decline from about 8,000 moose during the middle of the last decade to less than 5,000 this year. Biologists are trying to figure out why. Parasites and stress from warmer temperatures are possibilities, and Schrage said a large-scale fire could kill some of the winter ticks that feed on moose and weaken them.
MPR News is Reader Funded
Before you keep reading, take a moment to donate to MPR News. Your financial support ensures that factual and trusted news and context remain accessible to all.
There has also been some concern about whether moose have adequate habitat. A group of conservation organizations have even proposed to start using money from the state's Legacy Amendment to restore moose habitat in northeastern Minnesota.
Moose like to eat new growth, such as tree saplings, so a fire clears out some of the older, woody, trees and shrubs and allows new plants and trees to grow. There are even certain types of trees, including black spruce and jack pine, that need fire for their cones to open and scatter seeds.
Schrage said research across North America has indicated that moose numbers increase in areas where fires have caused new growth. And he's seen anecdotal evidence of that in the area that burned during the Ham Lake fire of 2007 and the Cavity Lake fire of 2006.
"I think slowly we're seeing some moose respond to those fires," he said.
How well suited the forest will be for moose will depend on how hot or how long a fire burned in an area. Steve Merchant, DNR wildlife programs manager, expects the land affected by the fire will be a mix of areas that don't burn and areas that burn a lot. That means that in a few years, moose will have both the new growth for food and the older areas where tall trees still stand and offer thermal cover during the winter and summer, he said.
"That interspersion is what really creates that ideal moose habitat," Merchant said.
The Boundary Waters, of which roughly 10 percent has burned in the fire, is home to a significant portion of Minnesota's moose population, Merchant said. Prescribed burns have taken place in the area over the years, but the total size of the areas burned in a given years is much less than the area burned by the Pagami Creek fire.
One thing biologists aren't worried about is losing moose in the fire. The animals are able to walk long distances and are good swimmers.
"They're going to run from the fire," said Ron Moen, a researcher at the Natural Resources Research Institute at the University of Minnesota-Duluth who monitors dozens of moose that have been fitted with radio collars and GPS units.
Moen said the closest moose he's monitoring is several miles away from the fire, and so far the research team hasn't detected any unusual movements. He said he'll be watching for moose to soon move into areas that weren't burned as severely.
"When these new trees come in, and shrubs and saplings, moose that are on the edge of that area will start moving into it. And then they'll gradually move further out as it grows and there are more moose around," he said.
Gallery
1 of 1