New chancellor readies MnSCU for change, improvement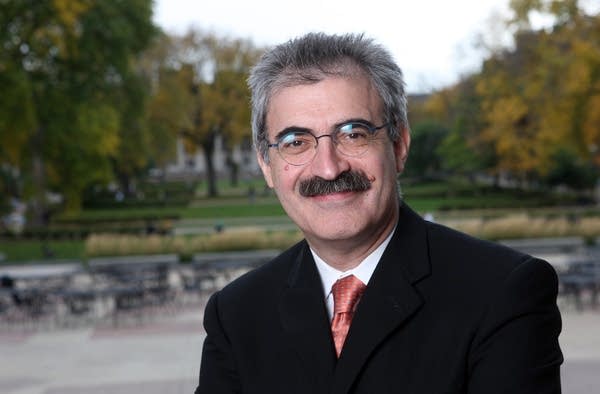 Less than two months into his new job as head of the Minnesota State Colleges and Universities system, Chancellor Steven Rosenstone hopes to improve how the 31-college system prepares students.
In a meeting today with the system's board of trustees, Rosenstone said he is working on a broad strategy to improve the quality of programs at the systems' colleges and universities. But he said he wants to keep them affordable and accessible to all Minnesota students.
Rosenstone wants to see the MnSCU system strive for greater efficiency, particularly more sharing between the colleges in the MnSCU system.
"We need to redesign the way we do things," he said. "We need to empower our colleges and universities, our faculty and staff, to be more innovative, more entrepreneurial."
Grow the Future of Public Media
MPR News is supported by Members. Gifts from individuals power everything you find here. Make a gift of any amount today to become a Member!
The MnSCU system includes two-year technical colleges and universities that offer graduate-level programs. In hiring Rosenstone, the MnSCU board of trustees cited his vision of how MnSCU should operate in the future.
Rosenstone told the board that after several months of meeting with college faculty, Minnesota business leaders and leaders of other college systems, he's ready to make some big changes.
"We are prepared to make the tough choices and to design the new ways of doing things," he said. "We're prepared to think differently, to work together differently."
Rosenstone didn't say exactly what those changes might be. Besides greater efficiency within the system, he said he wanted its campuses to work with the University of Minnesota and the state's private colleges to share programs.
After his 45 minute speech to the MnSCU board of trustees Rosenstone said one good example of example of potential innovation within MnSCU could come in online course offerings.
Most MnSCU colleges and universities offer their own courses online. Rosenstone said the system could trim those courses and offer a standardized online course for students across the entire state.
"We need to explore the possibility that we could create one absolutely spectacular online English course or psychology course or political science course, putting together the very best faculty in the system to create the very best course and actually making it available to students in multiple colleges and universities," he said.
Amanda Bardonner, a senior at St. Cloud State University and a member of the Minnesota State University Student Association, supports the idea of MnSCU-wide online courses. She said statewide online courses could free up resources and allow MnSCU colleges to spend money in other areas.
"If we have that unified course that is across the system, then campuses can use a resource that that they were using to build that course curriculum on something else," Bardonner said.
Rosenstone said the need to change MnSCU is partly is driven by budget pressures but cutting costs isn't the only reason to consider retooling the system. He said streamlined operation also could help sharpen MnSCU's image as the higher education system that produces a big part of the state's workforce.
He hopes to foster greater partnerships with Minnesota businesses, so they reach out to MnSCU when they're in need of skilled workers.
The new chancellor also said he's open to suggestions on how to make MnSCU work better.
"One of my jobs as chancellor is to scan very broadly and harvest the very best ideas, work with the faculty, work with the presidents to figure out which of those we can put to work," he said.
Rosenstone said he'll have more details on how a redesign of MnSCU could take shape at the board of trustees meeting in November.
Gallery
1 of 1