'Luke the Drifter' shows how to remember troubled lives
When people who live less than stellar lives die, how are they remembered, or even celebrated?
"The Funereal Remembrance of Luke the Drifter," a play opening this weekend in the Twin Cities, aims to answer that question — in the unusual setting of a funeral home.
House of Mercy minister Russell Rathbun said one of the guiding principles at the St. Paul church is that nobody is all good or all bad. Rathbun likes to quote another preacher and novelist, Will Campbell.
"He said one time, 'Well we're all bastards but God loves us anyway,' " Rathbun said.
About a year ago, Rathbun started volunteering at the Bradshaw Funeral Home on St. Paul's east side. It needed ministers to conduct funerals for so-called 'John or Jane Does,' people who died with few family or friends. Often they had made bad decisions, or inflicted a lot of pain in their lives. They posed a ministerial challenge to Rathbun.
"How do you be honest about that, but then how do you also remember what beauty and goodness that he brought into people lives?" he said.
Rathbun took his cues from the sprinkling of mourners who would show up to pay their respects. In most cases, their only connection was their relationship with the deceased. Rathbun soon realized they weren't so interested in him putting some official religious stamp on the proceedings, but in sharing their own remembrances.
"As they begin to tell stories, you sort of begin to see a full life emerge," he said.
The mourners didn't brush over the hurt the deceased had caused, or the ways they had gone astray. That made their happier, more joyful memories all the more powerful and poignant.
Rathbun, a published novelist himself, wanted to capture the experience in some way. He came up with the idea of staging a mock funeral for a character who epitomizes the House of Mercy Saturday night/Sunday morning duality, country star Hank Williams alter ego, "Luke the Drifter."
Rathbun said Hank Williams, as "Luke the Drifter," wrote and sang what's called "recitation" songs, highly moralistic tales in which Williams maybe sought redemption for his own sins.
"He kind of felt like he was the no-good womanizer, drinker, and he created this other character, an idealized version of himself," he said. "Luke, the drifting preacher."
In "The Funereal Remembrance of Luke the Drifter," the year is 1977. The actual location is the Bradshaw Funeral Home in St. Paul.
Russell Rathbun plays Connie, Luke's drinking buddy and best friend.
"Luke would be ... well, he'd be surprised," Rathbun said, portraying Connie. "But he'd be surprised and grateful. And I guess surprised and grateful is not a bad way to enter the next life."
During the play, Luke's music is performed live by a cast of local musicians. One by one, some of Luke's friends and acquaintances offer eulogies. They're played by volunteers who are given room to write out or improvise their tributes.
It's no accident "The Funereal Remembrance of Luke the Drifter" resembles some of the funerals Rathbun has led at the Bradshaw Funeral Home. How to mourn the death and celebrate the life of a troubled, wayward soul is never far from the surface. Rathbun thinks it might also serve as kind of a practice run for some audience members.
"A lot of people that I know haven't been to a lot of funerals and they haven't really thought that much about death but they're kind of starting to?" he said. "I thought 'What a great way for people to sort of experience a funeral, but with not a lot at stake.' "
Rathbun feels like he's gotten to know "Luke the Drifter" through the rehearsal process and he misses him. He's also become attached to the Bradshaw Funeral Home, but he'll have to say goodbye to it too. It's going to be torn down after the show closes.
Gallery
9 of 9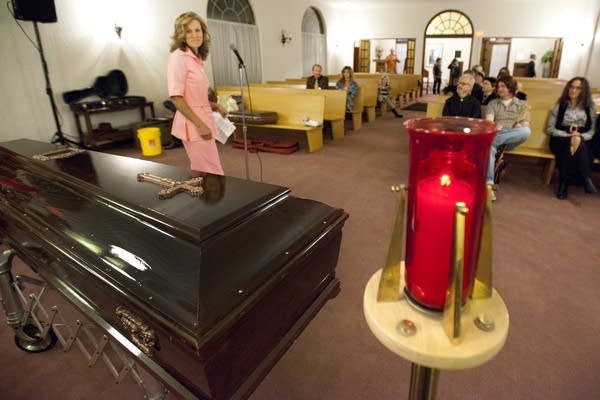 1 of 9
2 of 9
Your support matters.
You make MPR News possible. Individual donations are behind the clarity in coverage from our reporters across the state, stories that connect us, and conversations that provide perspectives. Help ensure MPR remains a resource that brings Minnesotans together.