"Barns are collapsing every year in the Midwest," laments Gary Stone of Red Wing. "It's a lot of expense to keep a barn up if you haven't got a real good use for it. So we've found an adaptive reuse for this barn."
Gary and his wife, Eve, repurposed their circa 1920 barn as a place for the arts. The barn's cathedral-like ceiling formerly sheltered hay; now it's a venue for concerts and plays. The barn's grain-storage area is now a folk-music shop with adjoining space for music lessons. And the ground floor, which at one time housed dairy cows, is now a workshop where Gary, Eve and the rest of their team build dulcimers, bodhráns (Irish drums) and, especially, folk lever harps.
Back in 1984, Gary was working as a kitchen-cabinet installer when he and Eve purchased a dulcimer-building company begun in 1968 by Len MacEachron in Minneapolis' West Bank area. The Stones relocated the business to Goodhue County, where Eve rechristened the company "Stoney End."
Gary's woodworking skills allowed him to continue making dulcimers according to MacEachron's specifications, but Gary discovered harp-building rather by accident. "In amongst the dulcimers was a harp plan Len had," Gary recalls. "It had a kernel of a real good idea in the design, so I re-engineered it, modified it, and did a lot of improvements on it and started selling the harps."
Grow the Future of Public Media
MPR's budget year comes to a close on June 30. Help us close the gap by becoming a Sustainer today. When you make a recurring monthly gift, your gift will be matched by the MPR Member Fund for a whole year!
Twenty-seven years on, Gary has built more than 7,000 lever harps. He's designed 12 different models, ranging from a 16-string lap harp to a 34-string floor harp. Lever harps are so named because some or all of the strings are fitted with a lever that adjusts the pitch of the string by a half step, allowing the player to play the harp in different keys. Whereas pedal harps are preferred by classical orchestras, lever harps are played in smaller performance settings and even for therapeutic purposes.
Brittany Graetz, the Stones' daughter, holds a 22-string lap harp. Its shape looks peeled from a Guinness label. "This is in the Celtic style," Brittany explains, "so it's got the nice curve shape. The Gothic-style harp has a straighter pillar and a sharper point. The Gothic was more popular in continental Europe, and the Celtic was more popular in Ireland and Britain. We've preserved those two shapes throughout our harp sizes."
According to Brittany, the harps' sound boxes are made of birch, while the frames (comprising the harmonic curve and pillar) are made of cherry, walnut or maple, depending on the size of the harp. Gary determined his wood selections over time by experimentation.
As with any experiments, some have gone awry. For example, most of the harps are strung with nylon strings and others with steel, but Eve recalls a time Gary tried brass strings. "He'd finally get it up to pitch and it would be holding beautifully and one string would break and take five out with it," she laughs. "We heard some very bad, nasty words coming from the stringing area in the barn, so we gave up on that!"
In the north end of the barn, the Stones prepare finished harps for shipping; on this day, harps are going to Japan, to Iceland and to Australia. A few others are on their way to Door County, Wis., where professional musician Gerhard Bernhard operates a music shop. Bernhard says he first experienced harp music 20 years ago at a concert in Madison, Wis. "That beautiful sound simply blew me away," he says. "I told myself I had to get involved in making and selling harps."
Bernhard met Gary Stone at a harp conference 15 years ago, "We connected instantly," Bernhard recalls. "The harps he makes are not only beautiful aesthetically, they're also designed for maximum beauty of sound."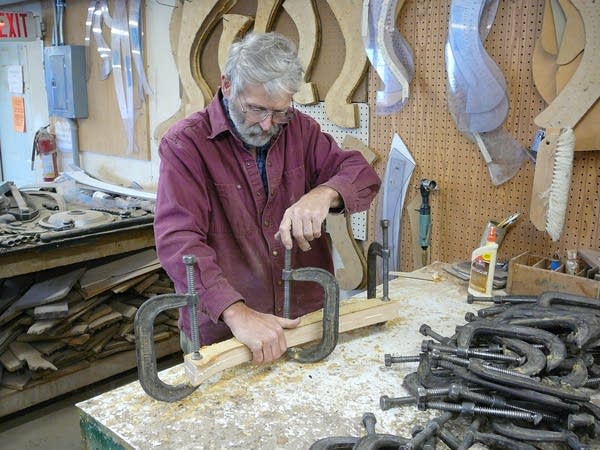 "What I like about building harps is that it's an artistic expression, making a beautiful object," Gary says. "I like the beauty of the wood, the shaping, the design, the flow, and the simplicity and elegance of the harp shapes. Then there's the scientific aspects of string lengths and vibrations and tuning. The harp has to be strong enough to withstand the tension of the strings and light enough to be responsive to the energy that just one little string adds to the music. I like the combination of all these requirements in a functional object: a tool for musicians."
Although he enjoys creating objects that create music, Gary doesn't consider himself an artist. "I primarily see myself as a toolmaker," he says.