Air pollution violators in Minnesota: the story behind the data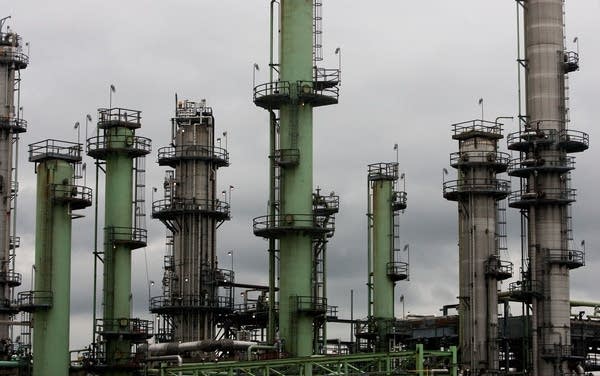 Most of Minnesota's biggest air polluters are complying with the federal Clean Air Act, according to data gathered by National Public Radio and the Center for Public Integrity.
The organizations looked at 49 Minnesota facilities that rank highest in terms of emitting pollutants that could pose a health risk to people living nearby and found only three that show up on the Environmental Protection Agency's list of "high priority violators."
The EPA and the Minnesota Pollution Control Agency (MPCA) flag a facility as a "high priority violator" when regulators believe there has been an important violation. The alleged violation could be procedural, such as missed deadlines or filing incomplete documents, or it could be related to exceeding the emissions allowed under an air permit. Sometimes the regulators and companies dispute whether there are violations, and it can take months, or even years, for issues to be resolved to the point that a facility is taken off the "high priority violator" list.
The three facilities that are listed as "high priority violators" by the EPA are listed below, with a short description of what may have led to the designation. 
Xcel Energy Sherburne County Generating Plant in Becker, Minn.: 
Sherco is Xcel Energy's largest coal-fired power plant, producing 2,400 megawatts of electricity. The plant has been listed as a "high priority violator" since the first quarter of 2010, according to EPA data. 
The reasons listed in EPA records include possible problems with its Clean Air Act permit or emissions plans. 
But even though the EPA says it is addressing the possible issues, no enforcement action has been taken that details a schedule for the utility to comply, according to EPA records. 
Xcel Energy officials said the issues cited in EPA's records relate to a lawsuit the EPA filed against Xcel in June 2010 that was settled last December. Xcel spokesman Thomas Hoen said the lawsuit was over "a document dispute."
"We do not know why the EPA would continue to list this item against our power plant in Becker," he said. "We are confident that we operate all of our facilities in full compliance with the Clean Air Act."
Hoen said Xcel officials are checking with the EPA about Sherco's listing as a "high priority violator."
 Flint Hills Resources Pine Bend Refinery in Rosemount, Minn.: 
The refinery processes crude oil from Canada, producing gasoline, diesel, propane, butane and jet fuel. It also manufactures asphalt, heating fuels and sulfur for fertilizer. 
The refinery was given "high priority violator" status going back to at least the fourth quarter of 2008, according to EPA data. But Bob Beresford, compliance coordinator for air quality at the MPCA, said the issues have been resolved even though Flint Hills has not been officially removed from the "high priority violator" list.
He said the "high priority violator" case goes back to 2006, when the facility failed a test on a unit that recovers sulfur emissions. Beresford said MPCA officials determined that they had made a mistake in setting emissions limits for the facility's permit. 
"All emission sources had not been taken into account when the limit was set," he said.
Beresford said making changes to a permit or adding new equipment can be challenging because regulators have to make estimates based on little or no data. The EPA has Flint Hills on the list but MPCA says all the issues are taken care of and it was actually the MPCA's fault that the refinery was put on the list in the first place because they didn't calculate the emissions for the permit correctly. 
"It's often not clear what the limit should be even with state-of-the-art emission controls," he said.
The MPCA decided to recalculate what emissions should be and eventually raised the limit, but the new permit was not issued until August of this year. 
Flint Hills spokesman Jake Reint said he was surprised to learn the refinery was listed as a high-priority violator by the EPA. He said the data contained on the EPA website is likely out of date.
"To our knowledge, our facility is not subject to any outstanding enforcement actions that might explain placement on the HPV list," he said. "We take compliance very seriously and we're proud of our environmental record."
St. Paul Park Refining Co. in St. Paul Park, Minn.:
St. Paul Park Refining was previously owned by Marathon Oil but is now controlled by Northern Tier Energy, a Connecticut-based company. The refinery processes crude oil from Canada and makes gasoline, diesel, jet fuel and asphalt. 
The facility's "high priority violator" status dates back to at least the fourth quarter of 2008, according to EPA data. 
The reasons it could have been flagged as a possible violator include alleged procedural violations, issues with an expansion plan or problems with its plans for controlling emissions from a new source within the refinery. All of those issues are listed in EPA's records for the refinery.
Except for the alleged outstanding procedural violation, the EPA is addressing the other alleged violations and St. Paul Park Refining is meeting scheduled compliance requirements, according to EPA data. 
Northern Tier Energy said the alleged violations surfaced before it owned the refinery. But the company confirmed that its listing as a "high priority violator" was related to an EPA review of a new emissions source at the refinery. The review dates back to 2001, said Northern Tier spokeswoman Christine Carnicelli.
"This was part of a nationwide series of consent decrees that EPA entered into with refineries across the country for improvements to air quality," she said in a written statement. "Since 2001, the refinery has responded and worked closely with the agencies to meet the requirements of the New Source Review Consent Decree, resulting in improved operations and reducing regulated emissions by over 50 percent."
 Other details from the data:
NPR and the Center for Public Integrity's project also included many smaller facilities and facilities that ranked lower in terms of emitting pollutants that could pose a health risk to people living nearby. Of that group of 307 smaller facilities in Minnesota, only five "high priority violators" had not yet had their alleged violations addressed by the EPA or MPCA, according to the data. 
Willmar Municipal Utilities was among the five, but general manager Bruce Gomm said the only possible violation he's aware of happened years ago. 
Two biomass facilities on the Iron Range — Hibbing Public Utilities and Virginia Public Utilities — were also on the list, but the MPCA had an explanation for the situation at those plants.
Beresford said there were violations at both facilities related to new wood-fired boilers that were emitting too much carbon monoxide. But like the Flint Hills case, MPCA officials determined that the limits had been set too low when the facilities began operating in 2007.
"This was a case where the initial information we had wasn't adequate to truly predict what level of emissions these boilers could be limited to," Beresford said.
He said the MPCA looked at examples of other wood boilers, but most of them had supplemental natural gas or another fuel that could help to stabilize the boiler operation. Both Hibbing and Virginia were burning only wood.
The permits for both facilities were re-evaluated and re-issued in 2010 with less restrictive carbon monoxide limits, he said.
Interact with the "Poisoned Places" map below produced by National Public Radio to see specific places and polluters in Minnesota.
view full searchable map »
'>
(MPR reporter Stephanie Hemphill contributed to this report.)
Gallery
1 of 1