On farmland about halfway between the Twin Cities and Sioux Falls, Jeff Kodet and a backhoe operator are digging a trench nearly four feet deep.
They're looking for an old underground drainage pipe, but in the process are finding something rare in southern Minnesota: dry soil. When the region's clay soil contains even a little of moisture, it sticks to anything. Not now.
"The clay comes up just dry, almost dusty; doesn't even stick to your shoes," Kodet said.
Much of Minnesota has gone from too wet to too dry in recent months, as spring floods have given way to fall drought. The dry conditions have fueled forest fires in the north and farming problems in the south.
Near Kodet's farm in Redwood County, only an inch or so of rain has fallen in the last three months, about a tenth of the normal amount. That's produced severe drought conditions that make the flooding spring rains a distant memory.
"Well I sure would've never guessed it was going to go this way from the way the spring started out," Kodet said. "Never would have guessed it would've turned around like this."
The quick turn to dry conditions this summer helped and hurt farmers. The dry weather saved farmers a lot of money because the drought made for great harvesting conditions.
The firm soil meant combines could work quickly to gather the crops. The weather also dried the grain in the fields, especially corn. That meant farmers could mostly avoid using expensive propane ovens to dry the grain after the harvest so it doesn't spoil in storage bins.
On the downside, corn and soybean yields suffered, even though they were good enough to make most farmers a nice profit.
With fall field preparation underway, farmers are finding more downsides to the drought.
A few miles from Kodet's backhoe project, another southwest Minnesota farmer, Lance Otto, is carefully picking his way through a neighbor's corn field. Otto said when the field was plowed, the dry hard soil came up in big chunks that dot the surface of the field. Some are as big as watermelons.
"They're like rocks right now," he said.
The big chunks will really interfere with planting next spring.
"You want the seeds at an even level &mdsh; you know, an inch and three-quarter, two inches in the ground," Otto said. "And if you're bouncing all over all of these clods, that's going to be very difficult."
The hard soil has produced a bumper crop of broken plowing equipment. Sandy Bartosh, who works at Dick's Welding in Windom, Minn., said workers there have been extremely busy fixing broken plow teeth, discs and frames.
"I did have a farmer in here a couple days ago who just gave up," Bartosh said. "He said he made six rounds and had to fix the same tooth three times. And he just decided, 'You know what? Until we get some rain I'm not going out there again.' "
Steve Buan, a hydrologist for the North Central River Forecast Center, called the quick dry-down a 'flash drought.' He said river levels have dropped dramatically — so much that many southern Minnesota streams are down 15 to 20 feet from last spring's flood crests.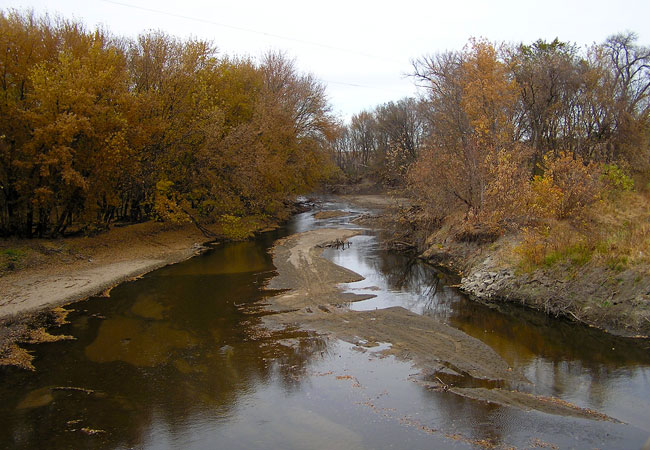 Buan said weather in Minnesota should change this week. Cooling in the Pacific Ocean suggests it may be a snowy winter.
"The past history has indicated that there's a higher likelihood of getting greater than normal precipitation from the Pacific Northwest, across the Rockies, the high plains and into Minnesota," he said.
A key question is how much precipitation will fall in the next few weeks.
"It's very critical here in the next four weeks that we don't get an extreme amount of moisture," Buan said. "I know everybody would like to see a little bit of moisture to dampen up the soil a little bit, helps for the agricultural purposes. But not excessive."
Too much rain could saturate the soil and set the stage for spring flooding.
But all too often these days the weather seems completely unable to do anything in moderation. The quick transition from flood to drought conditions this year underscores exactly why farmers are apprehensive about what sort of crop conditions they'll be facing next spring.
They just don't know what extremes the weather will bring next.