How MCAD's Coogan sees his school, students and the future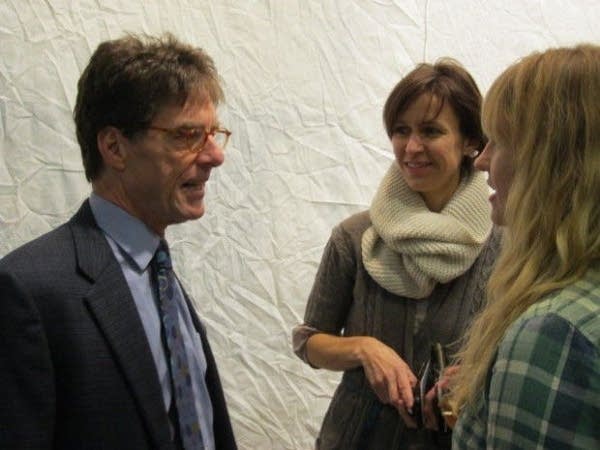 As part of my wrap-up of a day spent at the Minneapolis College of Art and Design, I chatted with President Jay Coogan.
He's a sculptor, and came to MCAD from the Rhode Island School of Design. And having come from New England, he's no stranger to cold winters.
Here are some highlights from our talk on the school, students' work loads, high tuition and what makes MCAD different from other art programs. These are from my notes, and so are not necessarily verbatim quotations:
Grow the Future of Public Media
MPR News is supported by Members. Gifts from individuals power everything you find here. Make a gift of any amount today to become a Member!
The campus. "I was excited about the intimate size. It's got a fairly small footprint, both in terms of buildings and land space. You cross paths with everybody on a regular basis. It's a very open environment. There's artwork on the wall everywhere, though that's not unique to this art school. It's one that's buzzing with energy all the time, with shows coming up and down all the time, with galleries open to the public all the time, with lectures."

How MCAD differs from university arts programs. "By coming to MCAD, you'd be coming to a school. Although we have 16 different majors, everybody is passionate about the visual arts. You wouldn't get that in a more diversely focused institution. You wouldn't have the same critical mass of students intersecting all the time. Students going to an art school are generally more sure they want to be in an art and design career. They're not hedging their bets. They're going full tilt. They've really mentally made that commitment. "

The students. "It's a very active, energetic audience. Students are in the building all hours of the night. The perception is that art school must be easy, but students here work harder than at many other schools. Many classes are five hours long, they've got a lot of projects to complete. And their social life is taking place as much in the studio as in the cafeteria or lounge – or more so, surrounded by like-minded, passionate artists and designers. After class, they might go back to their apartment to eat dinner but head back till they call it quits. It's active till late in the evening. There's a real need to be close to the workplace. "

On the course load. "Out of 120 credits (to graduate), a third are liberal arts, and 50 percent or so are in a major, with the remaining being electives. It's similar to what you'd get in a specialized major in all other schools. We are training people to be critical thinkers and problem solvers. We give them a particular set of tools, visual skills, and a method to solve problems applicable to their field, but also a variety of fields."

High tuition and debt. "Tuition is sort of a nuanced issue. Like other specialized schools, art and design schools in general are top net-tuition schools. It's an expensive form of education (small classes, lots of supplies and equipment), and unlike science, it doesn't get subsidized by the government or other organizations. But we have a very low default rate. We're below the national average -- 6.1 percent vs. 7 percent. That means our students are going out and getting jobs. But we're looking for ways that students won't have to take out more loans – such as by offering more institutional scholarships and then raising money for more financial aid. We're readjusting the financial aid formula so that it's more in line with the discount rate -- so net tuition will be dropping for students. We're not sitting by. We're definitely paying attention to this and doing everything we can to address this. The challenge with that, of course, is that ... we don't dictate whether students come here or don't come here. They make an independent decision whether they're going to take out loans. What we do is we send them an acceptance letter and tell them what we will do to offset the sticker price, and then they have to make a decision whether they can afford to come here or can't afford to come here. We're doing some things like offering a financial literacy program here to counsel students about things like borrowing and repayment, so they make better decisions for themselves."

Where an MCAD grad might work. "Our graduates are working in a variety of different companies. One just retired as senior designer at Medtronic, and there's General Mills, Target, Best Buy. A lot of people are entrepreneurial and start own companies."
Regarding things he'd like MCAD to do in the next few years:
Boost engagement. "I want to build even more opportunities for students to help the community around the college, and the communities in Minneapolis, St. Paul and the region. There are major social, environmental, cultural and economic issues being faced by the city or state or various communities. We're constantly looking to create partnerships with nonprofits, government and businesses. MCAD students help these organizations create names, logos, marketing materials, Web- and print materials. It's a key part of the development of the educational program, and it puts value back into the community."

Establish minors. "We'd like to include minors (for the first time) so students get a greater sense of value. We're looking at a minor in product design, use-experience design, or minors that simply replicate what we're already doing in majors. For example, someone could major in sculpture but minor in photography. We could also possibly add program for teachers specifically in the use of technology. entrepreneurial studies."

Internationalize the student-body profile.  "We have about 60 percent from Minnesota and most of the rest from out-of-state. A very small percent (3 percent)  is international. If you're a student from Minnesota, we want to give you the opportunity to interact with students from other countries and have experiences abroad."