University Ave. opens, but challenges remain
After a long and frustrating construction season, University Avenue in St. Paul is getting closer to normal.
On Wednesday, crews largely re-opened four lanes of traffic on two miles of the avenue. Central Corridor light-rail planners with the Metropolitan Council said the general contractor essentially met yesterday's crucial deadline. But that required some serious hustle.
Many observers, from business owners to Mayor Chris Coleman, had worried that portions of the street would remain unpaved into the winter.
Critics said the billion-dollar project has been plagued by lapsed deadlines, mismanagement and inattention to detail.
Grow the Future of Public Media
MPR News is supported by Members. Gifts from individuals power everything you find here. Make a gift of any amount today to become a Member!
But four lanes of shiny, striped asphalt is a sight for St. Paul City Council Member Russ Stark to celebrate.
"I see an end product that's looking really good. The avenue has needed some investment, so it's nice to see a nice, finished product out there," Stark said.
But it's not complete. The contract with Chicago-based Walsh Construction required crews to restore the sidewalks by Wednesday, yet several corners remain torn up. Walsh is now asking its boss, the Met Council, for two more weeks to complete the task by Dec. 16.
Stark said he had doubts about the pace of the work.
"Earlier in the year, it was clear to us at the city and to many observers that the construction schedule was not being kept," Stark said. "We weren't exactly sure what was going on, but there didn't seem to be enough crews doing the work."
His assumptions were right. The Met Council now acknowledges the project was understaffed for months. The council's spokeswoman, Laura Baenen, said Walsh added more crews and changed its construction methods to beat the clock.
"And late summer, Walsh increased its work force to meet the complaints. They added extra people, and really poured on the work. They've worked a lot of overtime, a lot of weekends, a lot of nights, to get it done."
The contractor faced stiff fines if it failed to make yesterday's deadline to re-open the street. Walsh did not return a phone call seeking comment. The Met Council has asked Walsh to direct all media inquiries to its project staff.
The firm has been under fire from city officials and community members. It failed to earn all of its incentive pay the past three quarters because of negative reviews from committees representing businesses and residents along the light-rail line.
In the beginning of the year, committee members provided mixed rankings in areas such as signage, responsiveness and communication. But the feedback got only worse from there.
"It seemed the access/intersection crossing was absolutely ridiculous this time," one unnamed committee member wrote for the quarter ending Sept. 30. "I have risked my life more than once for a cup of coffee and I do not have issues that hinder me physically."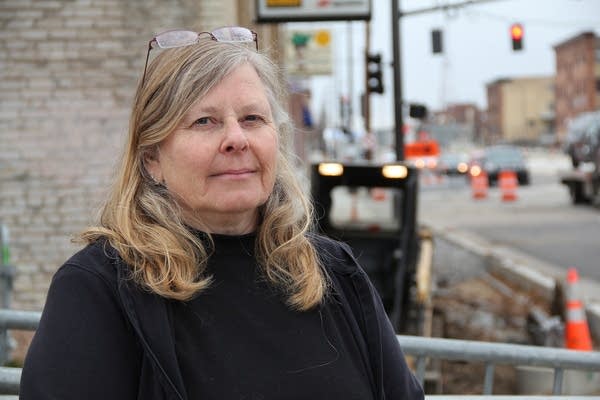 Another wrote: "Notices were inaccurate. Point person at meetings not responsive. Told things would happen but did not."
Committee member Laurie Kalland works for Minnesota State Services for the Blind, which is located on the avenue. Every quarter, she fills out surveys from the Met Council inquiring about performance issues along the light-rail line.
Some days, after crews ripped up sidewalks or closed lanes, the bus stops would move down the block without forewarning, Kalland said. That meant her visually impaired clients didn't know where to catch their bus. In other cases, she said, workers barricaded the pedestrian buttons for the crosswalks, so blind people sometimes walked into traffic.
In one case, a blind person was "brushed by an 18-wheeler on the arm," but was not injured, Kalland said.
Kalland said it seemed pedestrian access was not a high priority for the workers.
"One contractor would come by and set up the railing, and then somebody else would come by and say, 'Oh, this is in my way,' so they'd move it over. So I would call the hotline," Kalland said.
She said sometimes the council's project office would fix the problem quickly, but other times, it would take weeks.
And others complain that the Met Council has reneged on its promises.
The project staff has repeatedly assured businesses that the contract required a street segment to be restored within 150 days. But the council now confirms there are no penalties for Walsh when it fails to meet that commitment.
Ryan Wilson, who owns a UPS store in a strip mall along the avenue, said work in front of his store exceeded the 150-day rule by at least five days.
"And there is no recourse to that. Being late is being late, and there's no punitive damages to them," Wilson said. "It's just the businesses that get to experience being late."
Wilson says his sales are down about 13 percent.
The city is offering loans to businesses, but many say that's not enough. A coalition of businesses has asked a judge to halt the project until the planners provide further study on how the construction is affecting them. The judge hasn't ruled yet on the request.
On the bright side, some say the build-out became progressively smoother as project partners and the contractors learned to work together and develop better systems.
Steve Bernick, owner of the menswear store Milbern Clothing, said his business fared better than others that experienced construction earlier in the year. On Wednesday, crews reopened University Avenue access into his store's parking lot, and Bernick was pleased to see a new sidewalk, street and trees outside his window after just roughly three months of construction.
"They definitely improved the speed of the construction," he said. "They brought more crews on, and they worked earlier in the mornings and later in the evenings to help ease some of the pain."
Gallery
1 of 1