Teacher seniority, NCLB top education issues in low-key legislative session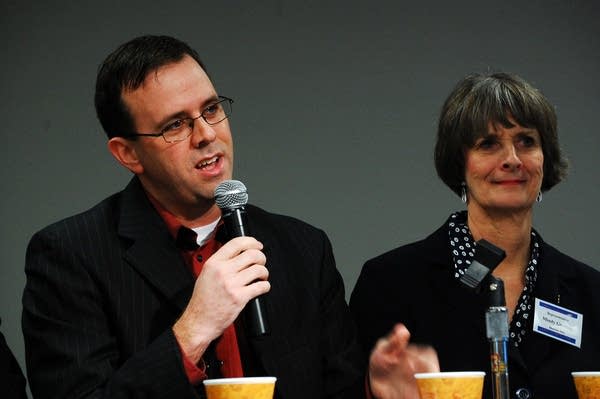 A state House committee will hear a proposal Tuesday that would change several rules regarding teacher seniority and layoffs.
GOP lawmakers are pushing the legislation, one of several education-related proposals they hope to pass this year.
Rep. Pat Garofalo, R-Farmington, said bills like the teacher seniority proposal are examples of how his party hopes to use this year's session to build on the policy changes that passed last year.
The bill, which Garofalo is co-sponsoring, would — among other things — end the practice of cutting the newest teacher when there are layoffs. Garafalo calls this 'last in, first out.'
"We mandate that schools use quality-blind seniority privileges for retention decisions. That doesn't work; it's being widely criticized. I think we'll take a look at repealing that," he said.
The state's teachers union, Education Minnesota, opposes the bill, saying the move takes away collective bargaining rights. The union said those decisions should be left to local negotiators.
MPR News is Reader Funded
Before you keep reading, take a moment to donate to MPR News. Your financial support ensures that factual and trusted news and context remain accessible to all.
State Rep. Mindy Greiling, DFL-Roseville, is also opposed, saying the current language overreaches. She said she would support a more limited bill — one that singles out extraordinary circumstances when 'last in, first out' should be dropped.
"If teachers have special expertise ... then they would have a different benefit when there's the 'last in, first out' discussions," she said.
A spokesperson for the state Department of Education said Commissioner Brenda Cassellius believes the issue of effective teachers is best addressed with a new system to evaluate teachers. That system was approved last year, but the details are still being worked out by a task force. Details including whether the rating a teacher gets on an evaluation is somehow tied to how well students perform in class.
Sen. Gen Olson, R-Minnetrista, said she'll pay close attention to whether that task force includes any link to student performance.
"Student performance is being a part of it — not the whole thing because, obviously, it's not a cookie-cutter type of approach that we should use," Olson said.
Critics, though, say state officials should be careful to assign an arbitrary percentage. If 30 percent of an evaluation is tied to performance, what research proves 30 is the correct number? they say. The state teachers' union has also questioned how teachers in subjects like art and music would be evaluated — students don't usually take standardized tests in those subjects.
Other issues that have already received preliminary looks this year include a requirement that teaching candidates pass a basic skills test and a proposal to change funding distribution in a way that would benefit charter schools.
LOW EXPECTATIONS
DFL Rep. Carlos Mariani of St. Paul doesn't expect much to happen because lawmakers don't need to address a budget crisis this session.
"I just don't see the leverage when it comes to K-12 to push any major policy agendas unless there really is a meeting of the minds," Mariani said.
Mariani also said while big issues like integration funding will come up, there might not be action. Lawmakers created a task force last year to recommend ways to divvy up the $100 million the state spends every year on integration efforts.
That report is due in two weeks, but Mariani expects no action until next year — after the election. Funding in general might also get another look if the February budget forecast predicts a larger state budget surplus. That would potentially allow some delayed payments to schools to be paid back.
NCLB WAIVER
A final issue is whether Minnesota will get a waiver from the federal No Child Left Behind law.
The state Education Department argues it would not need any new laws to enact the waiver, but Rep. Sondra Erickson, R-Princeton, isn't so sure. She recently outlined her concerns in a letter to the federal government.
"We have to make sure the commissioner is going to follow law," Erickson said. "If anything in the approved plan does not meet the expectations that we've set in state law, then we're going to have to handle that."
State officials also expect to hear in a matter of weeks whether the feds have granted that waiver.
Gallery
1 of 1